Yeezy Boots - Top 10 Styles Review
Yeezy Boots review, features rating, shopping deals and price. We review top 10 YEEZY boots models, release dates with facts.
Exclusive top Yeezy Boots review with price. We look at the best Yeezy boots ever released till date, just only the very best 10 out of all.
Sections: Facts - Ratings - Price - Where to buy - Review
Kanye West's Yeezy line continues to be one of the most popular and critically acclaimed clothing lines ever made, with each release selling out in mere minutes after going on sale. That's why savvy shoppers are always looking to pick up discounted Yeezy items on resale websites like StockX and GOAT right now – but what are the best boots to buy? Below we compiled a list of the top 10 Yeezy boots we think you should have in your closet this year.
Top 10 Yeezy Boots
The Yeezy Boost 750 has become the hottest sneaker on the market, and people are doing anything they can to get their hands on them before they sell out in minutes. But there's a limited number of Yeezys released every year, so what should you do if you don't want to spend your entire paycheck on them? The answer is simple – look for alternatives that come close to giving you the same look at a fraction of the price!
We've narrowed down some of the best Yeezy boots for men that will give you that coveted look without breaking the bank.
10. Yeezy NSLTD Boot Khaki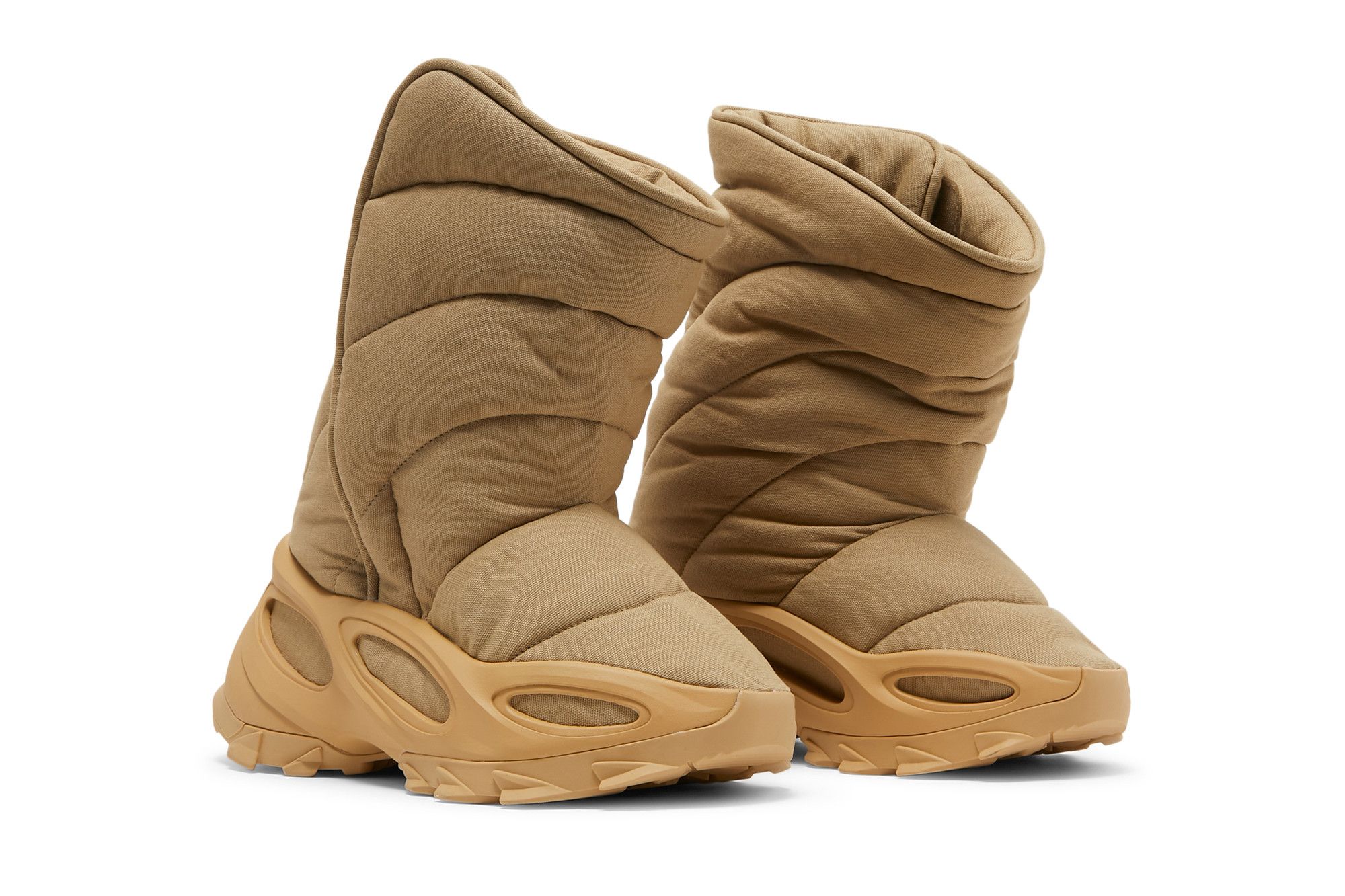 In March 2020, the adidas Yeezy NSLTD Boot 'Khaki' made its premiere in Paris during the Yeezy Season 8 runway show. A monotone tan hue pervades the hybrid silhouette, which features a puffy textile upper in a mid-calf height and is designed for the colder months. The lateral Velcro clasp makes it simple to put on and take off. Sculpted foam tooling reminiscent of the Yeezy Foam Runner, complete with flowing lines and a trio of huge air apertures, supports the insulated structure.
9. Yeezy Desert Boot Salt
The adidas Yeezy Desert Boot is part of the Season 7 collection and is equal parts design and practicality in a military-inspired aesthetic. The Salt edition, which was released in September 2019, is made of breathable mesh, suede, and nubuck. Its deconstructed design lines are reminiscent of the legendary 500 shoe. For durability and traction, the shoe is placed on a sturdy rubber outsole with a rough tread pattern.
8. Yeezy Desert Boot Rock
The Yeezy Desert Boot 'Rock' is a futuristic three-quarter boot that borrows components from the hefty Yeezy 500. Mesh with silky suede overlays, rope laces, and an exaggerated mudguard make up the upper. Cushioning is provided by a thick foam midsole, which is paired with a robust, outdoor-ready outsole. The silhouette is covered in a sandy, military-style tone, with only an embossed adidas emblem on the bottom of the sole for branding.
7. Yeezy Knit Runner Boot Sulfur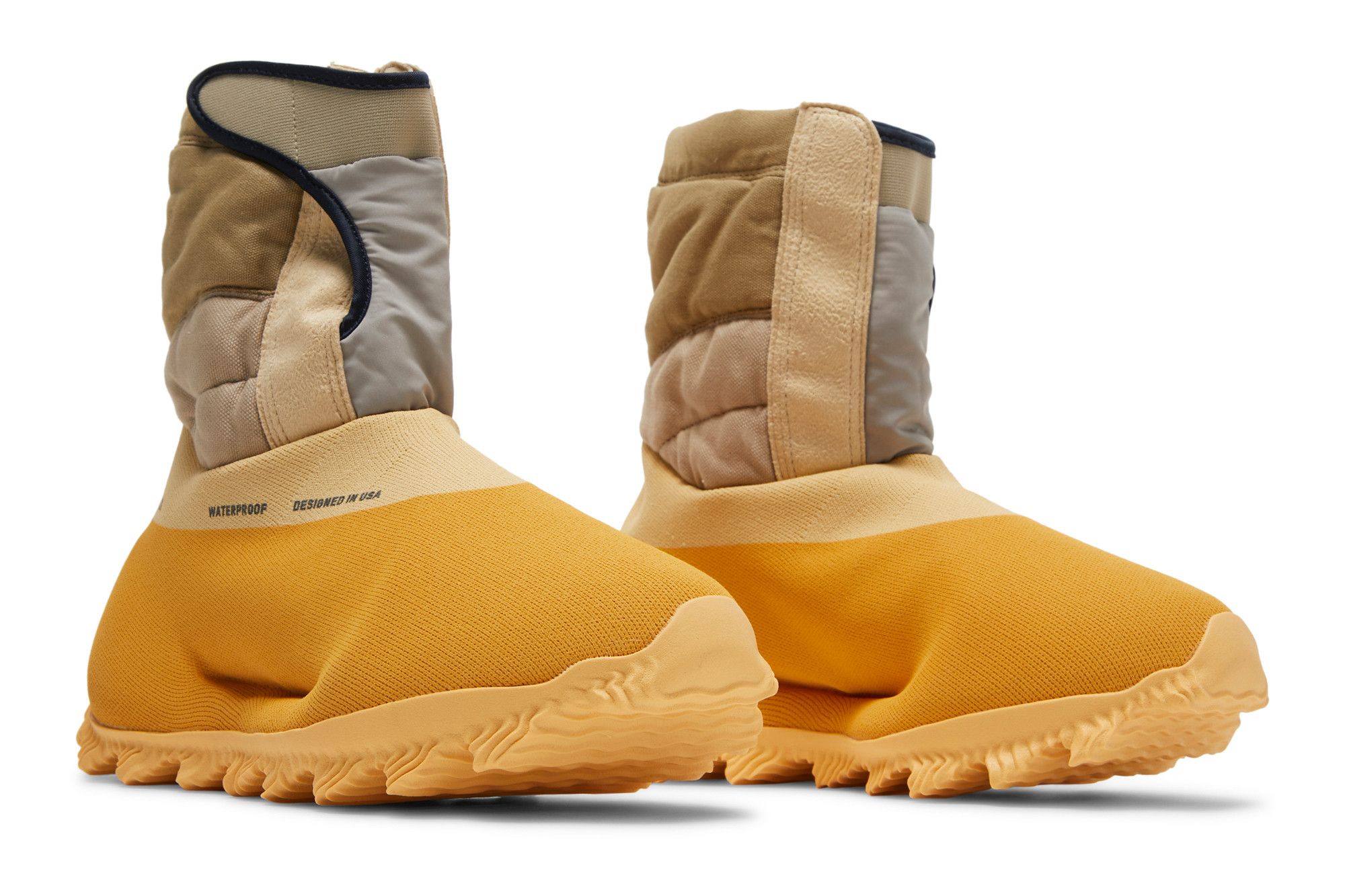 At the Yeezy Season 8 runway presentation in Paris, the adidas Yeezy Knit Runner Boot 'Sulfur' had its global debut. The futuristic silhouette is inspired by the low-top Yeezy Knit Runner and has a calf-length canvas collar with a waterproof membrane and 150 grams of Thinsulate insulation for extra warmth. The Velcro clasp makes it simple to put on and take off. The upper is made up of a single piece of knit cloth that is completed in a bright yellow shade and reinforced with a PU toe. A textured EVA midsole with a matching yellow finish is supported underfoot by a high-traction rubber outsole.
6. Yeezy Season 3 Military Boot Burnt Sienna
The Yeezy Season 3 Military Boot is a cult classic that debuted in November 2016 and sits at the crossroads of pragmatic utility and street flair. Suede is combined with contrast nylon panels and a channel-stitched collar in this 'Burnt Sienna' edition. Rope laces and a variety of eyelets add to the rustic look. A hefty sole with aggressive tread elevates the style for the street, taking it into statement territory.
5. Yeezy 950 Boot Pirate (Womens)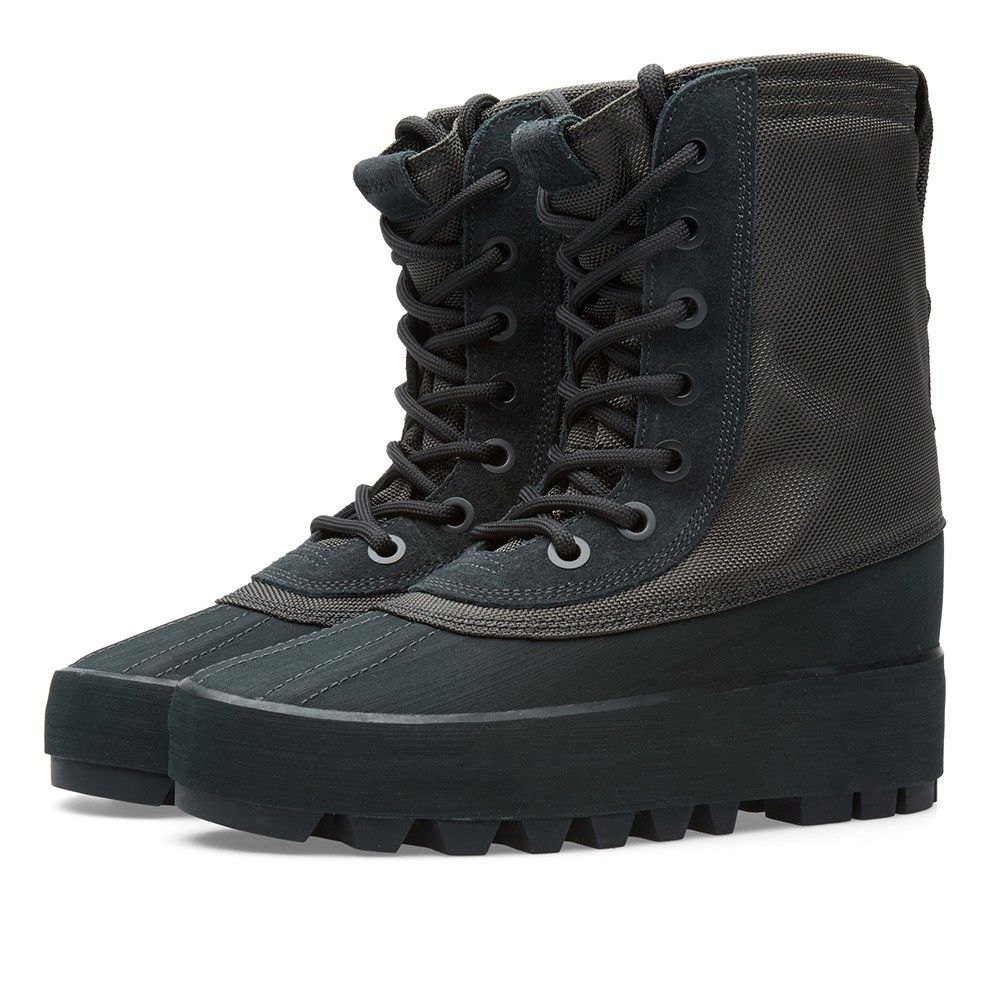 The women's Yeezy 950 Boot in Pirate Black was introduced as part of the Yeezy Season 1 drop in October 2015. The 7-hole silhouette, created in cooperation with adidas, is inspired by a classic duck boot and has a blend of ballistic nylon and rubber. The eyestay and Yeezy tongue tag are made of premium suede, with tonal eyelets and laces to keep the look homogenous. A contrasting flash of color is provided by a crimson topstitched heel tab.
4. Season 2 Crepe Boot Taupe
Kanye West developed the Yeezy Season 2 Crepe Boot 'Taupe,' which has a calf-high, duck boot-inspired style. The upper is made of taupe calfskin suede and features subtle eyelets and stitching. A pull-loop at the cushioned heel collar, tan leather inside, and a beige crepe rubber sole are also included. During New York Fashion Week 2015, the Spanish-made boot was unveiled at the Yeezy Season 2 show. It was released in June 2016, with a 'Oil' colorway following in August.
3. Season 4 Crepe Boot Oil
The Yeezy Season 4 Crepe Boot in 'Oil' is essentially a reissue of the Yeezy Season 2 Paris showroom's high-ankle shape. The Crepe Boot has a towering black oil suede upper with a bellows tongue and gently padded collar, drawing influence from old military boots.
2. Yeezy Season 7 Desert Boot Taupe
The Yeezy Season 7 Desert Boot 'Taupe' comes in a neutral colorway and borrows design elements from both running shoes and military boots. A familiar blend of mesh, suede, and nubuck makes up the Yeezy 500-inspired upper's layered structure. The padded tongue features a reflective pull button that adds a functional touch to the hybrid silhouette. A sturdy rubber outsole with deep grooves provides better traction and a smooth ride underfoot.
1. Yeezy Season 4 Combat Boot Oil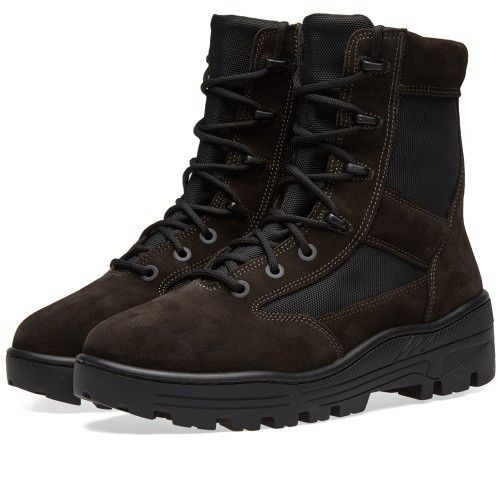 The oil-colored Yeezy Season 4 Combat Boot is made of fine suede with a ballistic nylon underlay. Padded collar, tonal rope laces, and a combination of metal eyelets and speed hooks are among the details. A durable rubber sole unit with flex grooves in the midsole and a high-tread outsole supports the boots underfoot, which are made in Italy.
Yeezy Boots Feature Ratings
Below are overall ratings of each unique features Yeezy boots gets from our Editors.
| Features | Rating |
| --- | --- |
| Breathability | 7/10 |
| Comfort | 8/10 |
| Pricing | 6/10 |
| Outsole | 7/10 |
| Midsole | 8/10 |
| Upper | 8/10 |
| Weight | 7/10 |
| Style | 10/10 |
| Durability | 7/10 |
| Protection | 9/10 |
| Support / Stability | 8/10 |
| Responsiveness | 7/10 |
| Traction | 6/10 |
| Sizing | 8/10 |
| Materials Quality | 9/10 |
Conclusion
The Yeezy line has become a huge success over the past few years, with one pair of shoes in particular, the Adidas Yeezy Boost 750, generating almost $5 million in sales on the first day they were released. The popularity of these shoes has resulted in many people looking to buy Yeezy boots, and while this can be difficult because most Yeezy shoes are sold out, there are still some great pairs that you can buy.
If you're looking to purchase the next best Yeezy boot, the only thing standing in your way is figuring out which one to get. There are so many Yeezy boots on the market, and they all have different properties that make them stand out. That's why it's important to carefully read reviews of each pair before choosing one to buy! This article will provide you with the information you need to make an informed purchase decision, so you can be sure your next Yeezy boot purchase is one you won't regret!