LeBron 14 - Top 10 L14 Sneakers Review
LeBron 14 sneakers review, features rating, shopping deals and price. We review best LeBron 14 colorways and models, release dates, performance ratings with facts.
On Christmas Day of 2016, the first pictures of the Nike LeBron 14 leaked online. Fans fell in love with the shoe's aesthetic and performance features after seeing it.
Sections:
Facts - Ratings - Price - Where to buy - Review
The Nike LeBron 14 was released in late January 2017, maintaining the history of excellence established by LeBron James and Nike. The Nike Zoom Air units are the highest they've ever been. A breathable, perforated top and a segmented, translucent outsole provide athletes with more comfort and flexibility. The strap that wraps from the midsole around the laces is what really binds the LeBron 14 together, both literally and visually. This eye-catching feature is designed to assist balance the foot. The Nike LeBron 14 is offered in two different silhouettes: high and low. The Nike LeBron 14 MAG is a popular high-top colorway. The MAG has a brilliant blue sole and is inspired by a Back to the Future sneaker. Another fan favorite is the Agimat.
LeBron 14 Quick Facts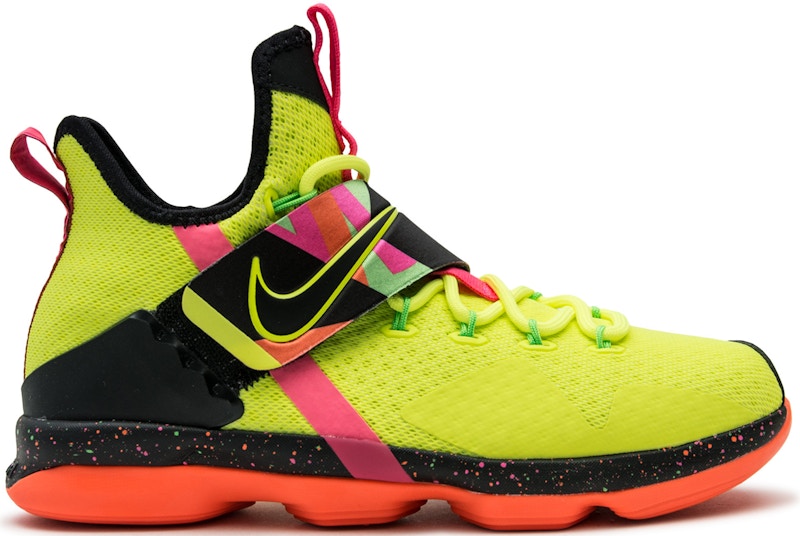 Top 10 LeBron 14 Releases
The LeBron 14s have been a popular shoe since their debut, but that's no surprise considering how awesome they are! However, with so many colorways available, it can be hard to figure out which one you should get. That's why we've created this LeBron 14 best colorway guide that takes into account performance and style and tries to help you determine which one best suits your own personal style and personality! You can also see our full review of the shoe here.
10. LeBron 14 Flip the Switch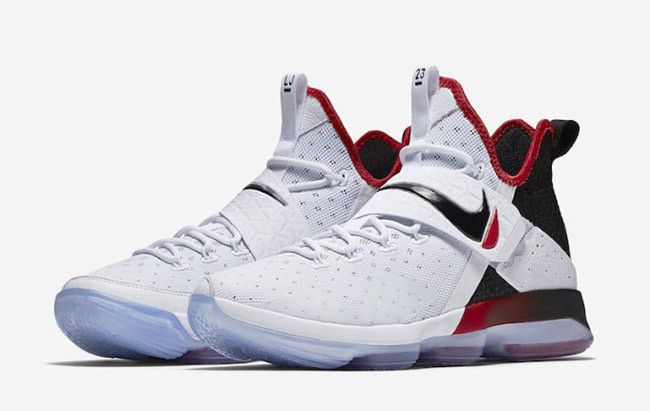 This LeBron 14 'Flip the Switch' colorway was created for LeBron James' 2017 postseason. It features a white ultra-thin perforated mesh upper with black and University Red accents. A wide midfoot strap divides the force of contact to promote stability, four hexagonal articulated Zoom Air units, and an icy blue translucent outsole are among the other characteristics.
Release date: 2017
9. LeBron 14 BHM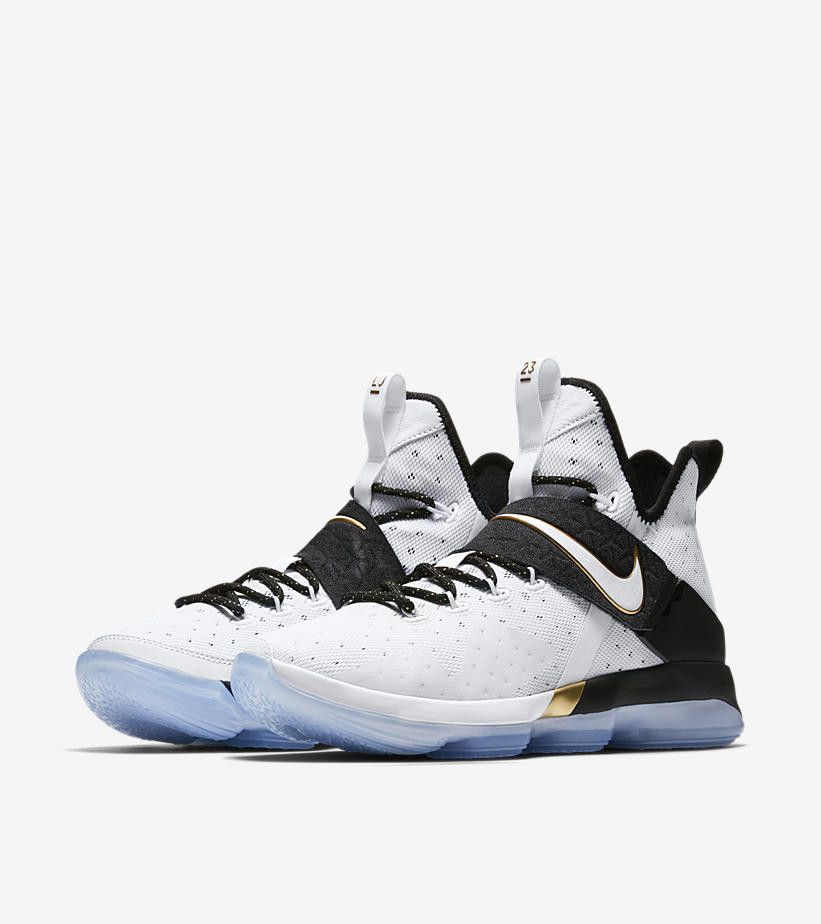 The Nike LeBron 14 'BHM' celebrates Black History Month with a white perforated mesh upper with contrasting black accents on the laces, dynamic midfoot strap, and midsole. The trademark Swoosh, midsole, and LeBron James insignia on the heel all have metallic gold accents. Underfoot, an ice translucent rubber outsole with hexagonal Zoom Air units strategically placed in high-impact zones reveals.
Release date: 2017
8. LeBron 14 Red Carpet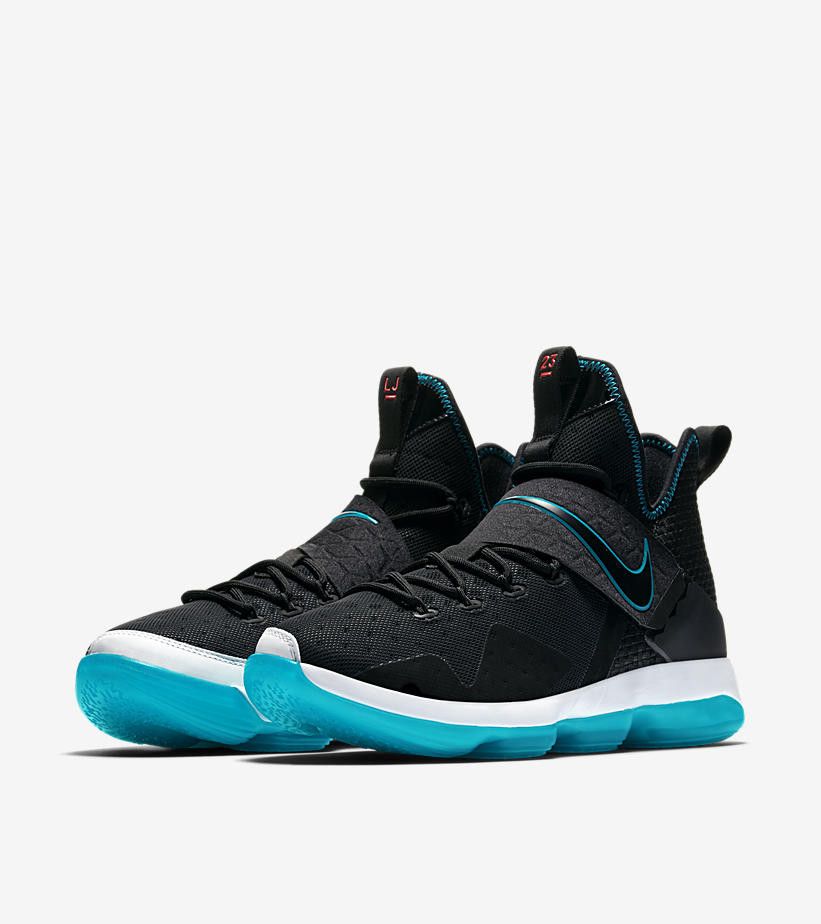 The 'Red Carpet' color pattern, which debuted on the LeBron 7, returns on the LeBron 14, with a mostly black tone on the mid-Hyperfuse top's mesh upper. The shoe features a sock-like fit for smooth support and is accented with Glass Blue accents on the branding and a translucent outsole to match the classic Red Carpet color scheme.
Release date: 2017
7. LeBron 14 Out of Nowhere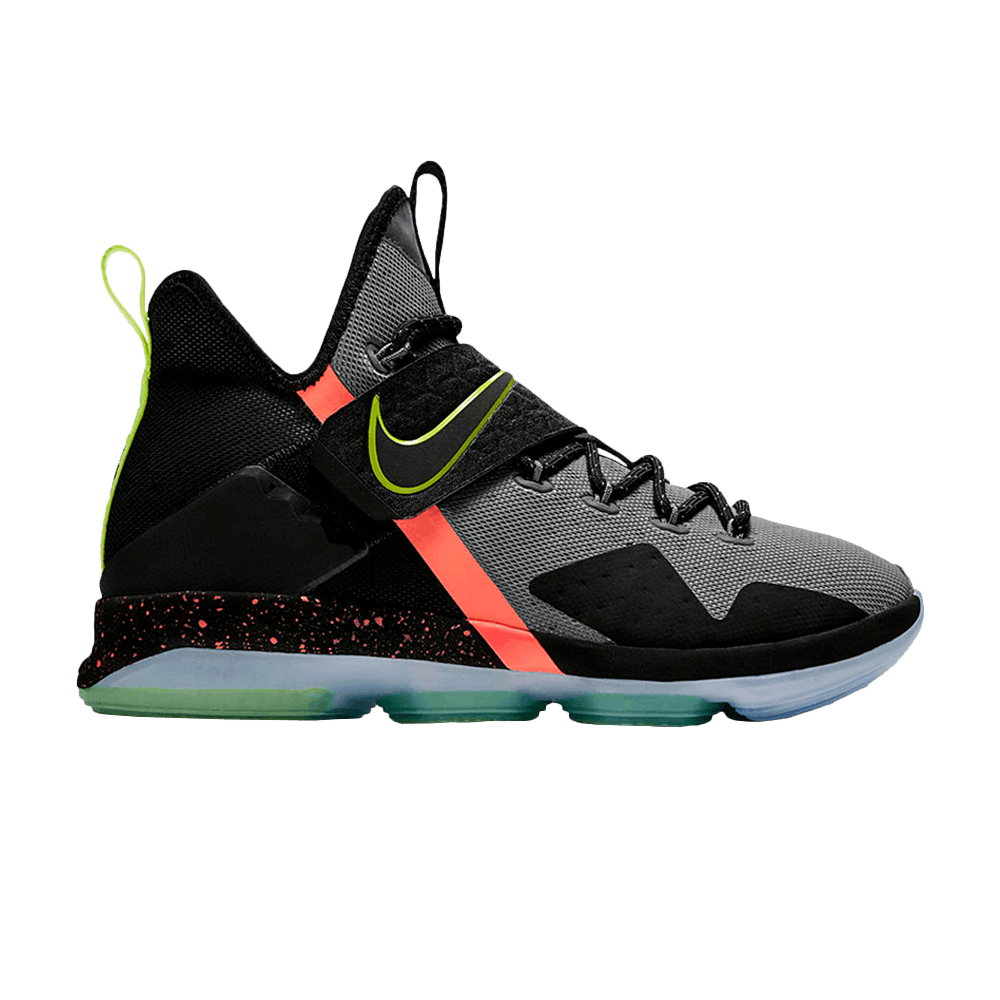 The 'Out of Nowhere' version of LeBron James' fourteenth trademark shoe was released in January 2017 in grey, black, and red. A vivid red stripe separates the synthetic top and meets the perforated Cool Grey vamp. Red speckling, Volt Swooshes, heel tabs, and underfoot pods that show through an icy translucent outsole and house Zoom Air units are all trademark elements.
Release date: 2017
6. LeBron 14 Time to Shine
In March 2017, the LeBron 14 'Time to Shine' was released as part of a broader collection of Nike Basketball signature models, all of which featured an iridescent Swoosh. The all-white mesh upper on this limited-edition LeBron 14 is highlighted with James' personal insignia on the heel and completed in the same iridescent look as the Swoosh. Underfoot, hexagonal Zoom Air units in an icy translucent outsole provide lightweight cushioning.
Release date: 2017
5. LeBron 14 Limited Agimat
The LeBron 14 Limited 'Agimat' is built with a mainly Obsidian mesh top to signify good luck charms commonly worn by Filipino players, and incorporates features that reference LeBron's travels to the Philippines. The shoe features gold shapes and branding on the tongue, as well as a woven heel and a distinctive pattern on the sock-liner, all of which pay homage to the island's significance.
Release date: 2017
4. LeBron 14 GS Bred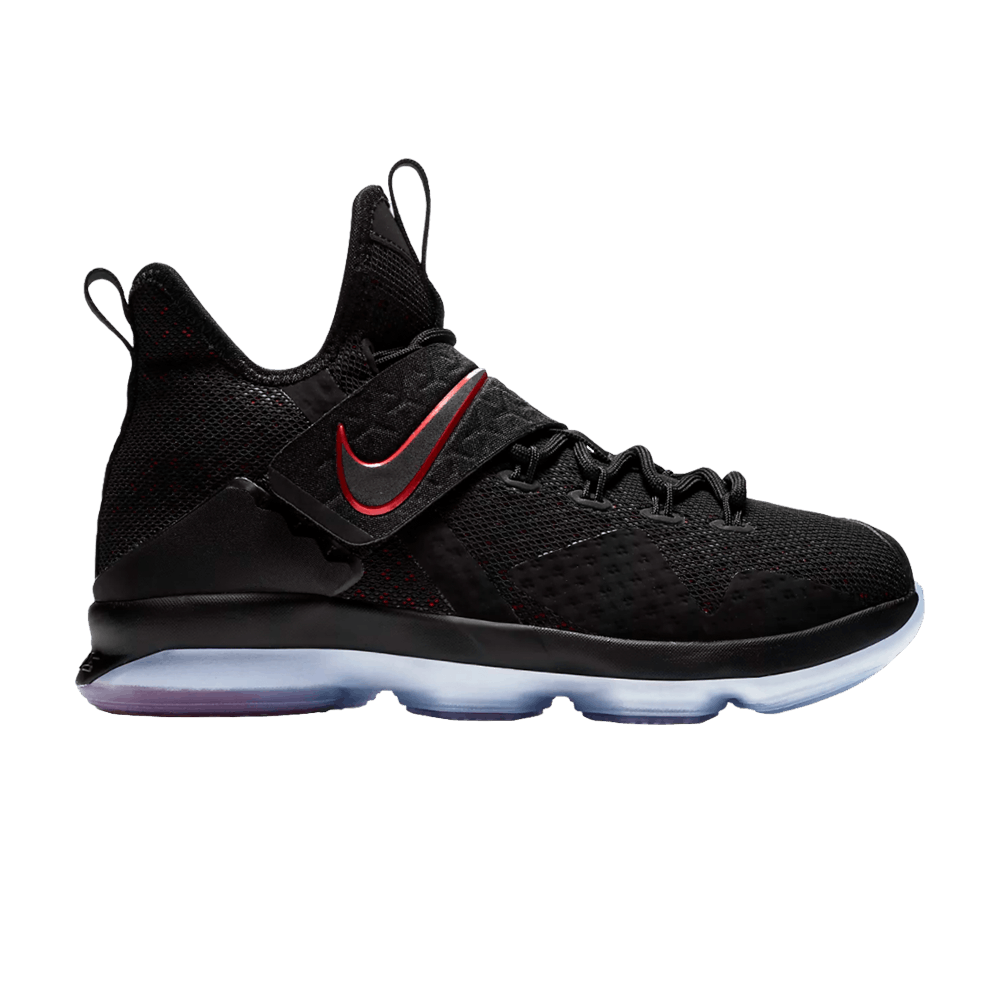 The LeBron 14 was introduced in May 2017 in the traditional Nike 'Bred' colorway. The LeBron 14 GS repackages features from the adult version into a smaller package for kids. An adjustable midfoot strap reinforces the top, which is comprised of molded and bonded materials. For cushioning comfort, the midsole is reinforced with Zoom Air units, forefoot flex grooves, and padded foam.
Release date: 2017
3. LeBron 14 The Undertaker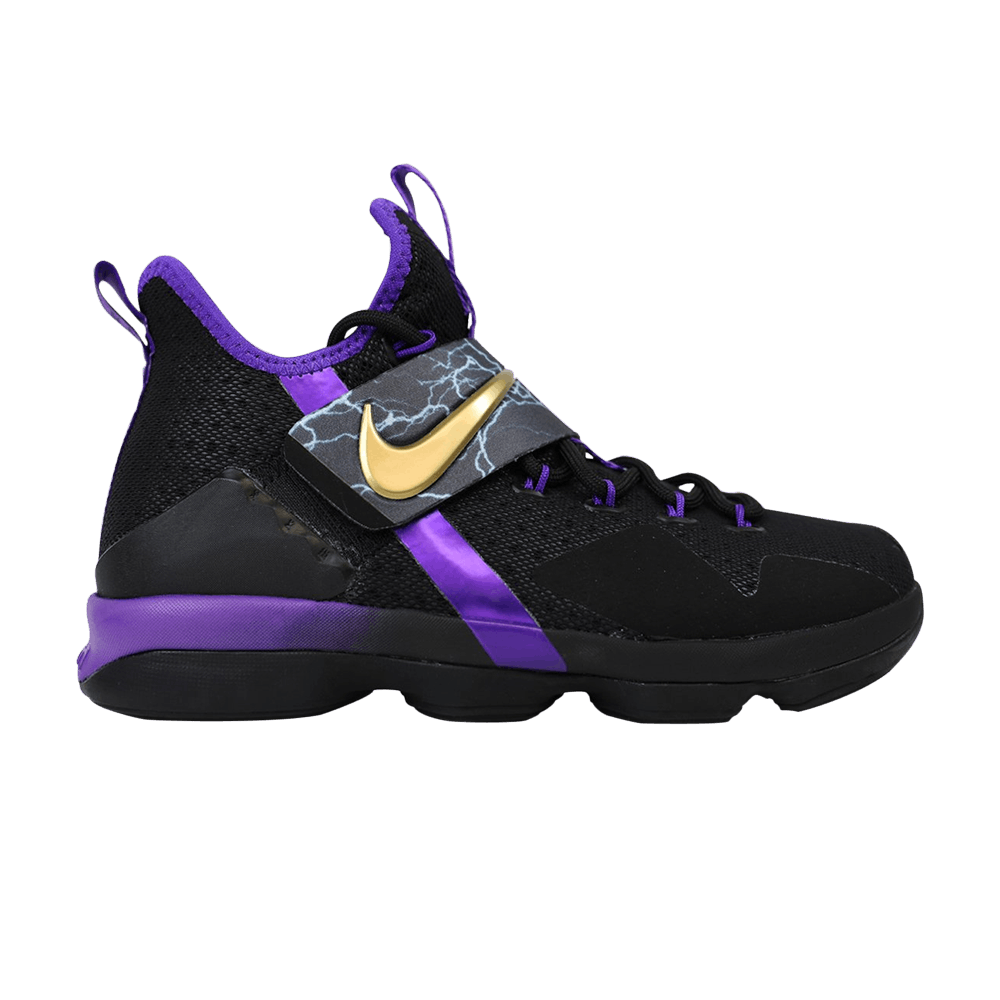 In July 2017, Nike introduced a set of three limited-edition LeBron 14s inspired by LeBron James' passion for professional wrestling. The sneakers, which are only available in grade school sizes, pay homage to three WWE superstars. The Undertaker is honored on this LeBron 14 GS, which features a black and purple color scheme with a gold Swoosh and a lightning-strike image on the midfoot strap.
Release date: 2017
2. LeBron 14 Reflect Silver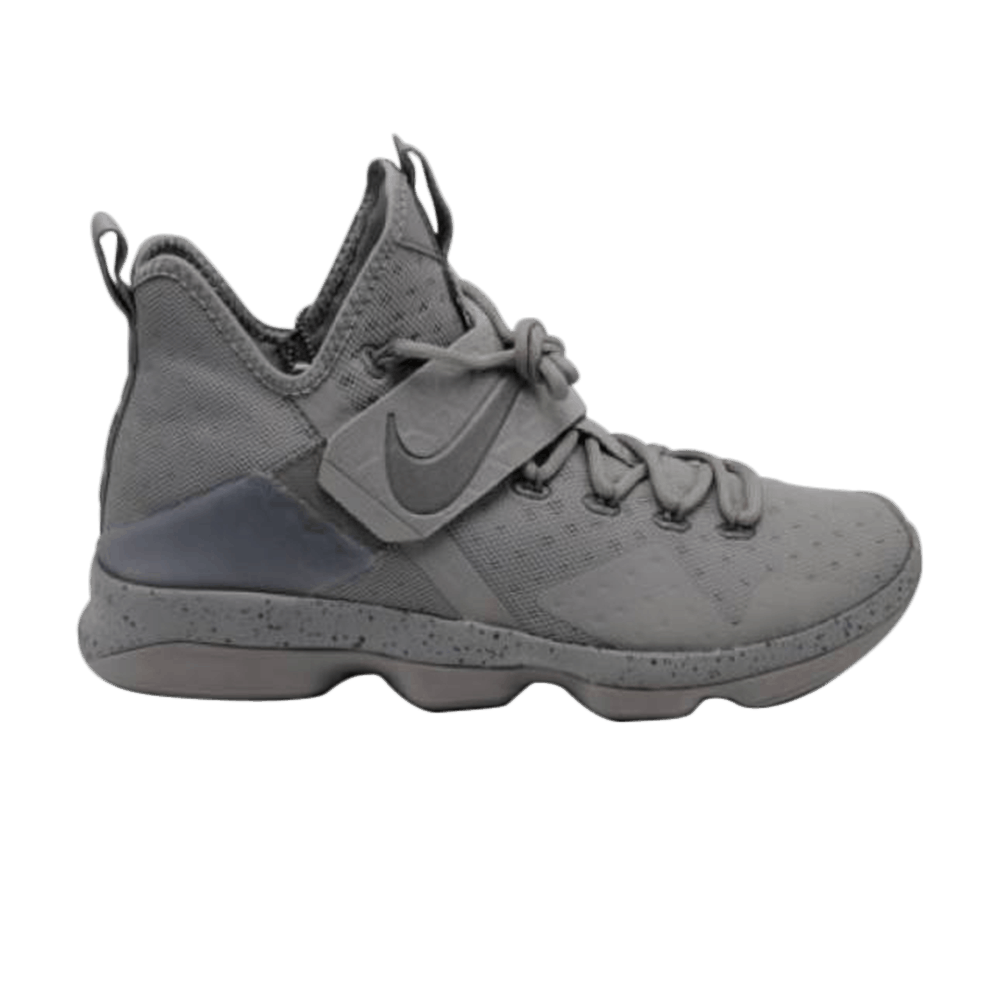 With the LeBron 14 sneaker, basketball legend LeBron James adds to his distinctive Nike range. Inspired by its namesake, the LeBron 14 is designed for unmatched performance and athleticism. The grey top is made out of a two-piece textile and molded foam upper that is reinforced with Flywire cables for adaptive support. The Zoom Air cushioning provides responsive comfort, and the bottom features multi-directional tread.
Release date: 2017
1. LeBron 14 White Wine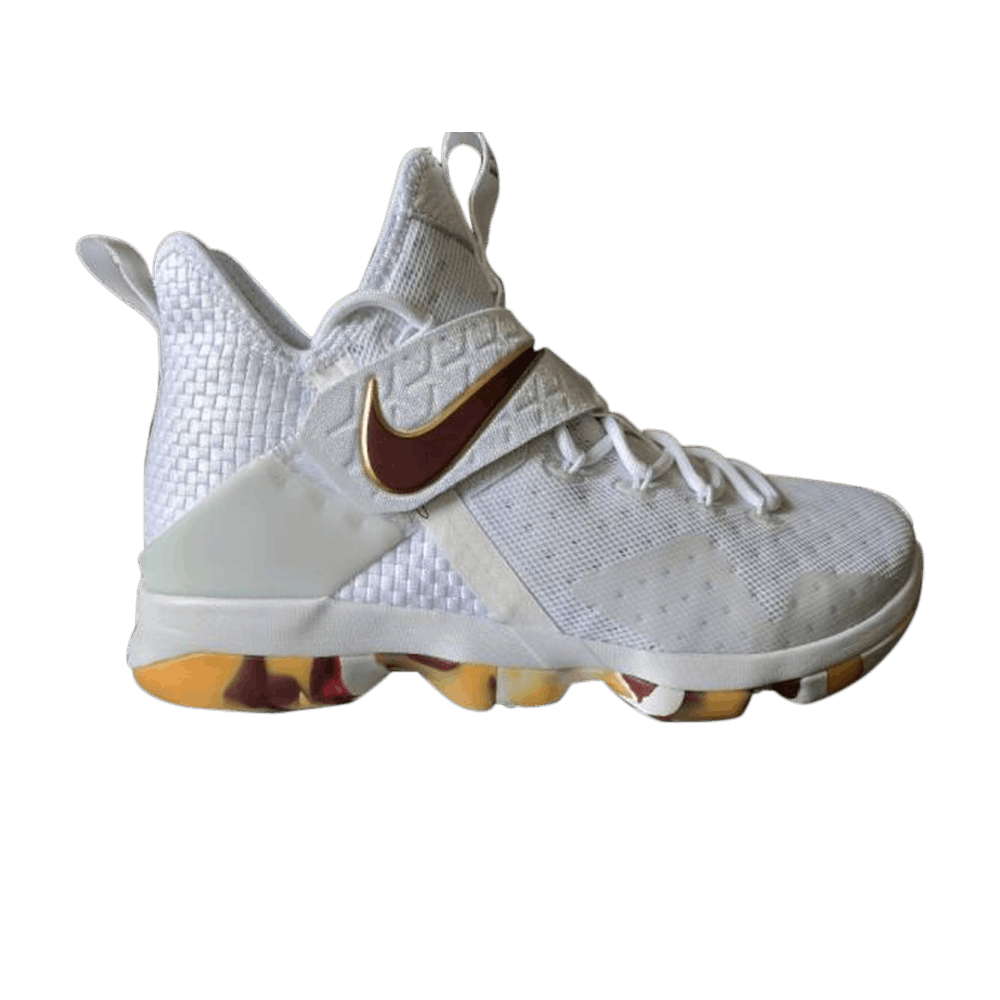 The LeBron 14 'White Wine' was never officially introduced to the general public, instead turning up in Nike Outlet stores without warning. The top is made out of breathable mesh on the vamp, tumbled leather overlay on the toe, and a woven panel that wraps around the heel in a plain white finish. A huge gold Swoosh sits atop a broad midfoot strap, while a distinctive marbled effect on the outsole adds more color. 'Just a youngster from Akron,' says an inner tongue tag.
Release date: NA
LeBron 14 Features Rating
Below are overall ratings of each unique features LeBron 14 gets from our Editors.
| Features | Rating |
| --- | --- |
| Breathability | 7/10 |
| Comfort | 8/10 |
| Pricing | 8/10 |
| Outsole | 7/10 |
| Midsole | 7/10 |
| Upper | 7/10 |
| Weight | 5/10 |
| Style | 8/10 |
| Durability | 7/10 |
| Protection | 7/10 |
| Support / Stability | 8/10 |
| Responsiveness | 7/10 |
| Traction | 7/10 |
| Sizing | 6/10 |
| Materials Quality | 9/10 |
LeBron 14 Review
The LeBron 14 isn't flawless, but then again, no shoe is. The shoe's impact protection and overall mobility are two of its best attributes. With the Elite model, forefoot stability and overall containment during lateral movements should be improved. Traction wasn't great, but it wasn't horrible either; as long as you maintain it clean, it'll do the job.
These should suit you well if you're a little player who wants or needs impact protection while still being able to move freely on the court. They should be an equally good option if you're a huge man who requires the same thing.
The LeBron 14 was the newest iteration of LeBron James' signature shoe line, and it came out in 2017. Since then, new colorways have been released. With so many options available, it can be difficult to decide which one(s) you should get. Here are some of the best colorways and why you might want to consider them as your next pair of kicks!