LeBron 13 - Top 10 Colorways Review
The LeBron 13 is simply true to size, breathable, secure, and long-lasting, with excellent comfort, cushioning, and traction.
Sections: Facts - Ratings - Price - Where to buy - Review
LeBron James is a famous shoe endorser and a player of the NBA. His shoes are highly famous not only due to his fame but also their high quality. These walking shoes have been introduced in different sizes and colorways.
In the process of getting rid of the excess, LeBron James wanted to build on what he started with the L12.
LeBron 13 Quick Facts
LeBron 13 is lighter, leaner, and more explosive than LeBron 12, with ultra-responsive cushioning, lock-down support, and game-day protection. It boasts a breathable mesh one-piece sleeve that provides sock-like comfort, flexibility, and zonal support for excellent lockdown.
Hyperposite material on the toe, midfoot, and collar delivers zonal protection, while four low-profile Nike Zoom Air units deliver exceptionally responsive cushioning to fuel every move in the LeBron 13 colors.
Top 10 LeBron 13 Colorways
The LeBron 13 is designed for extreme precision, increased lockdown, and hyper responsiveness, with first-step explosiveness to help you stay one step ahead.
If you are the kind of guys that like to be on the lookout for the latest fashion products. Then you've hit the right place. In this article, we'll be talking about the top 10 most popular LeBron 13 sneakers.
10. LeBron 13 USA
The LeBron 13 'USA' edition is an Olympic-inspired LeBron James sneaker that honors Team USA's basketball team during the 2016 games. It has a mesh and textile upper in an all-blue Midnight Navy colorway with Varsity Red and White Swoosh branding across the toe and forefoot, and was released in January 2016. This patriotic shoe is finished off with red Flywire cables, a dazzling white midsole with red accents, and a translucent outsole.
9. LeBron 13 On Court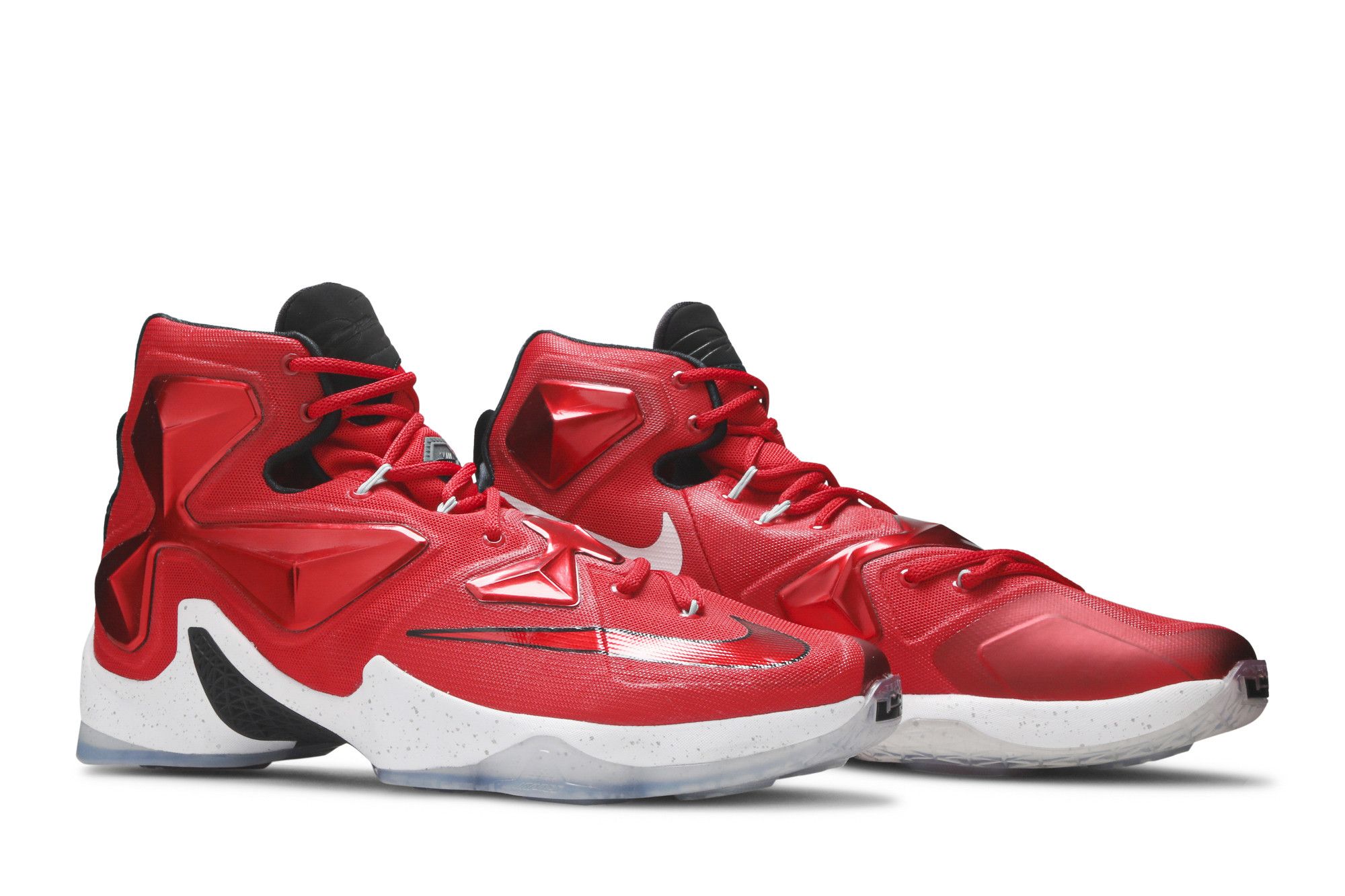 The LeBron 13 was designed by Jason Petrie in 2015 and was notable for its mixed-material composition. The LeBron 13 'On Court' has a breathable mesh upper with support from Flywire technology on the sides, Hyperposite accents on the midfoot and collar, and an asymmetrical lacing system for an adjustable fit. The sneaker is dressed in Gym Red and features black accents, a speckled midsole, and Zoom Air cushioning for lightweight comfort.
8. LeBron 13 Greatness
The LeBron 13 features a breathable, sock-like feel, Zoom Air cushioning, and signature 'Akronite' outsole ornamentation. Hyperposite panels are used to reinforce the midfoot and sidewalls of the high-top silhouette, providing impact protection for sensitive parts of the ankle and foot. A subtle speckle design covers the midsole and Hyperposite parts of the 'Greatness' model, which is clothed in Cleveland Cavaliers crimson.
7. LeBron 13 All Star - Northern Lights
The LeBron 13 AS 'Northern Lights' is LeBron James' All-Star colorway for the 2016 All-Star Game in Toronto, and is designed to emulate the intergalactic majesty of the Northern Lights. A black, white, and olive-speckled Posite inlay on the forefoot, mudguard, and sidewall complements the Alligator Engineered Mesh upper. Yellow elements on the Swoosh lining, a branded tongue, and LeBron homages on the heel round off the mid top.
6. LeBron 13 DB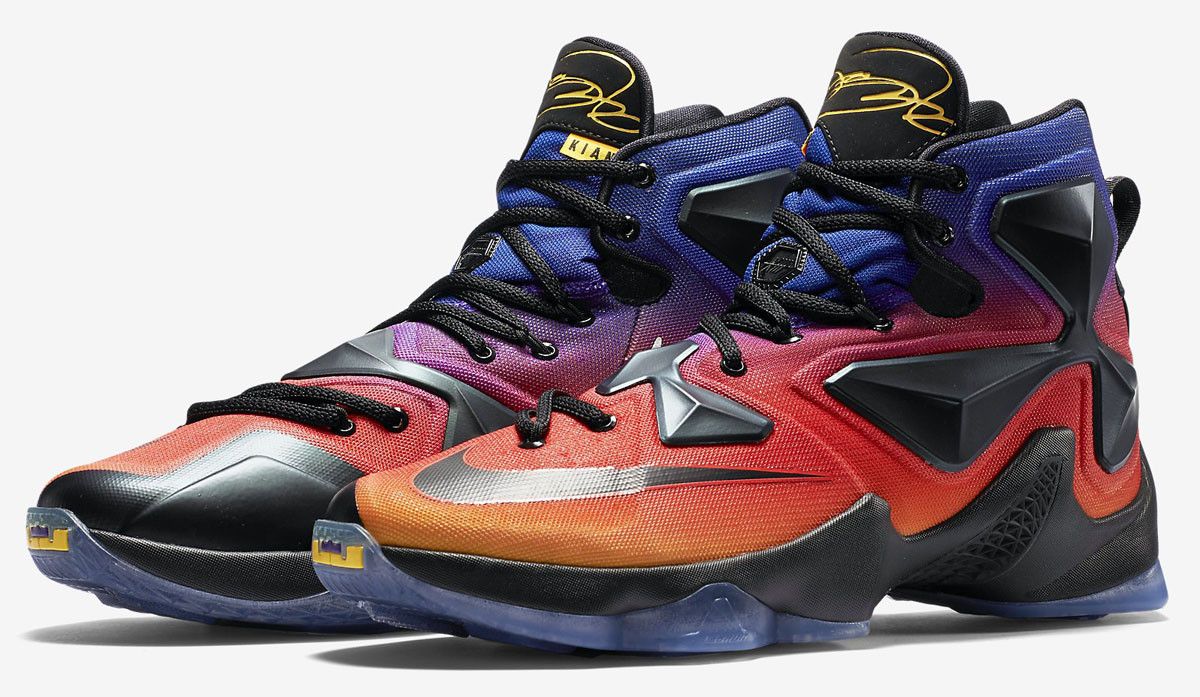 Children and teenagers admitted to the OHSU Doernbecher Children's Hospital in Portland, Oregon, are invited to create their own unique shoes as part of the Doernbecher initiative. Kian Safholm designed the LeBron 13 'DB,' which leverages the silhouette of the LeBron 13 to represent Kian's love for sunsets on the Savanna. A gradient Hyperposite upper is featured on the sneaker, with black accents on the side panels, laces, midsole, and tongue. A translucent outsole adds more cushioning and impact protection to the sneaker.
5. LeBron Soldier 13 'Friday the 13th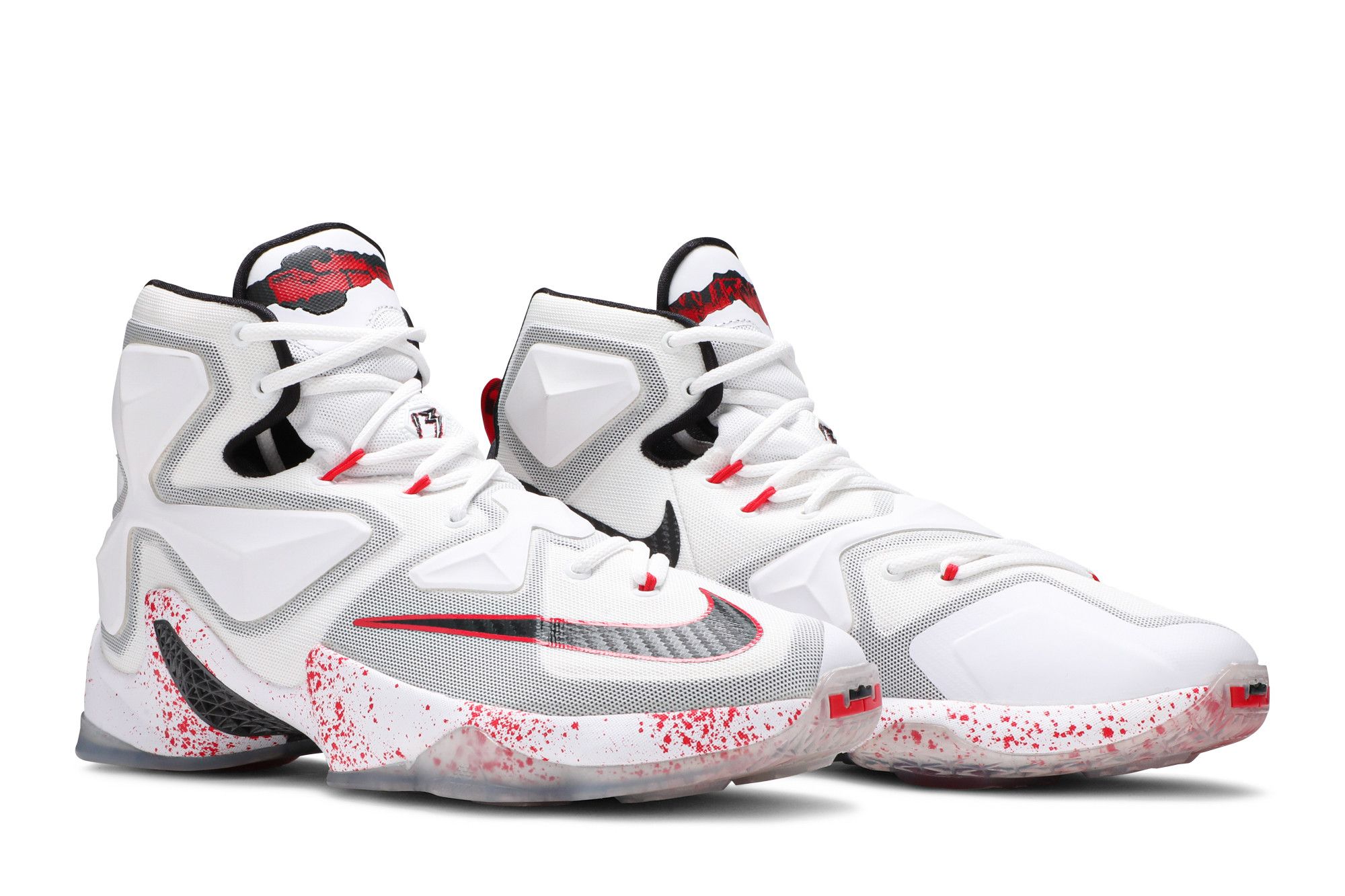 The LeBron 13 features a mostly white and grey mesh upper with blood splatter patterns on the midsole and LeBron branding, with a frightening concept that combines Friday the 13th inspiration. The number '13' on the tongue refers to the 13th LeBron model as well as the horror film influence, while Flywire cables on the eyestay help to keep the forefoot held down. Cushioning is provided by Nike Zoom Air cushioning units on the outsole.
4. LeBron 13 Easter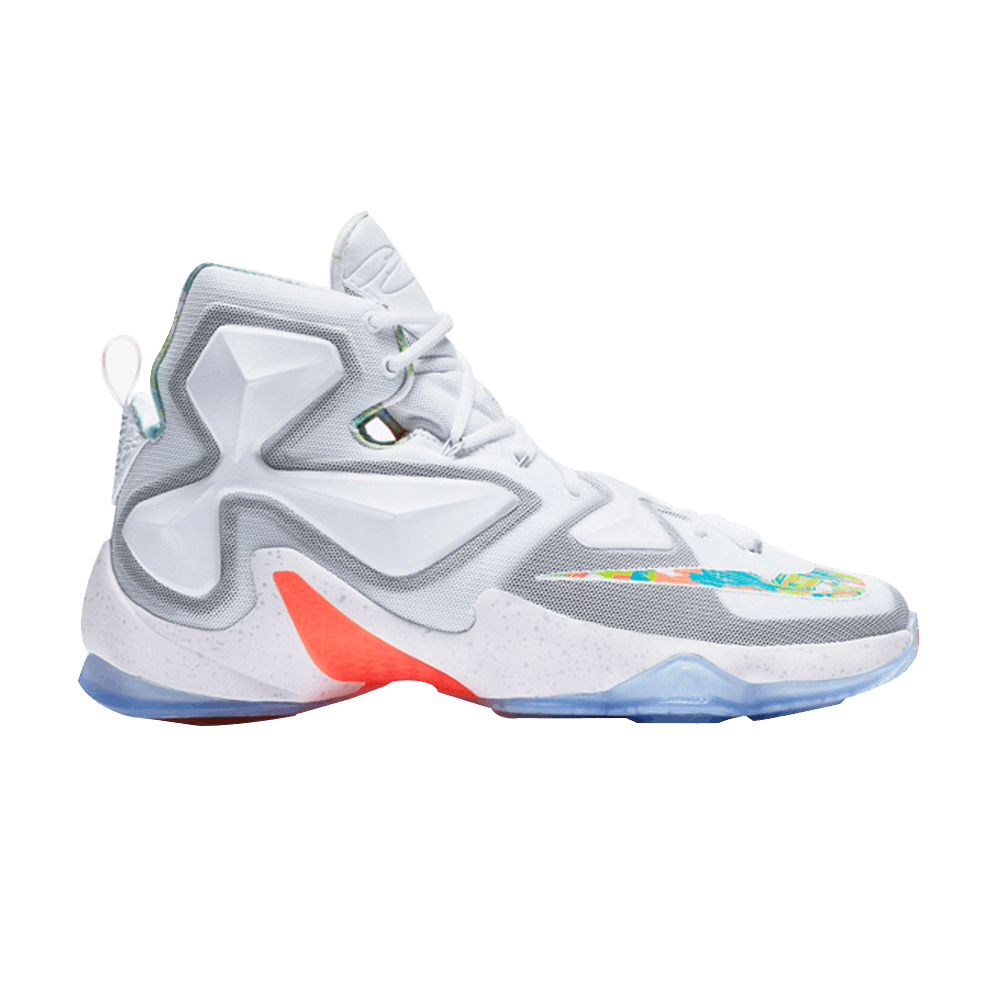 The Nike LeBron 13 'Easter' honors the springtime festival with a brilliant color palette that complements the white mesh upper, which is reinforced by Hyperposite paneling on the toe, midfoot, and collar. A one-piece breathable mesh sleeve provides a sock-like feel on the inside, while four hexagonal Zoom Air units are strategically placed on the translucent outsole.
3. LeBron 13 Black Lion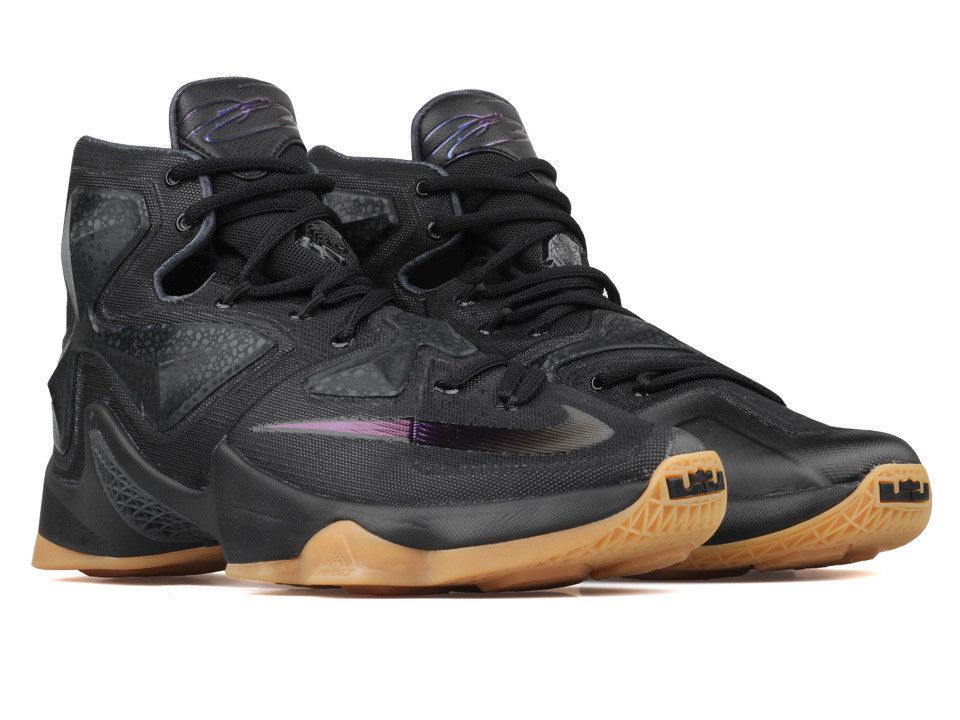 The 'Black Lion,' a LeBron 13 with a black-based synthetic upper and matching Hyperposite overlays, debuted in December 2015. Iridescent details at the tongue and a huge Swoosh adorn the toe add a splash of color. Underfoot, a full gum rubber outsole completes the aesthetic.
2. LeBron 13 Christmas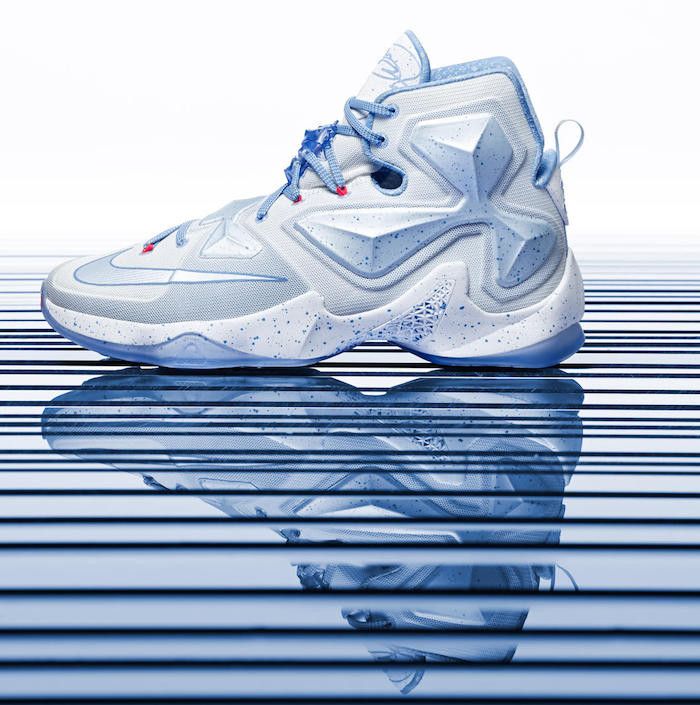 During the 2015-16 NBA season, LeBron James wore the Nike LeBron 13. The LeBron 13 'Christmas' edition includes a Summit White breathable mesh upper with speckled Blue Tint Hyperposite overlays, Flywire cables, and a Blue Tint Swoosh from December 2015. An icy blue lace lock, a shattered ice-inspired '13' on the heel, an icy blue translucent outsole, and a frosty design on the lining are among the winter elements. An asymmetrical lacing mechanism and hexagonal Zoom Air cushioning are also used in the shoe.
1. LeBron 13 Mini Hoop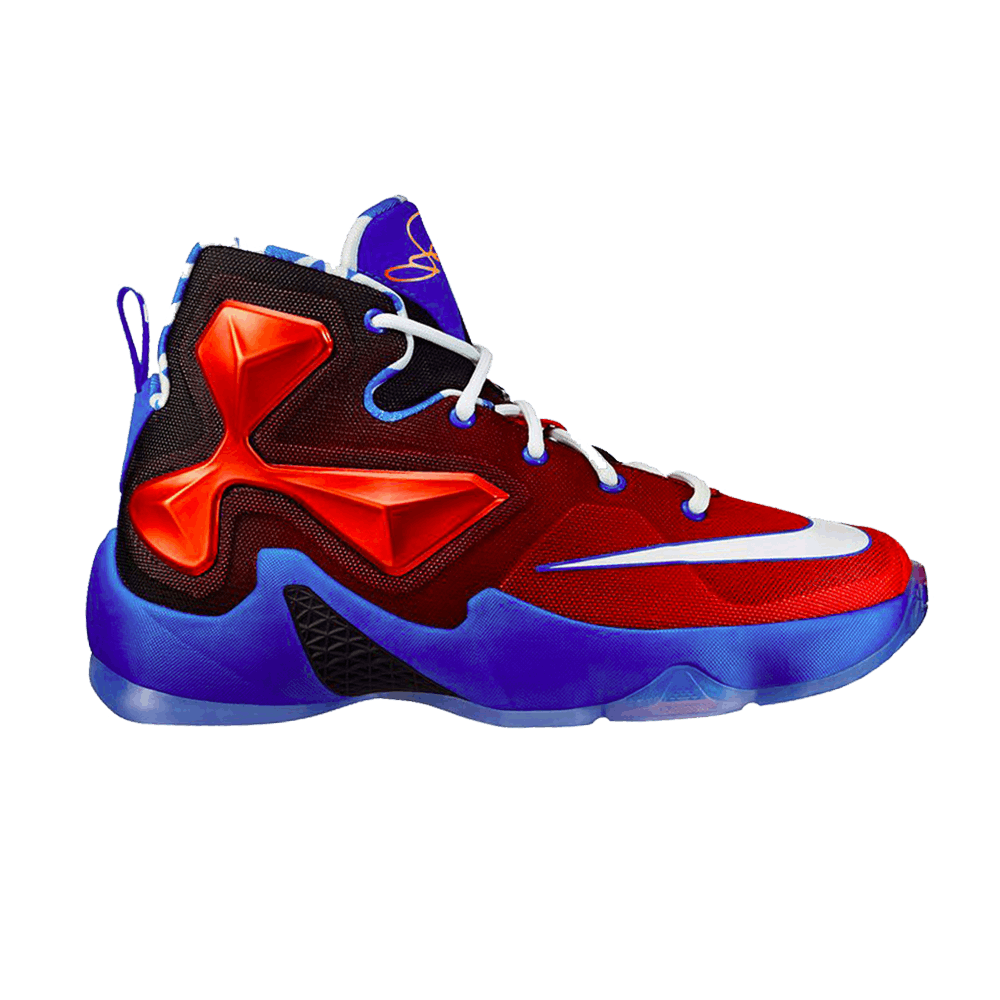 Our number one sneaker in the top 10 LeBron 12 shoes ever is The Nike LeBron XIII GS is available in a 'Mini Hoop' iteration inspired by Nike Basketball's 'Toys Collection,' which pays homage to one of LeBron's favorite childhood toys — which would later become a symbol of his journey to success. Thanks to the inner mesh sleeve, which produces a customizable fit with better ventilation, this kids' exclusive is built with flexible support. Hyperposite panels on the toe, midfoot, and heel collar provide more protection, while Zoom Air pods in a hexagonal shape provide support during court sharp cuts.
LeBron 13 Feature Ratings
Below are overall ratings of each unique features LeBron 13 gets from our Editors.
| Features | Rating |
| --- | --- |
| Breathability | 7/10 |
| Comfort | 8/10 |
| Pricing | 7/10 |
| Outsole | 7/10 |
| Midsole | 8/10 |
| Upper | 7/10 |
| Weight | 5/10 |
| Style | 8/10 |
| Durability | 7/10 |
| Protection | 7/10 |
| Support / Stability | 8/10 |
| Responsiveness | 7/10 |
| Traction | 7/10 |
| Sizing | 8/10 |
| Materials Quality | 9/10 |
Conclusion, the LeBron 13 Shoes
The LeBron 13 is a shoe that may be used in a variety of situations. It keeps your foot in position and is comfy. The cushioning is excellent, and the design, in my opinion, is fantastic.