LeBron 12 - Top 10 Styles Review
LeBron 12 top 10 sneakers. The best colorways, best selling 12th edition shoes of LeBron James x Nike. Spectacular!
Sections: Facts - Ratings - Price - Where to buy - Review
LeBron James has had a handful of signature shoes. These signature shoes have helped to make LeBron James one of the most marketable athletes in the world. The signature shoes started with the LeBron first signature shoe, moved to the LeBron 12, and now the LeBron 18. In this blog we will look at the top 10 colorways and iterations of the L12 LeBron James has had his name on.
LeBron 12 Facts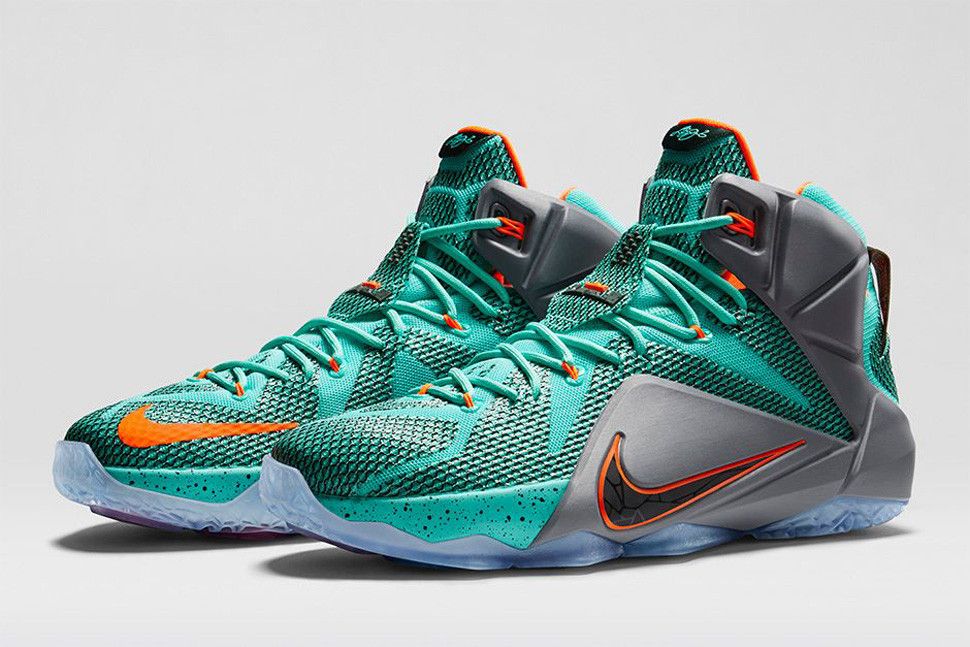 The Nike LeBron 12 was unlike any other basketball shoe ever created. It's brightly colored and heavily constructed for performance, and it's a terrific example of the excellence that's always been a hallmark of our partnership.
People may see brightly colored Zoom units through the see-through sole. The outsole is made to allow for a lot of flexibility and fluid, complicated movements in any direction.
Megafuse, a new, breathable fabric, is used for the upper of the Nike LeBron 12. Hyperposite "wings" provide additional structure and support to the shoe.
Top 10 LeBron 12 Colorways
LeBron James' sneaker line with Nike—the LeBron 12—has grown into one of Nike's most popular shoes ever. Let's take a look at ten of these best-selling colorways that were released during the shoe's first two months on the market.
10. LeBron 12 SE What The
Number 10 starting off is LeBron 12 SE "What The" shoe. Nike mixes things up on the LeBron XII by paying respect to a succession of the brand's heroes who all play a key role in LeBron's journey using the iconic 'What The' concept. Michael Jordan's 23, the Nike Cortez's heel-tab, the Air Tech Challenge II's Hot Lava splatters, and the Jordan 11's carbon fiber midsole accent are all examples of different colors and graphics. Each shoe has a mismatched design with LeBron Dunkman's signature on the tongue overlay.
9. LeBron 12 BHM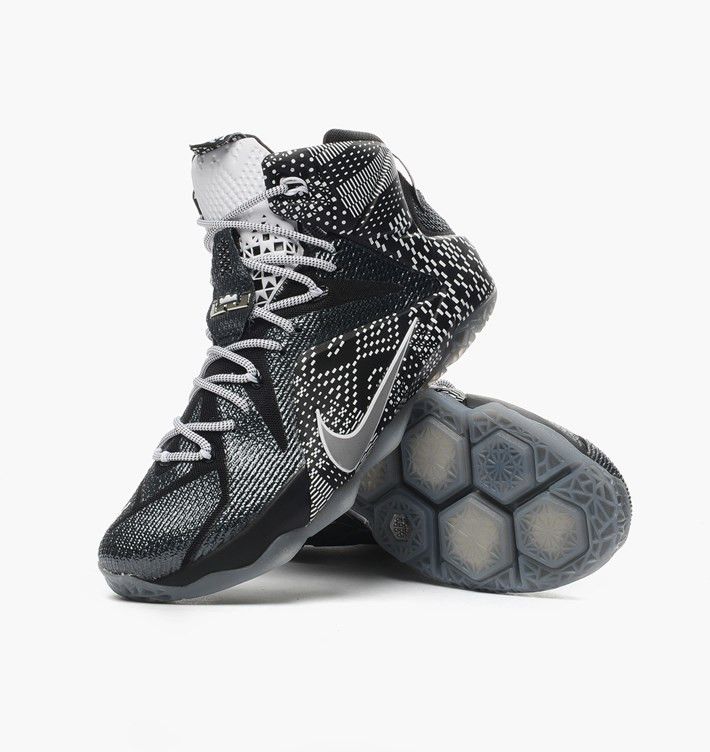 The LeBron 12 is part of Nike's BHM series, and it features a black and white upper with a variety of geometric motifs. Five hexagonally formed Zoom Air units are used on the outsole for responsive cushioning, while Megafuse mesh paneling and Flywire cables work together to create a locked-down fit. The BHM logo is small, but a silver Swoosh near the midsole jumps out.
8. LeBron 12 EXT Prism
To commemorate his famous saying "Finish Your Breakfast," which alludes to the act of'schooling' your defender and scoring off the dribble, streetball icon John Strickland gets a commemorative exclusive. The Hyperfuse upper of the LeBron 12 EXT 'Prism' is decorated with a multicolor pixel theme and Hyperposite embellishments on the collar and side panels. A pixelated Swoosh, an ice transparent outsole, and "Finish Your Breakfast" text on the heel tab complete the look.
7. LeBron 12 Low Entourage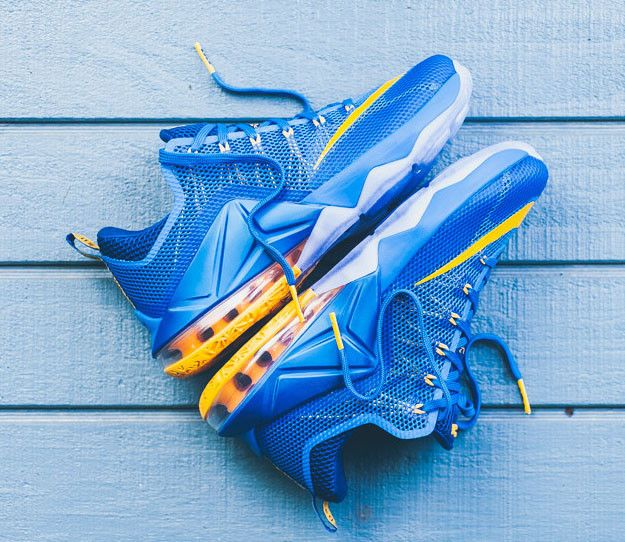 The 'Entourage' hue, which has already been seen on a number of LeBron James' signature sneakers, was inspired by the colors of the poster for the hit TV show of the same name. The shoe has a versatile Flywire lacing system for a secure fit, as well as a partially visible Max Air unit for cushioning.
6. LeBron 12 What If?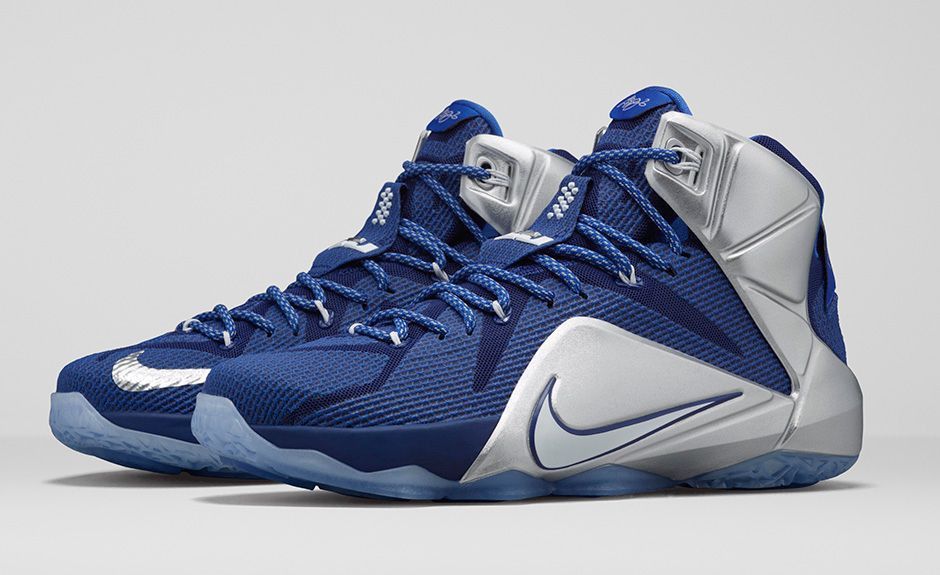 The 'What If?' colorway of the 2015 LeBron 12 imagines what might have happened if LeBron had chosen to play professional football instead of basketball. James was a wide receiver in high school and was selected first team all-state in his sophomore year before missing his senior year due to a wrist injury sustained in an AAU basketball game. The shoe boasts a Deep Royal Blue Megafuse upper with dynamic Flywire cables and shiny silver Hyperposite wings in the colors of LeBron's favorite team, the Dallas Cowboys. In the icy blue translucent outsole, there are also five visible hexagonal Zoom Air units.
5. LeBron Soldier 12 'Court Vision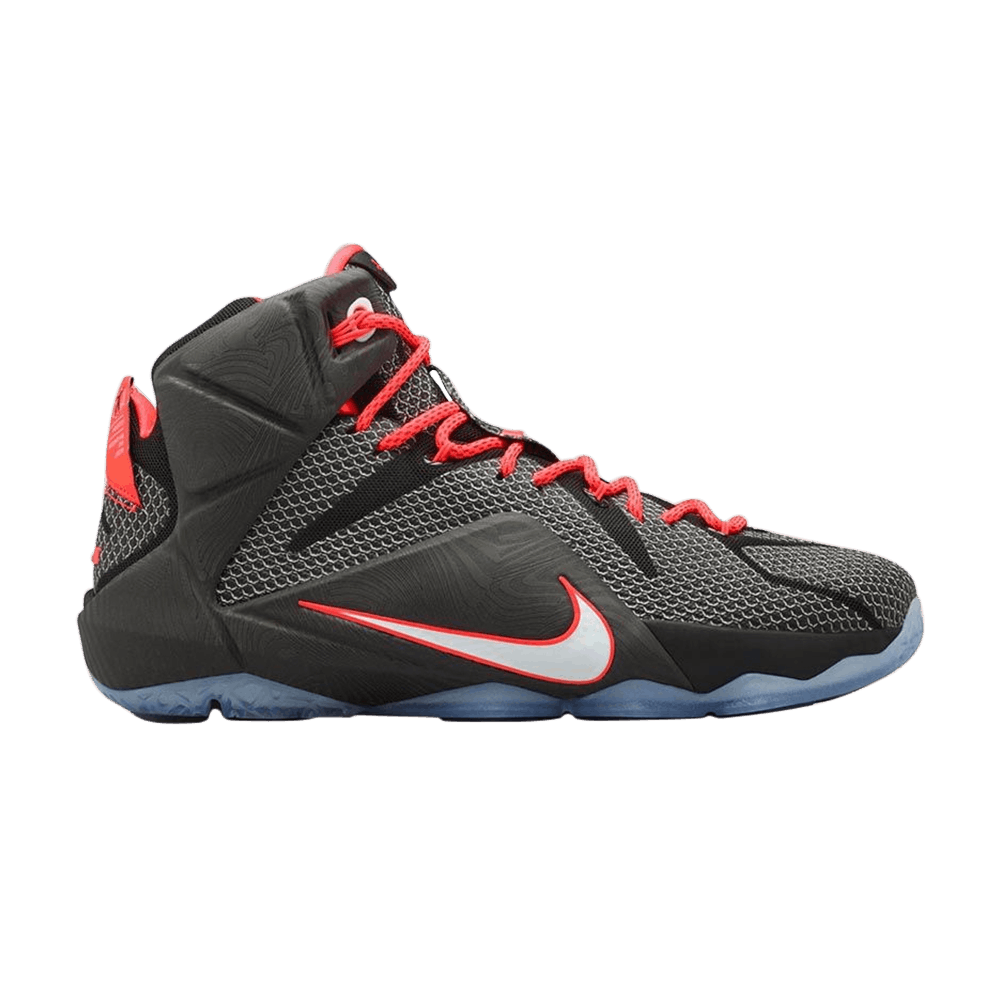 LeBron James debuted a variety of colours, each with its own backstory. The 'Court Vision' LeBron 12 pays homage to LeBron's clear vision. The shoe features a black Hyperposite upper with a 3M luminous pattern and Bright Crimson accents on the laces, Swoosh lining, and heel. For increased support, the mid top has an icy blue outsole and a reinforced synthetic ankle.
4. LeBron 12 EXT Tennis Ball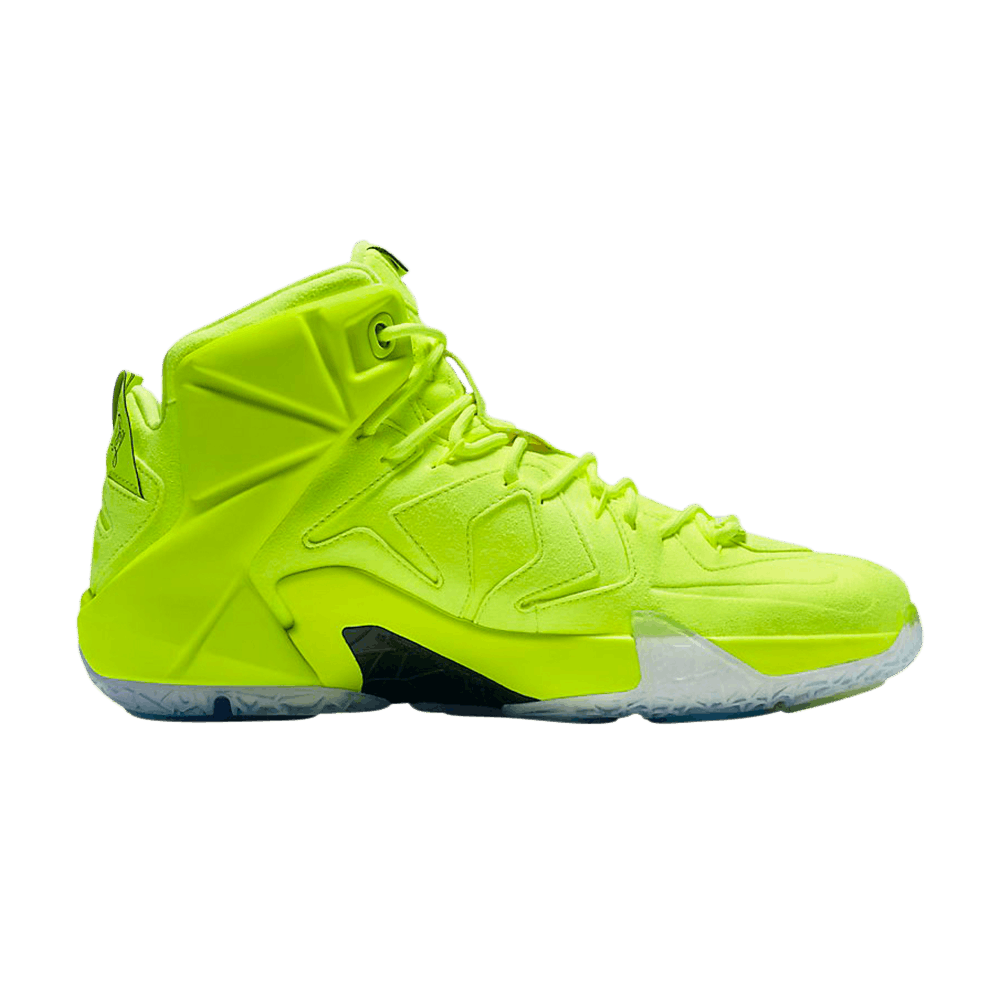 The LeBron 12 EXT is a one-piece bootie with supporting Hyperposite paneling that was first released in 2015. The 'Tennis Ball' variant of the high-top silhouette features felt material across the upper, similar to that found on a tennis ball, and an all-Volt coloring. Underfoot, a translucent outsole with yellow, green, and blue Zoom Air sections creates a striking contrast. The tongue tab and heel loop include LeBron's signature, as well as a '330' insignia, which refers to the area code of James' hometown of Akron, Ohio.
3. LeBron 12 All Star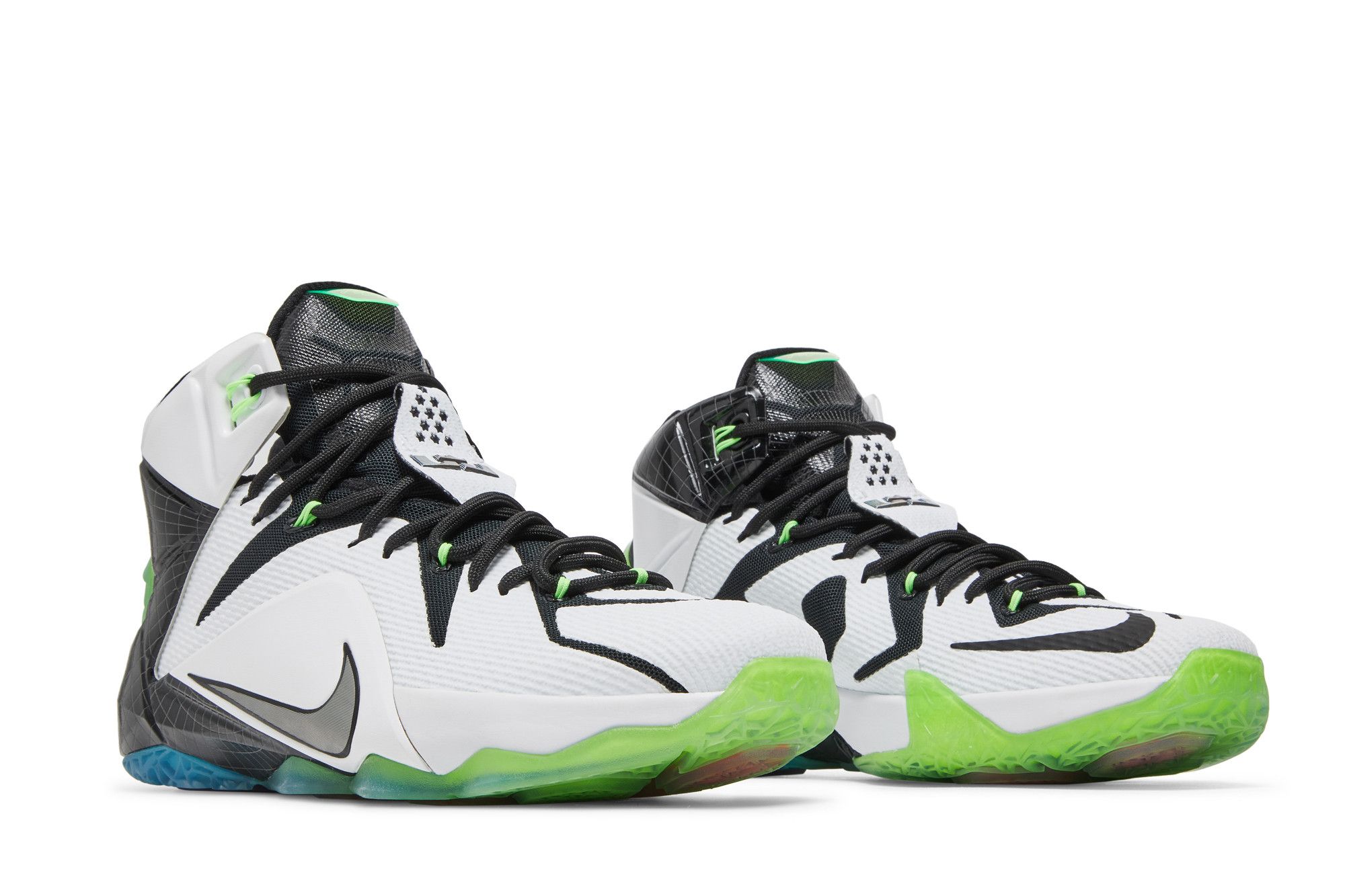 The LeBron 12 combines design motifs from New York City's Flatiron Building in honor of the 2015 NBA All-Star Game. The Hyperposite and Megafuse mesh paneling have a mostly white top, with a tonal grid design on the shiny black heel. The heel counter's green-to-blue gradient fade mirrors the Flywire cables' tones, which help improve midfoot support.
2. LeBron 12 Double Helix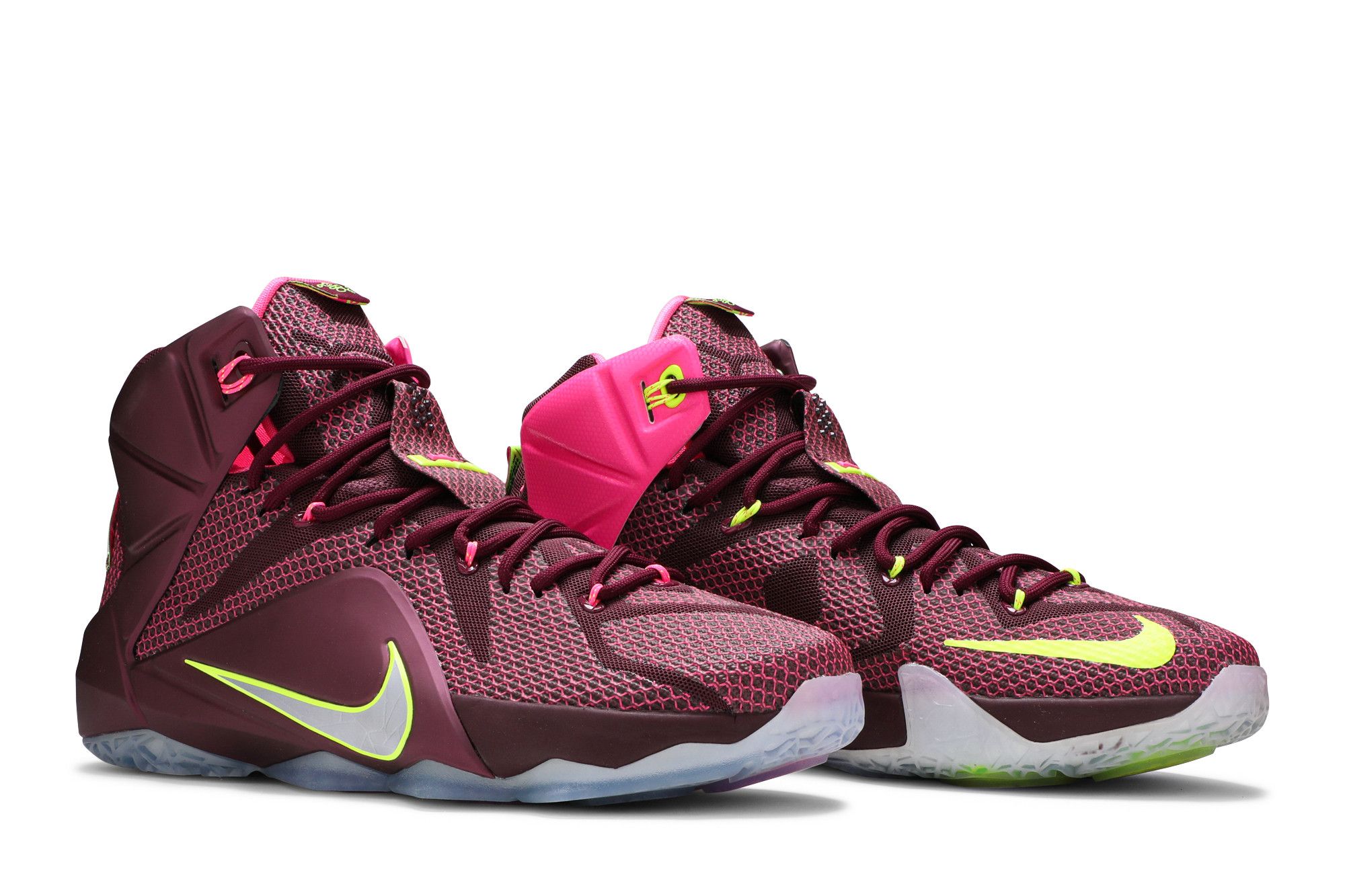 The LeBron 12 'Double Helix' is made up of a mix of Hyperfuse mesh and molded Hyperposite paneling in burgundy tones, with Volt and magenta accents on the branding, sockliner, and pull tabs. The trademark double helix namesake, which resembles a DNA strand, is also included on the pull tabs. Underfoot, the hexagonally shaped Zoom Air pods take on icy blue colours.
1. LeBron 12 NSRL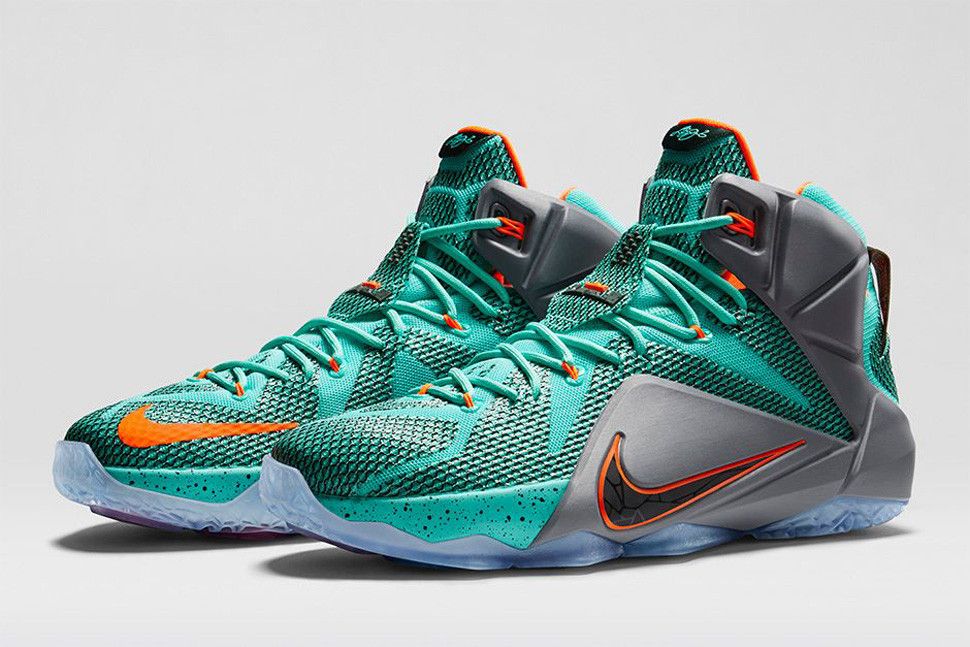 Our number one sneaker in the top 10 LeBron 12 shoes ever is theee... The Nike LeBron 12 'NSRL'! It was introduced in November 2014 as the silhouette's primary colorway. Underfoot, five multicolored, hexagonally formed Nike Zoom Air bags in the frosty translucent outsole support a Hyper Turquoise Megafuse upper with Cool Grey Hyperposite wings. The NSRL color is based on the real-life Nike Sports Research Lab, which uses scientific data and analysis to assist guide footwear development.
LeBron 12 Feature Ratings
Below are overall ratings of each unique features LeBron 12 gets from our Editors.
| Features | Rating |
| --- | --- |
| Breathability | 7/10 |
| Comfort | 8/10 |
| Pricing | 7/10 |
| Outsole | 8/10 |
| Midsole | 8/10 |
| Upper | 8/10 |
| Weight | 7/10 |
| Style | 8/10 |
| Durability | 7/10 |
| Protection | 7/10 |
| Support / Stability | 8/10 |
| Responsiveness | 7/10 |
| Traction | 7/10 |
| Sizing | 8/10 |
| Materials Quality | 9/10 |
Conclusion
One of the most popular colorways for this sneaker is the What the LeBron in Multi-Color/Phantom-Multi-Color. His number, 23, is also on it, however it's partially hacked away to reveal the upper. The Laser Orange/Green Glow-Black LeBron 12 Witness boasts a strong color scheme but no visual embellishments. The EXT Cork, which contrasts a natural wood aesthetic with a metallic Gold Swoosh, is another exciting variation. The Nike LeBron 12 comes in a variety of colours that are unlike any other trademark sneaker.