Kobe 6 - Top 10 Kobe 6 Sneakers and Reviews
Kobe 6 sneakers review, features rating, shopping deals and price. We review top 10 Kobe 6 colorways, release dates with facts.
Sections: Facts - Ratings - Price - Where to buy - Review
The Nike Kobe 6 appears to be snakeskin. The elevated, rubbery islands on the knit upper serve a practical purpose: they increase the durability of the shoe. They also have a distinct and somewhat menacing appearance. Throughout his career, Kobe Bryant was always looking for methods to gain a competitive advantage.
The design for this fierce-looking sneaker reflects that warrior mentality. A memory foam sockliner that conforms to the wearer's foot was one of the Kobe 6's standout features. The Kobe 6 has been revisited multiple times since its release in 2010. The Nike Kobe 6 Grinch comes in a reptilian-inspired Lime Green/Varsity Red/Black colorway. The Nike Kobe 6 Supreme Rice features a more classic black-based upper, yet it still manages to produce a unique look.
Kobe 6 Quick Facts
Top Kobe 6 Releases
Here are the top 10 Kobe 6 kicks with the best performance so far: really lightweighted with better traction from the Kobe 5 after break in, cushioning, fit, containment, true to size excellent for guard.
10. Kobe 6 Protro Grinch
With the Nike Kobe 6 Protro Grinch, Nike began a new chapter at the end of 2020, refreshing the Kobe 6 design. The Kobe 6 Grinch first appeared in 2011 during a classic Christmas Day matchup between Kobe Bryant's Los Angeles Lakers and LeBron James' Miami Heat. This is the first Kobe 6 to receive the Kobe Protro treatment, which enhances traditional Kobe designs with current technology for increased performance.
At first sight, the Nike Kobe 6 Grinch looks identical to the original pair from 2011: it has a textured, snake-inspired upper in Green Apple and Volt as a nod to Kobe's Black Mamba namesake. The reptile concept is further enhanced by a black Swoosh, red Kobe branding on the tongue, and a green transparent outsole. There are some peculiarities, though, because this is a Protro. For a better court feel, the redesigned Kobe 6 Grinch features a more responsive Zoom Air cushioning technology and scaled-down traction. The contour of the silhouette has also been changed to make it fit lower and sleeker.
Released date: 2020
9. Kobe 6 Concord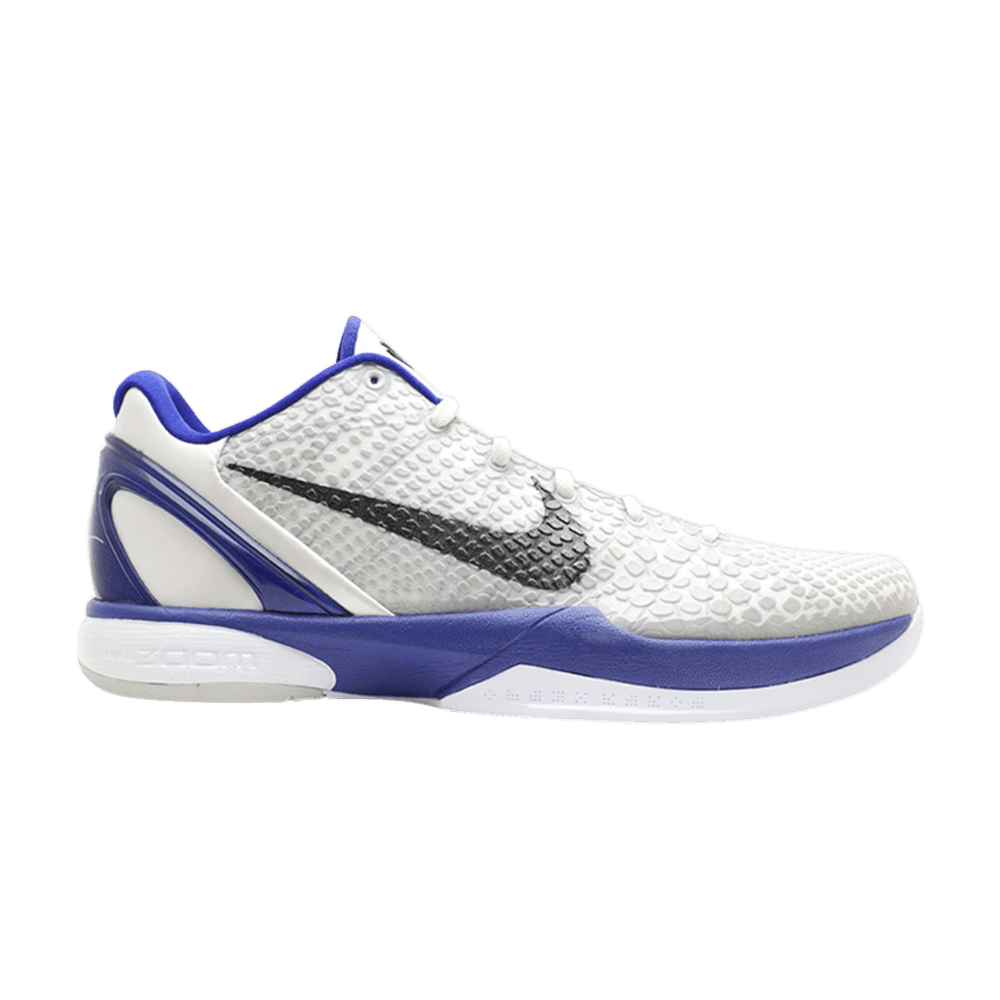 The Zoom Kobe 6 'Concord' was released in spring 2011 with a traditional white and blue color scheme. The snakeskin-textured upper is grey, with a black Swoosh and Kobe sheath logo on the sidewall and tongue, respectively, providing contrast. A white Zoom cushioned midsole and grey outsole meet a blue liner, heel cup, and midsole underfoot.
Released date: 2020
8. Kobe 6 Dark Knight
This 2011 Nike Zoom Kobe 6 'Dark Knight' includes a Dark Grey upper with black polyurethane snake-scale design, a Blue Glow swoosh, and Chilling Red Kobe logo on the dark grey leather tongue, all inspired by Batman aka The Dark Knight. A Phylon-injected black midsole with forefoot and heel Zoom Air units, as well as a black outsole with Blue Glow and Chilling Red at the heel, support the upper. In April 2011, the Zoom Kobe 6 was released in a Joker-inspired 'Chaos' colorway.
Released: 2011
7. Kobe 6 Prelude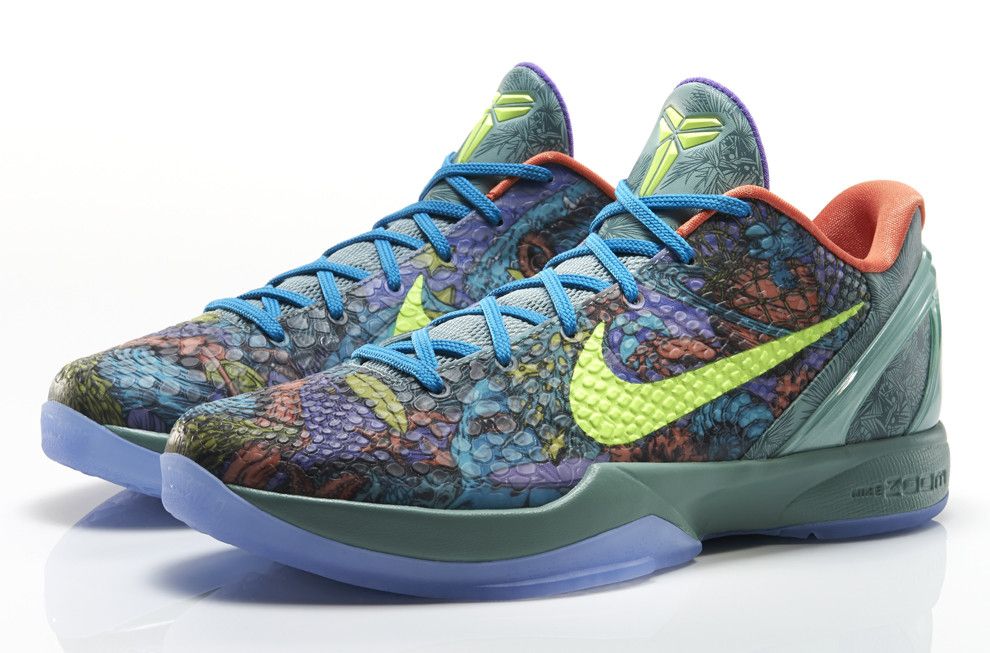 The Kobe 6 'Prelude' is part of an eight-shoe capsule that showcases Kobe's history of Nike signature shoes leading up to the Kobe 9. The 'Prelude' edition of the Kobe 6 is inspired by the varied Venice area of Bryant's longtime home of Los Angeles, with a graffiti design featuring anything from palm trees to sharks. A snakeskin patterned top is adorned with vivid designs, while a Zoom Air midsole and stabilizing heel counter provide further support.
Released Date: 2014
6. Kobe 6 Blue Camo
The Zoom Kobe 6 anchors itself in the silhouette's long-standing tradition of innovative, performance-forward sneakers. It boasts a rubber-effect Photo Blue camo upper with a padded tongue and collar for comfort, large white Swoosh, synthetic Volt heel counter for support, and Zoom technology for responsive cushioning.
Released Date: 2011
5. Kobe 6 All-Star
The Zoom Kobe 6 All-Star has a red and black color pattern to pay homage to the West's distinctive team colors, which was inspired by Nike's LA All-Star Pack from 2011. The upper of the shoe features a traditional snakeskin texture, paying homage to Kobe's nickname, 'Black Mamba.' The Flywire design provides support, while the dual-layer memory foam sockliner delivers a tailored fit.
Released date: 2011
4. Kobe 6 Supreme Rice
The Zoom Kobe 6 Supreme 'Rice' pays tribute to Rice High School in Harlem, which is one of Kobe's sponsored schools. The Zoom Kobe 6 Supreme 'Rice' boasts a black and metallic moss-green Polyurethane upper with black nubuck tongue and heel embellishments. Green Apple elements can also be found on the Swoosh and the translucent outsole. Rice High's emblem is embossed on the medial side, and a black mamba snakehead is stamped on the heel.
Released date: 2011
3. Kobe 6 Bred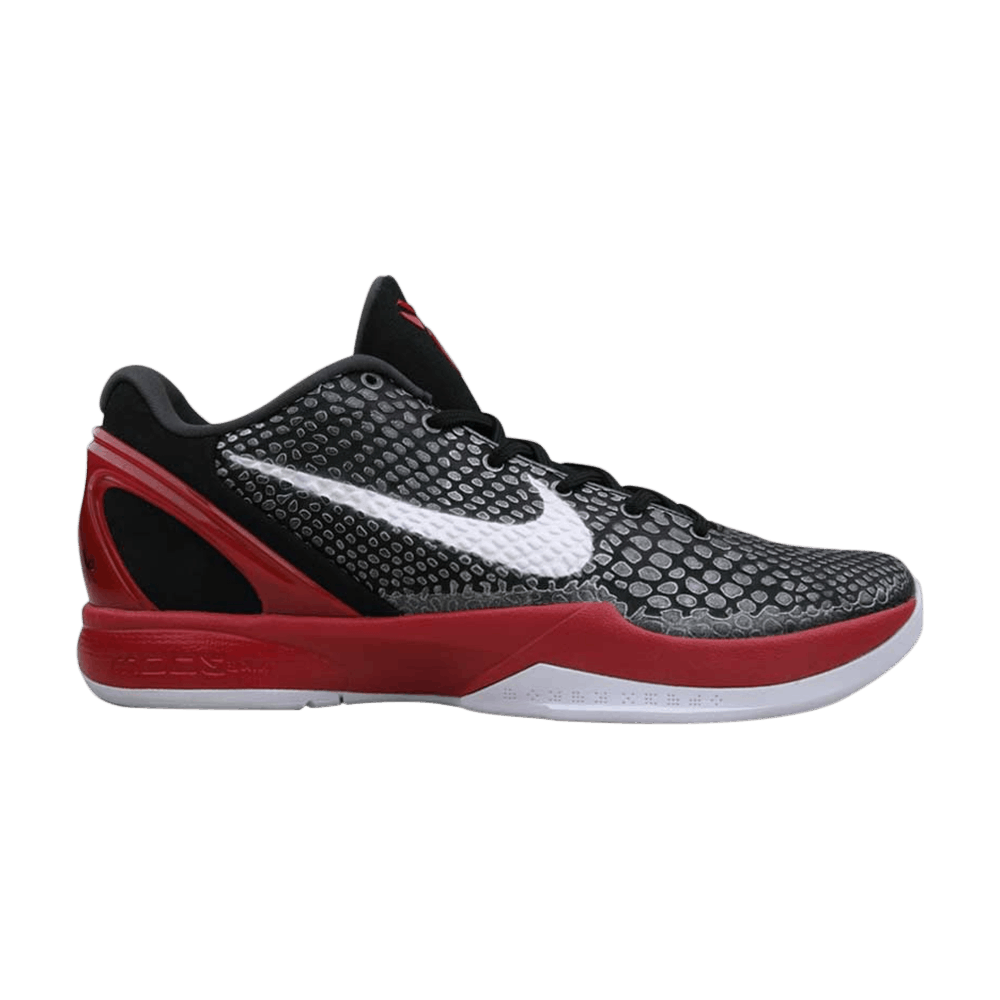 Bryant's sixth signature shoe features a reptilian pattern on the upper, which is inspired by Kobe Bryant's nickname, the Black Mamba. The sneaker also features black details on the tongue and heel, additional reptile details on the outsole, and "VENOMENON" lettering on the midsole for added security. Underfoot cushioning is provided by Zoom Air technology in the heel and forefoot.
Released date: 2011
2. Kobe 6 Lower Merion Aces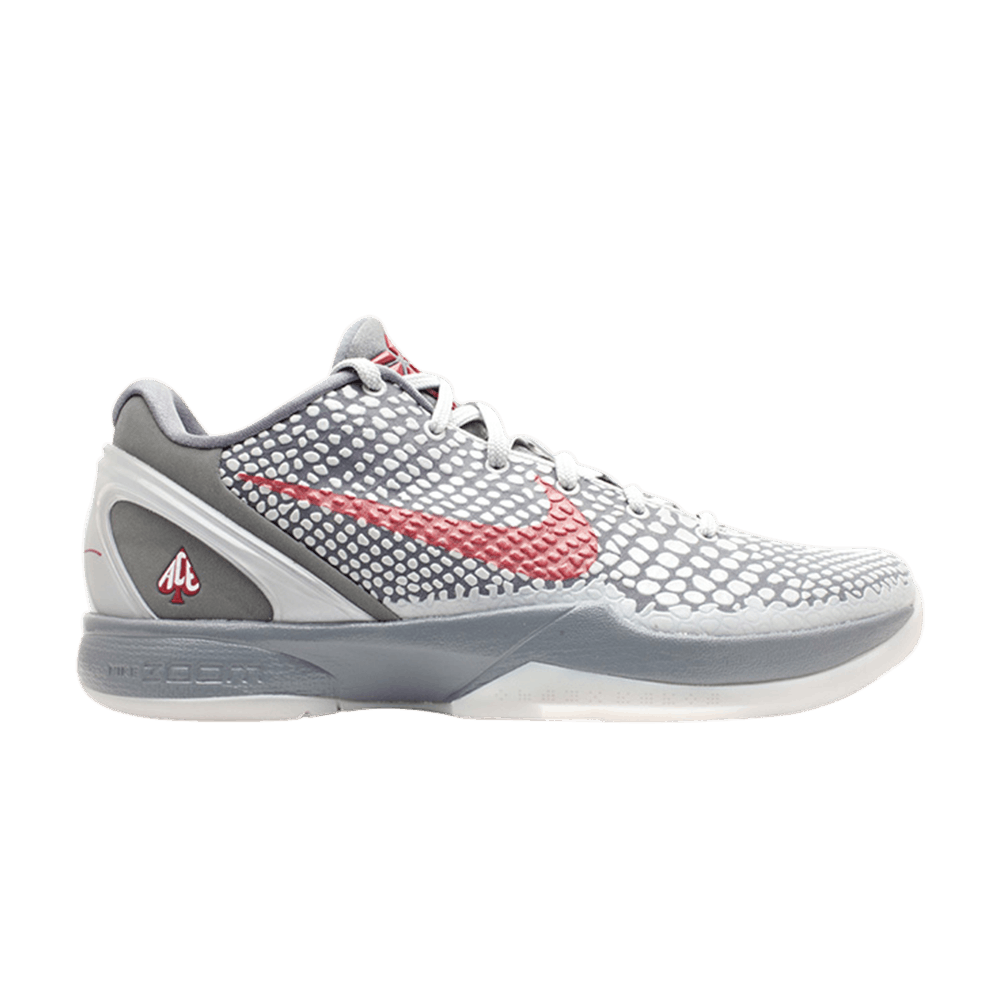 This Zoom Kobe 6 'Lower Merion Aces' pays homage to Kobe Bryant's old mater, Lower Merion High School in Philadelphia. The shoe features a snakeskin textured upper with a Varsity Crimson Swoosh and is dressed in the school's colors of Cool Grey and metallic platinum. A grey midsole with Zoom Air cushioning, a Pure Platinum outsole, and the basketball team's logo, the Aces, on the lateral heel complete the design.
Released date: 2011
1. Kobe 6 Duke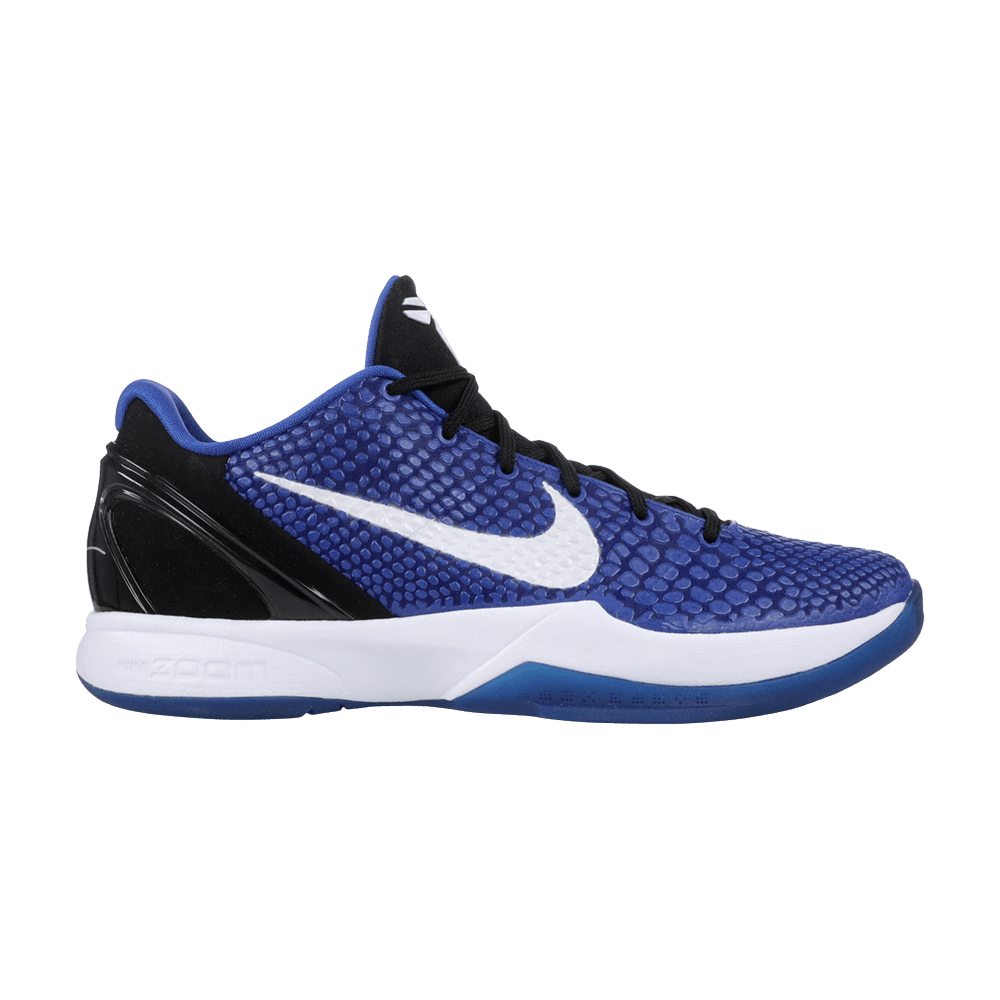 In February 2011, the Zoom Kobe 6 debuted in this royal blue colorway, dubbed 'Duke.' The design, which uses a color scheme similar to that of the Blue Devils shirt, is a reference to what would have been his alma mater if he had gone to college instead of the NBA straight. On top of a white Zoom cushioning midsole and blue outsole, it has a snake-textured polyurethane upper with black accents across the tongue, laces, and heel.
Released date: 2011
Kobe 6 Features Rating
Below are overall ratings of each unique features Kobe 6 gets from our Editors.
| Features | Rating |
| --- | --- |
| Breathability | 7/10 |
| Comfort | 7/10 |
| Pricing | 7/10 |
| Outsole | 7/10 |
| Midsole | 7/10 |
| Upper | 7/10 |
| Weight | 7/10 |
| Style | 7/10 |
| Durability | 9/10 |
| Protection | 7/10 |
| Support / Stability | 7/10 |
| Responsiveness | 7/10 |
| Traction | 5/10 |
| Sizing | 8/10 |
| Materials Quality | 9/10 |
Kobe 6 Review
Before breaking in, Kobe 6 traction is fantastic on pristine courts but barely okay on dusty surfaces. However, once broken in, it works well on clean courts and dusty floors, though some wiping was required.
The Phylon used surrounding the Zoom units, as well as the stiffer insole, provide outstanding cushioning, which is akin to the Kobe 5.
Simply put, the Kobe 6 runs true to size.
Also, the development of a second-skin upper was continued, with Flywire inserted in a Kurim-enhanced urethane top.
This top, on the other hand, was thicker and more robust than the previous version's Skinwire. The scale design was not only attractive, but it also provided some abrasion and scuff resistance. The top still flexes naturally and gives a solid shell of support. There were no concerns with containment.