Jordan 29 - 10 Best Jordan XX9 Sneakers Review
Jordan 29 sneakers review, features rating, shopping deals and price. We review best Jordan 29 colorways and models, release dates, performance ratings with facts.
A trend-setting basketball shoe, the Jordan 29 Sneakers were first released in 2014. The Jordan 29 instantly became popular with players and fans alike with its colorful design and advanced technology that kept feet comfortable on the court. The sneaker has since been released in multiple colorways, and it's available at many retailers across the world. For the most up-to-date information on this popular sneaker, including exclusive deals and discounts, read on to learn more about the Jordan XX9 Sneakers.
Sections:
Facts - Ratings - Price - Where to buy - Review
With the Air Jordan XX9, the world's first woven basketball sneaker, the Jordan brand, which has been a pioneer of innovation for three decades, once again pushed the edge. The shoe had an all woven upper and set a new record for the lightest Air Jordan ever then, drawing inspiration from Italian fashion.
Aside from inspiration, the main motivation for the design was to achieve maximum performance. The Flight Plate was redesigned to be more explosive. Heel-to-toe transitions were improved with the addition of a tendon. Players benefitted from a Flight Web fit system that provided greater mid-foot lockdown. This sneaker wasn't designed to transform the game; rather, it was designed to change the industry.
Jordan 29 Quick Facts
Top 10 Jordan 29 Styles
Since their first introduction in 2014, the Jordan 29 has been hailed as one of the top basketball sneakers on the market. The sneaker was designed with comfort and support in mind, so you may move around freely without pain in your feet or ankles. It also has a sleek appearance, making it suitable not only for playing but also for leisure wear. Below are some of the top Jordan XX9 sneakers and discounts! These are expected to sell out shortly, so get yours while they're still available!
10. Jordan 29 Black Gym Red
The Air Jordan XX9 improves on the Air Jordan XX8's Flight Plate idea. The sneaker boasts Nike's first-ever performance-woven upper in black, with a black and grey elephant print running down the toe box, side wall, and heel. The Flight Plate has been updated to include cushioning, which is now known as FlightSpeed. Zoom Air components in the heel and forefoot are housed in a pebax moderator plate that brings the shoe closer to the foot for more explosive cushioning. Gym The appearance is completed by red accents, a double-lasted heel and collar, and distinct branding on the heel side, tongue, and heel.
Release date: 2014
Price: $170 (Buy Now)
9. Jordan 29 Hare
The Air Jordan 29 Hare pays homage to a series of Bugs Bunny and Michael Jordan commercials from the 1990s. The shoe features a woven upper in Mandarin, Ink, Light Poison Green, and white with a geometric pattern that pays homage to the tongue of the legendary 1992 Air Jordan 7 'Hare' colorway. A Flight Web technology and foam heel cushioning round out the futuristic design.
Release date: 2015
Price: $250 (Buy Now)
8. Jordan 29 Playoff Home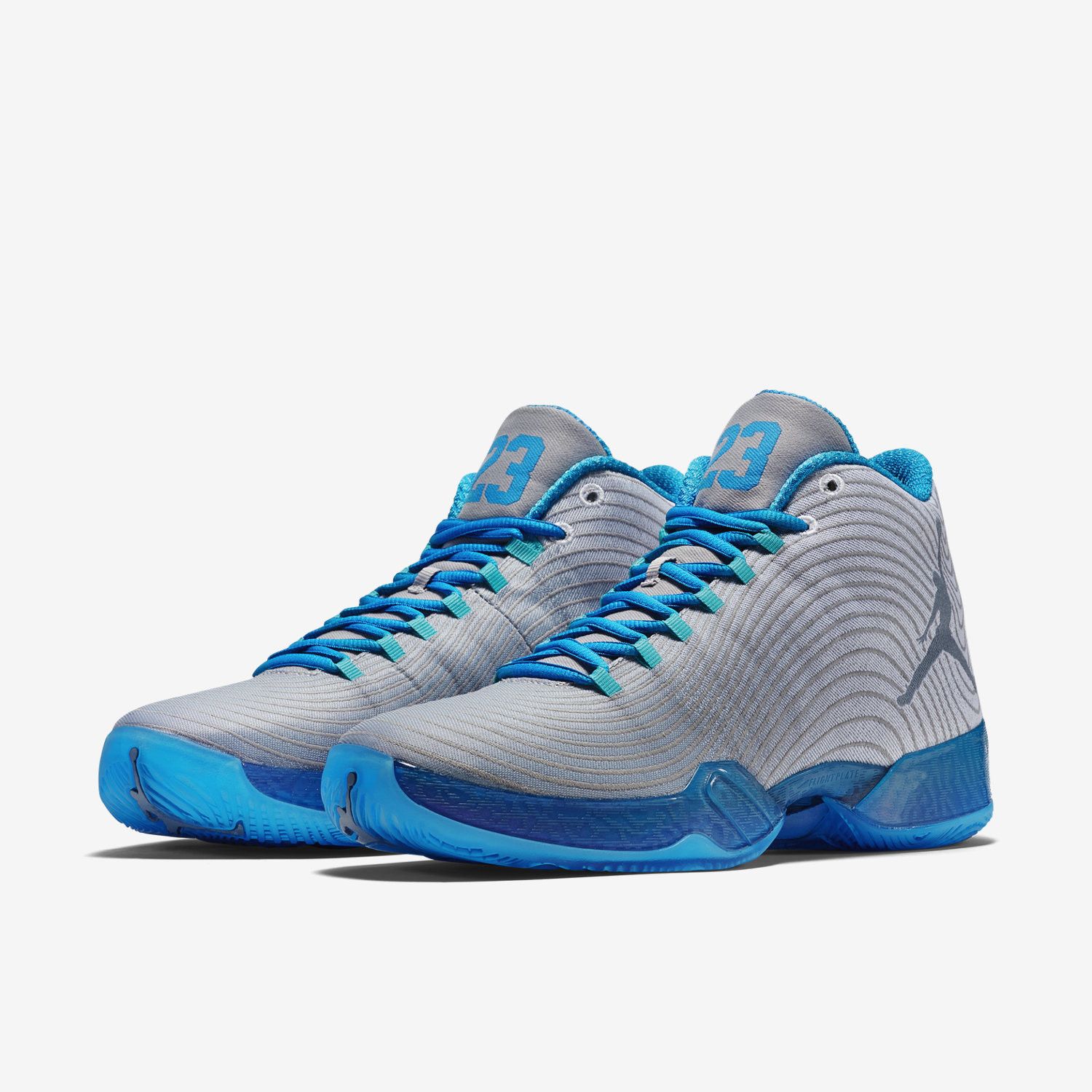 The Air Jordan 29 Playoff Home was released in April 2015 alongside a black and Cool Blue 'Away' colorway. This pair has a woven upper with grey wavy lines and a huge Jumpman emblem on the lateral heel, as well as a woven construction with grey wavy lines throughout the upper. The midsole, which has a re-engineered Flight Plate, is decorated with Jordan Brand's iconic elephant pattern.
Release date: 2015
Price: $100 (Buy Now)
7. Jordan 29 All Star Pearl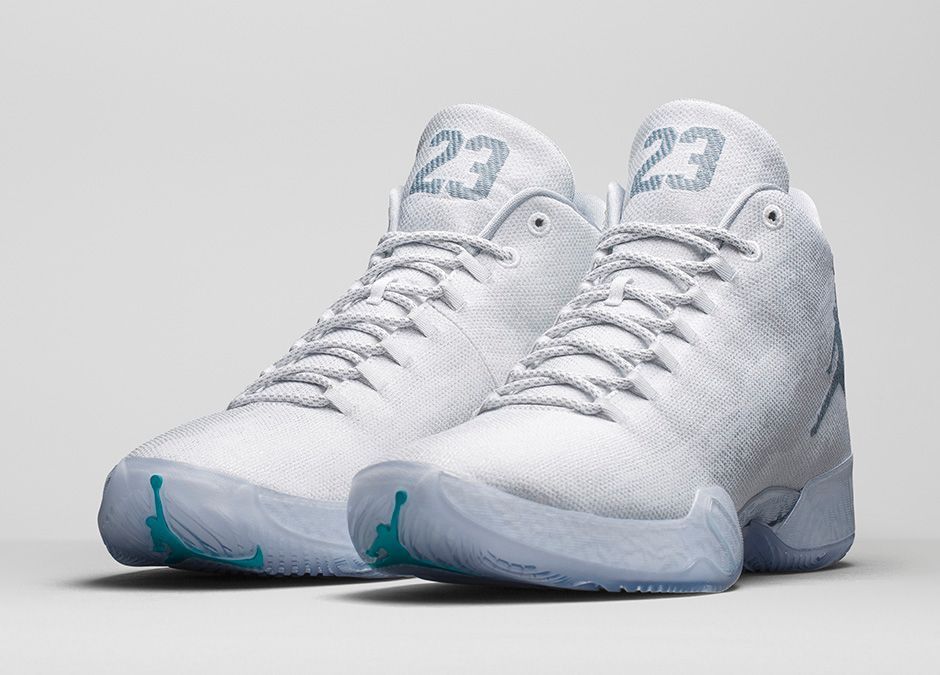 Jordan Brand's 2015 All-Star Collection included the Air Jordan 29 'Pearl.' It has tonal laces and Wolf Grey logo, as well as a white and Reflect Silver performance woven upper with an iridescent finish. The shoe also has Zoom heel cushioning and FlightPlate technology underfoot, as well as a translucent icy blue outsole with a teal Jumpman at the toe.
Release date: 2015
Price: $150 (Buy Now)
6. Jordan 29 Blackout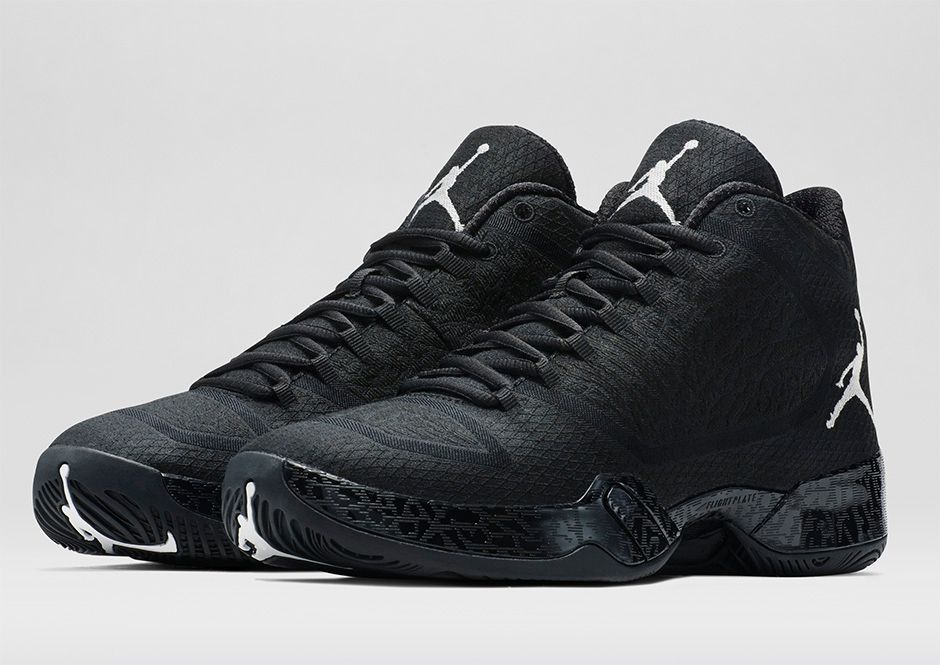 The performance-woven upper of the Tinker Hatfield-designed Air Jordan 29 is inspired by Italian tailoring. The only contrasting color comes from the branding and pattern on the insole in this 'Blackout' design, which has a black, textured upper with faint elephant print decoration on the midsole. A Flight Web system for midfoot lockdown and foam heel cushioning for impact protection and stability are also included in the shoe.
Release date: 2015
Price: $300 (Buy Now)
5. Jordan 29 Infrared 23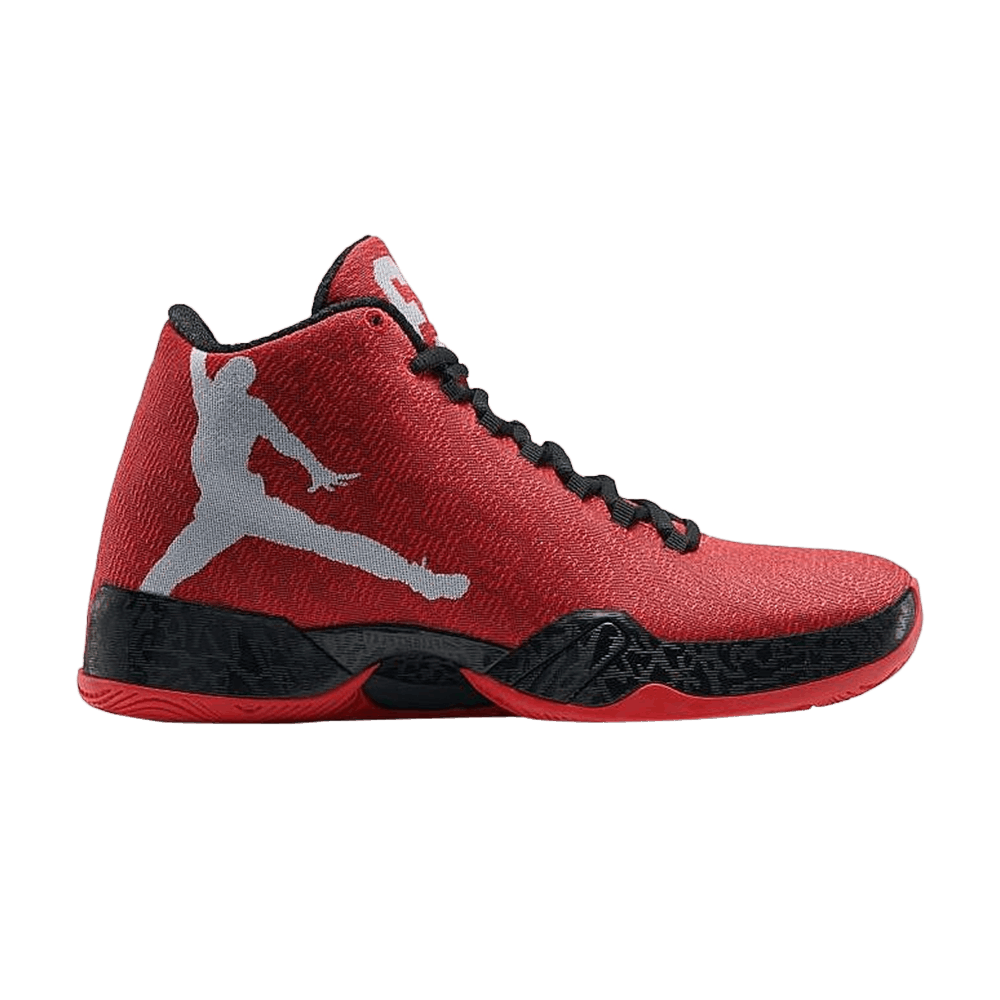 The Air Jordan 29 is designed by Tinker Hatfield and has a performance-woven upper inspired by Italian tailoring. The upper of this 'Infrared 23' colorway is textured and covered with Infrared 23, with only the prominent white branding standing out. The midsole has subtle black elephant print design, while the outsole is finished in Infrared 23. A Flight Web lace support system and foam heel cushioning with Zoom Air in the forefoot are also included in the shoe.
Release date: 2014
Price: $200 (Buy Now)
4. Jordan 29 Black History Month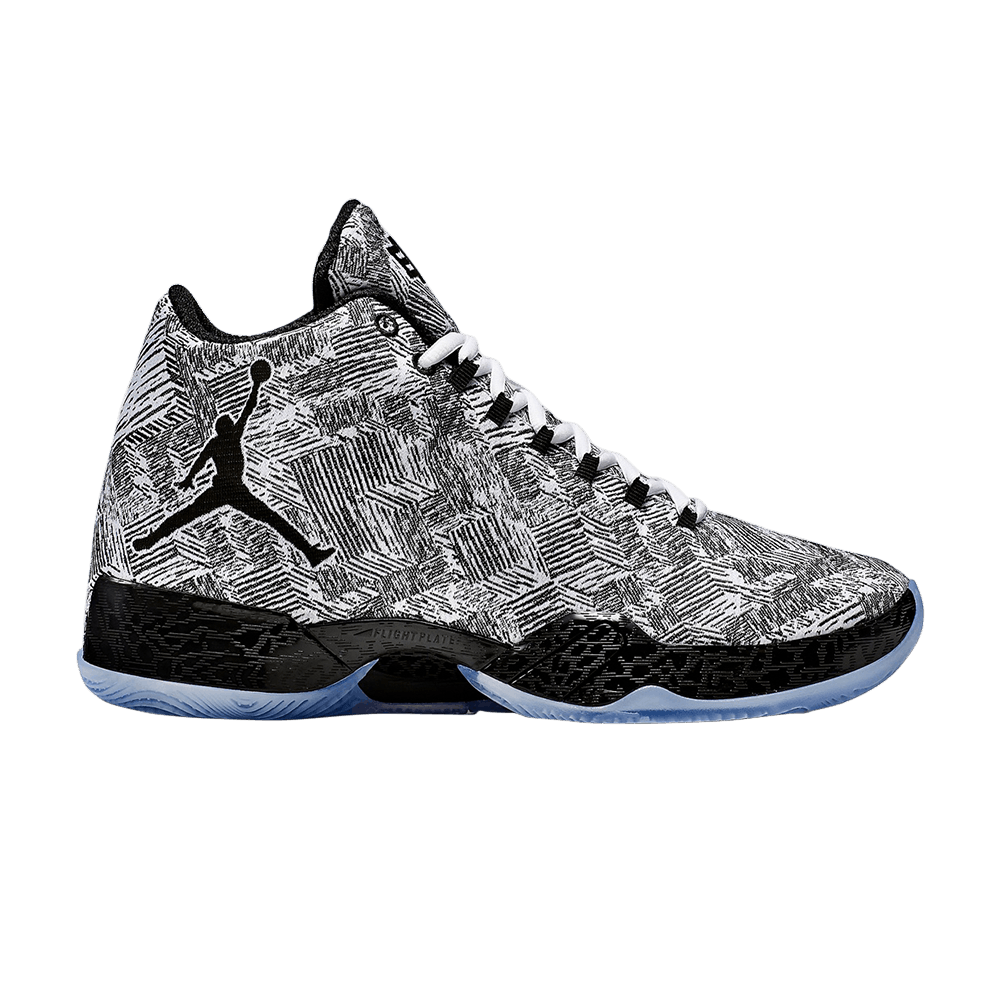 The Air Jordan 29 was the first woven basketball sneaker in the world. This Air Jordan 29 BHM colorway was released in January 2015 as part of Nike's annual Black History Month collection, and it has a black and white etched pattern throughout the one-piece woven upper, as well as a black giant Jumpman on the ankle. It also has a black midsole with subtle design and an icy transparent outsole, as well as 'BHM' lettering on the tongue.
Release date: 2015
Price: $120 (Buy Now)
3. Jordan 29 Gym Red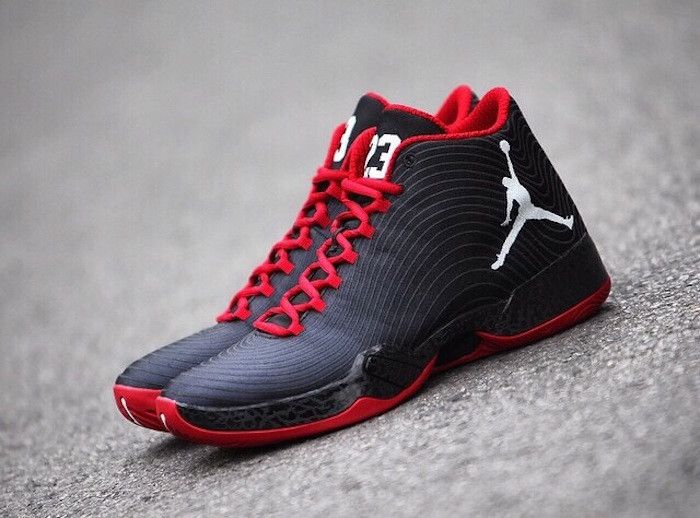 The Air Jordan 29 has a fully woven upper in black with Gym Red accents on the laces, inner, and rubber outsole, inspired by Italian tailoring. An large white Jumpman logo is featured on the lateral heel, and the midsole has a tonal elephant-print texture. A re-engineered Flight Plate and a Flight Web system for a tight fit are among the performance benefits.
Release date: 2015
Price: $200 (Buy Now)
2. Jordan 29 Cement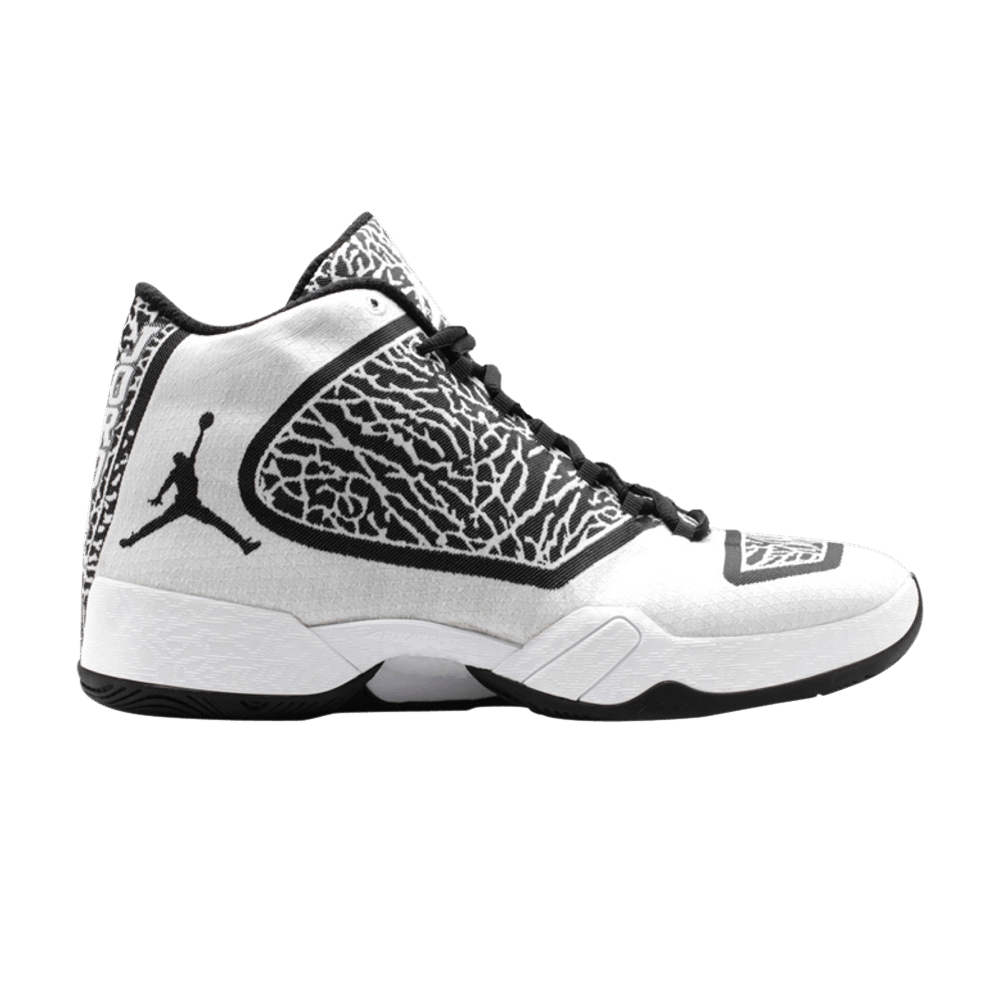 With an all-over pattern, the Air Jordan XX9 'Cement' takes Nike's signature cement print to the next level. A white engineered mesh upper is featured on the forefoot, side panels, tongue, and heel, with Cement marbled embellishments on the forefoot, side panels, tongue, and heel. A padded collar for increased comfort, a lace-up fastening for secure fit, and a cushioned midsole for added support and comfort round out the sneaker.
Release date: 2014
Price: $500 (Buy Now)
1. Jordan 29 Year of the Goat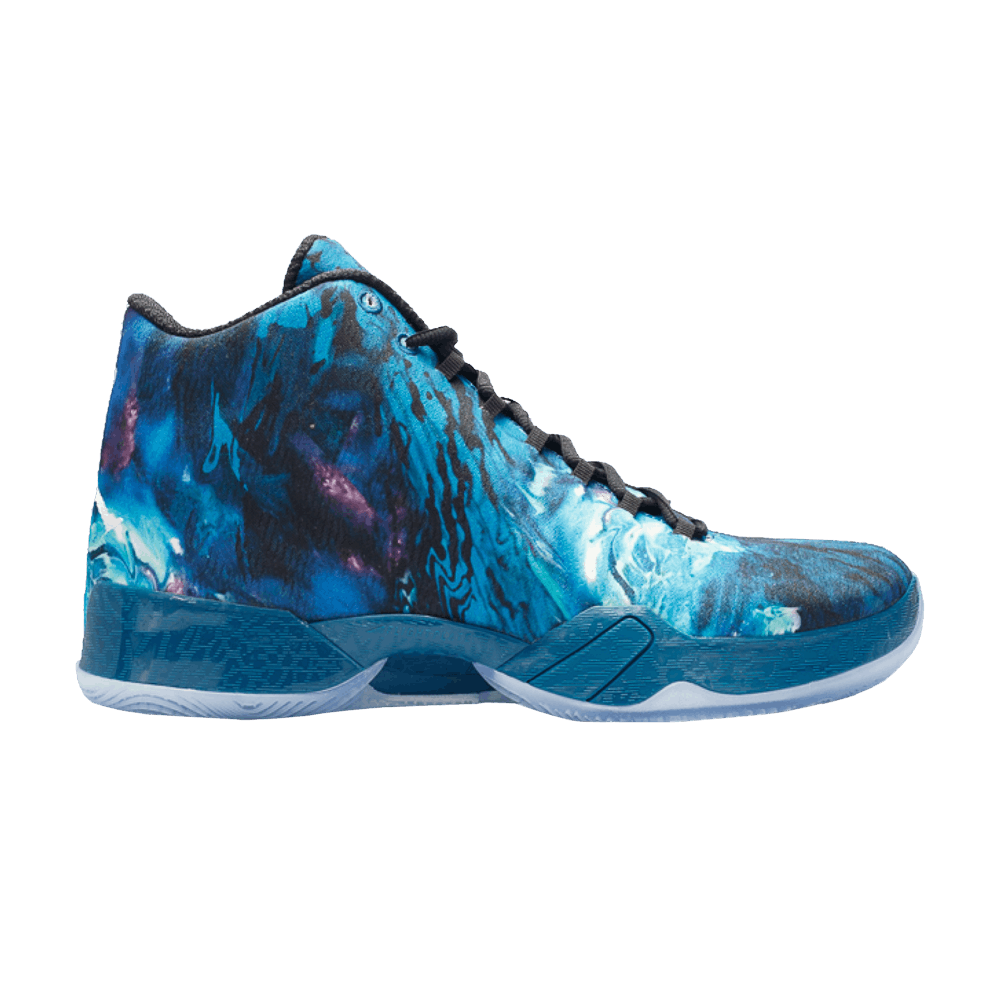 The Air Jordan 29 'Year of the Goat,' which was released in February 2015, was the first performance basketball shoe to use a full woven upper. The woven construction is reminiscent of Italian tailoring, while the actual design is more akin to a painted canvas. FlightPlate, a revolutionary pebax moderator plate that houses the Zoom Air directly below the foot for more responsive cushioning, supports the lightweight upper.
Release date: 2015
Price: $150 (Buy Now)
Jordan 29 Features Rating
Below are overall ratings of each unique features Jordan 29 gets from our Editors.
| Features | Rating |
| --- | --- |
| Breathability | 7/10 |
| Comfort | 8/10 |
| Pricing | 7/10 |
| Outsole | 7/10 |
| Midsole | 8/10 |
| Upper | 7/10 |
| Weight | 5/10 |
| Style | 8/10 |
| Durability | 7/10 |
| Protection | 7/10 |
| Support / Stability | 8/10 |
| Responsiveness | 7/10 |
| Traction | 7/10 |
| Sizing | 8/10 |
| Materials Quality | 9/10 |
Jordan 29 Review
The shoe's silhouette is clean, and and its upper doesn't have much texture.
Cushion: The Unlocked Zoom Air configuration of the Air Jordan XX8 has been tweaked for the Air Jordan XX9. The forefoot unit has been horizontally split and made less projecting, reducing the chance of it popping during motion.
Traction: The outsole is molded anatomically. With recessed horizontal stripes, it has a vertical wave traction pattern. Jordan refers to this as the "tendril," and it aids in the shoe's heel-to-toe transition.
Fit: The Air Jordan 29 is true to size, but it does feel a little narrow. The shoe's woven sock-like upper is strengthened by the Flight Web fit system, which consists of anchoring webbed straps that draw the foot toward the midsole when the laces are tightened.
Material: The Jordan XX9 is made of Flyweave, a premium woven textile that combines Nike's Flyknit and Hyperfuse technologies. The sections where the foot requires more support are knitted more tightly, while the areas where the foot requires more stretch are sewn more loosely.
Every sneaker fanatic knows that Jordan Brand never stops innovating. Nowhere was this more evident than in 2014 when the brand released the Jordan 29, new Air Jordans that have already garnered plenty of attention and buzz. For many fans, it's been difficult to decide which colorways they should spend their hard-earned money on. So here's some information on these exciting kicks that will help you make an informed decision about what pairs are best for you!