Top 10 Nike Brown Air Force 1 Sneakers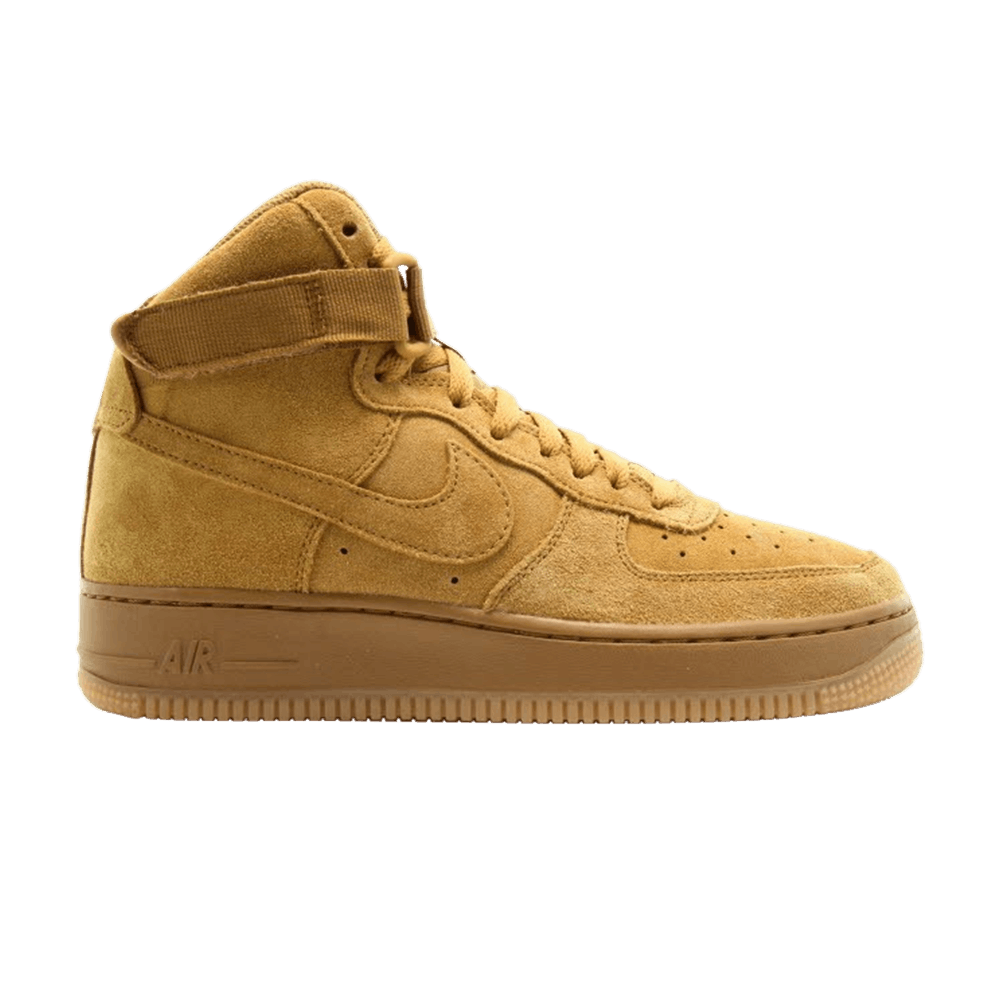 Authentic Brown Air Force 1 sneakers, review, price, where to buy; Air Force 1 consumer ratings, availability, pictures, cheapest stores to get yours today.
Sections: Facts - Ratings - Price - Where to buy - Review
The brown air force 1 shoes are one of the most versatile and useful shoes available on the market today. Designed by the Nike brand, these shoes can be used in almost any situation imaginable, making them excellent additions to your closet if you want to look stylish without sacrificing functionality. Below, we'll go over some of the best options you can choose from when shopping for this shoe style so that you can make an informed decision as to which one will work best for your individual needs.
Brown Air Force 1 Quick Facts
Top 10 Brown Air Force 1
Air Force 1 sneakers in brown are popular with both men and women, and they come in different styles. Here are 10 of the best brown Air Force 1 shoes on the market, reviewed by fashion experts and buyers alike, to help you choose the right pair for your budget, needs, and preferences.
10. Brown Air Force 1: Luxe Pecan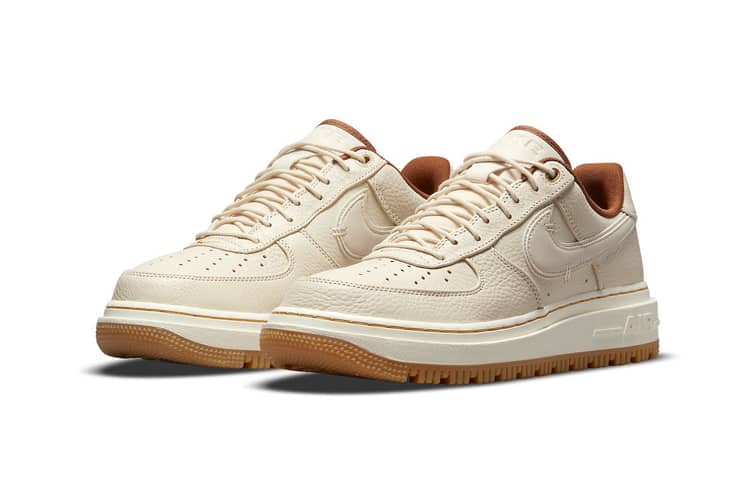 Pale Ivory tints with pearl white undertones give the "Pecan" a subtle, off-white appearance. The shoe, like the "Black Gum," includes a full tumbled leather top with smooth leather overlays on the Swoosh insignia and heel. The Sail midsole's robust gum outsole and water-resistant nylon tongues make the shoe suitable for Fall conditions. The Nike Air Force 1 Luxe "Pecan" retail for $120 USD.
Released date: 2021
9. Brown Air Force 1: Pineapple Cork

This extra-sweet Brown Air Force 1 combines a classic style with vibrant colors and innovative accents that pay homage to a summertime favorite: pineapple. Cork textures underpin the aesthetic, which also includes Piatex®, a pineapple leather derived from a by-product of pineapple harvesting. The organic influence of the style is highlighted by an embroidered motif on the tongue.
8. Brown Air Force 1: PRM WIP - Ale Brown
Following the success of the Jordan IV Carhartt collaboration, Nike and Carhartt have teamed together once more for this highly sought-after footwear collaboration. Carhartt creates a workwear-inspired collection using some of Nike's most classic shapes, ready for any scenario. The Nike Air Force 1 '07 PRM WIP in Ale Brown/Ale Brown/Sail is seen here.
Release date: 2022
7. Brown Air Force 1 '07 Beechtree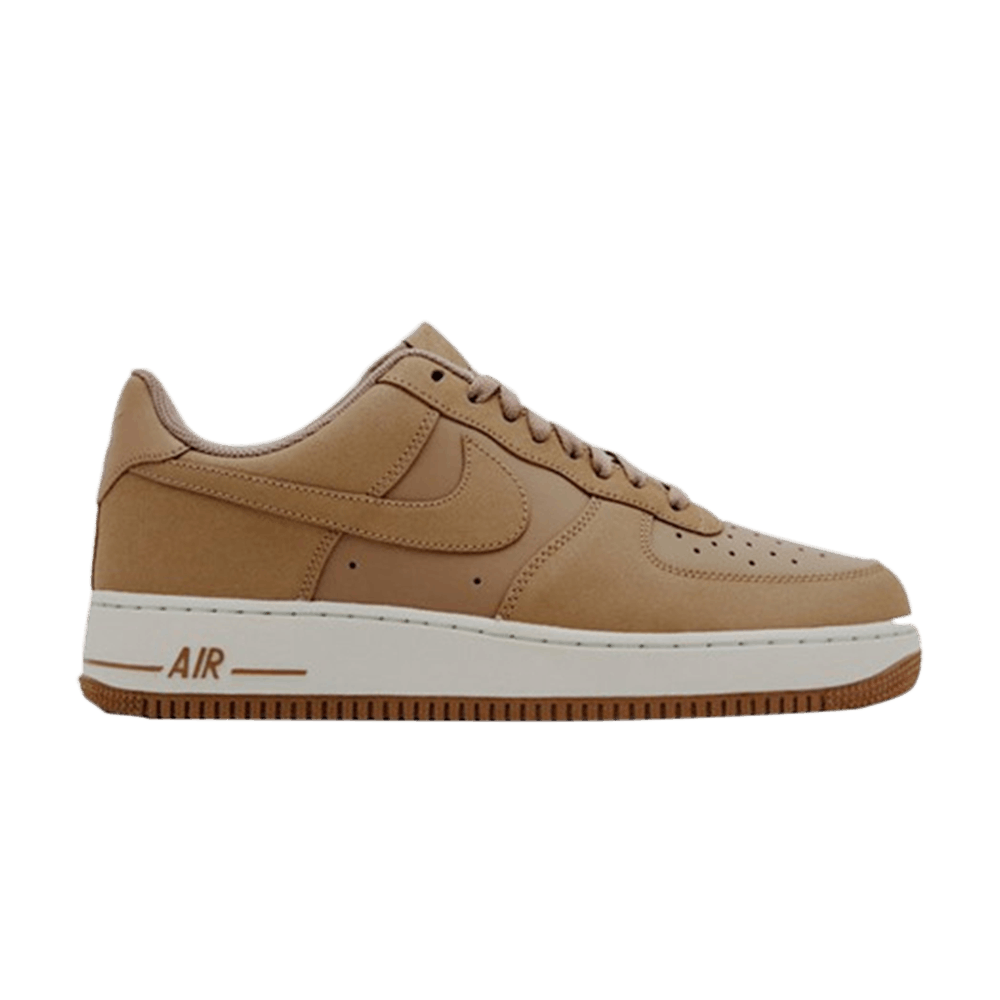 The basis of footwear are canvas, leather, and rubber. Individually, these components are critical to the success of sneakers. They form a fantastic Air Force 1 when combined. The monochrome top is painted in Beechtree, which contrasts nicely with the always-appreciated gum outsole. A white midsole with Beechtree logo is sandwiched between the two. Ideal during the summer months
Release date: 2012
6. Brown Air Force 1 '07 Flax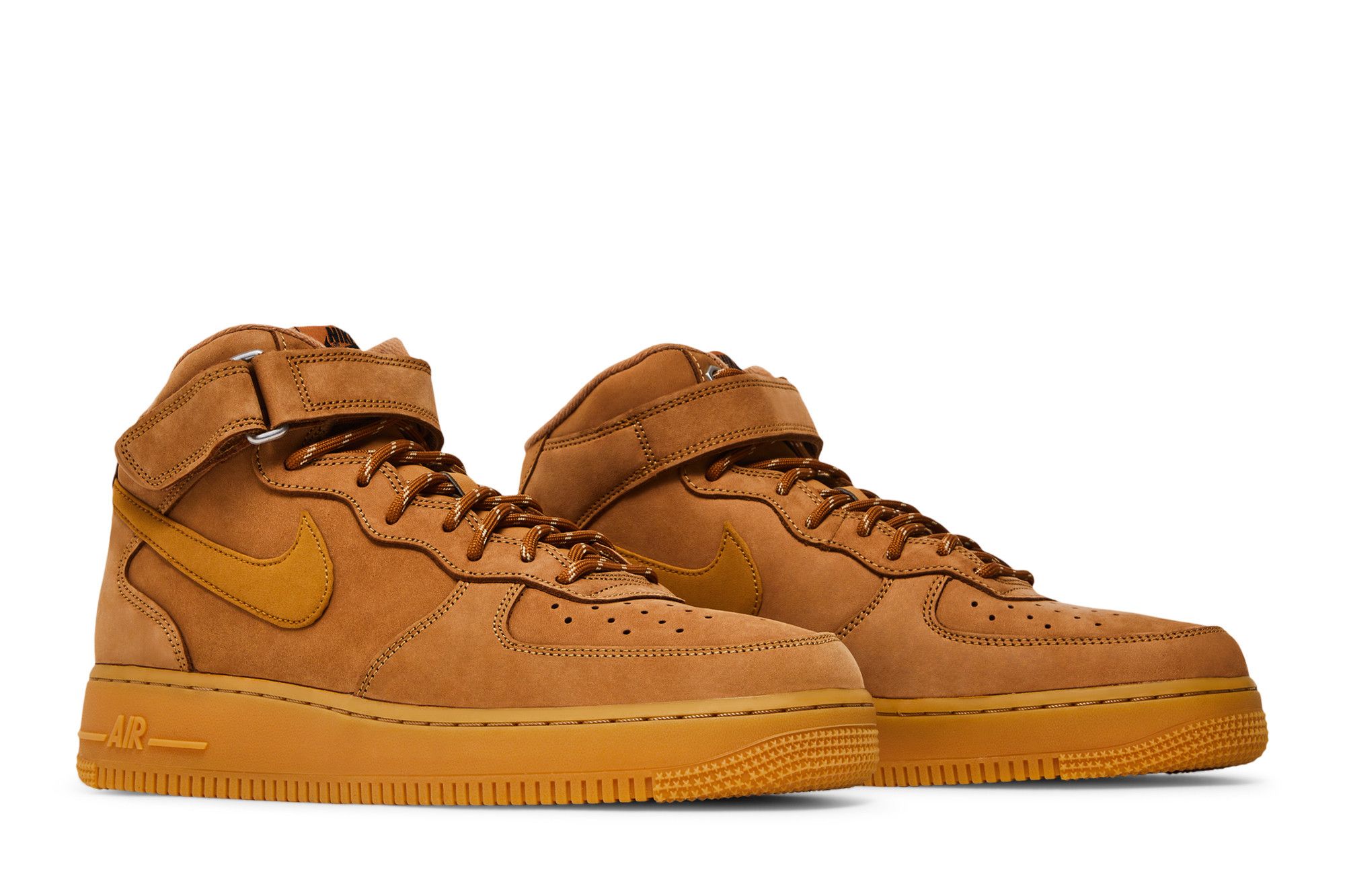 The Nike Air Force 1 Mid '07 'Flax' is a retro '80s basketball sneaker with a classic work boot-inspired colour. The wheat-colored nubuck upper, which features a cushioned mid-cut collar coated in soft textile, is secured by two-tone rope laces and an adjustable hook-and-loop ankle strap. A perforated toe box, variable width lacing, and debossed Nike Air branding on the heel tab are among the details. The sneaker is built with a durable gum rubber cupsole and an Air-sole heel unit encased in a light foam wedge.
Release date: 2021
5. Air Force 1 '07 Essential Wheat
The Nike Sportswear Air Force 1 '07 Essential celebrates both the past and the future, with premium accents over traditional Nike Air cushioning and durable foam for all-day comfort. The Nike Sportswear Womens Air Force 1 07 Essential in Wheat is a reimagining of the iconic model, featuring a crisp stitched upper with bold lines and premium accents.
4. Air Force 1 Ribbon Pack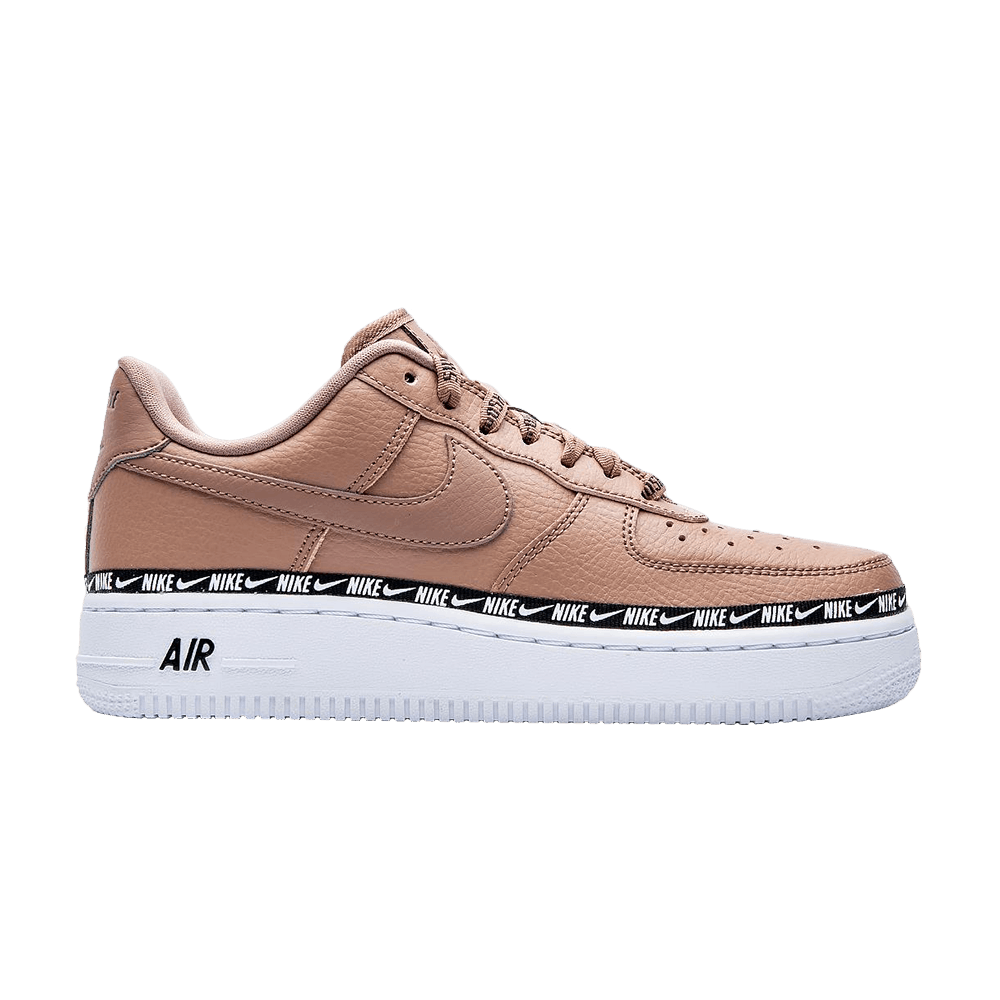 The first pair is dressed in Black/White, while the second is clothed in Tan/White. Leather uppers, perforated detailing, branded laces, and a repeated Nike/Swoosh ribbon wrapping around the shoe characterize both. The design is completed by a solid White AF1 rubber sole.
3. Brown Air Force 1 Hemp
The Nike Air Force 1 is given a warm colorway with a metallic accent. The Nike Air Force 1 Hemp is a new sneaker from Nike. The supple leather upper of this pair is in the namesake beige-toned Hemp from heel to toe. The tongue, laces, and mesh sock lining all match. The metallic rose gold Swoosh across the mid-panel, highlighted in white, is the shoe's most noticeable feature. The Hemp heel tab features light pink Nike branding, with white Nike branding on the tongue tab and in the Hemp-colored insole. A pure white sole unit sits atop this almost-all-Hemp ensemble. Finally, a metallic rose gold deubre completes the ensemble.
2. Brown Air Force 1 LV8 Monarch Gum
The durable "Monarch/Monarch-gumMed Brown-Black" Synthetic/Textile Material - Color Combination of this robust Classic Basketball Sneaker launched by the Lifestyle Brand created by Bill Bowerman and Phil Knight is better than ever. The Nike Air Force 1 '07 Lv8 Style "Monarch," with the product # AQ0117-800, has a wonderful shape and, of course, the Nike emblem on the sneaker.
Release date: 2018
1. Air Force 1 GTX Baroque Brown
A new colorway called "Baroque Brown" has been added to Nike's Air Force 1 GORE-TEX portfolio for fall 2020. Offering a regal aesthetic with an autumnal tone, this elevated take on Nike Sportswear's most well-known model combines classic Swoosh style with advanced, weather-proof GORE-TEX technology for an upgraded take on Nike Sportswear's most well-known model.
The midfoot, toebox, and tongue are made of densely woven fabrics, while the mudugards, eyestays, heels, and Swooshes are made of luxurious leather. With a full brown build that's lighter on the textiles and darker on the leather, it's the perfect combination.
Air Force 1 Features Rating
Below are overall ratings of each unique features Air Force 1 gets from our Editors.
| Features | Rating |
| --- | --- |
| Breathability | 7/10 |
| Comfort | 8/10 |
| Pricing | 7/10 |
| Outsole | 7/10 |
| Midsole | 8/10 |
| Upper | 7/10 |
| Weight | 5/10 |
| Style | 8/10 |
| Durability | 7/10 |
| Protection | 7/10 |
| Support / Stability | 8/10 |
| Responsiveness | 7/10 |
| Traction | 7/10 |
| Sizing | 8/10 |
| Materials Quality | 9/10 |
Brown Air Force 1 Shoes, Final Note
Air Force 1 sneakers are the classic shoe of choice for street wear fashion, and these 10 different brown Air Force 1 shoes will help you make your next sneaker purchase. We've taken the time to find some of the best brown Air Force 1 shoes on the market, so you can know that when you buy from this list, you're getting an awesome pair of shoes that's comfortable and looks great at the same time.