The Best KD 4 Releases You Need to Know About
Your search for the perfect pair of KD 4 sneakers can finally come to an end! In this list of the best KD 4 releases, you'll find exactly what you need to stock your closet with the coolest basketball shoes ever made. No matter if you're looking for something bold and bright, or if you prefer something understated and classic, we've got you covered. And with all of these great colorways to choose from, there are sure to be some that appeal to everyone in your family!
Sections:
Facts - Ratings - Where to buy - Review
Kevin Durant's fourth trademark shoe, the Nike KD 4, debuted in 2011. They have an Adaptive Fit System, Hyperfuse construction, mid-foot strap, and Zoom Air, and were designed by Leo Chang.
A full-length Phylon and a forefoot Zoom unit make up the midsole. The upper of the signature shoe is made of synthetic leather. It has lightweight and breathable Hyperfuse side panels. An Adaptive Fit Velcro strap on the midfoot provides not only added aesthetics but also additional support.
Quick Facts
KD 4: What's Special?
The Nike KD 4 features a Phylon midsole carrier and a Zoom unit in the forefoot. Impact protection and court feel are provided by the cushioning arrangement.
The forefoot is flexible and provides better court grip. Flex grooves in a star pattern help with floor control on the heel. A large stiff plate at the midfoot provides stability.
The rubber on the outsole is robust enough to withstand use on both indoor and outdoor courts. Courts that are mild to dusty are not an issue. The sneaker, however, slides on really unclean surfaces.
The Nike KD 4 has a lace-up closure and an adjustable tongue.
The Nike KD 4 has a durable synthetic leather upper with Hyperfuse side panels for ventilation. The mesh tongue is sufficiently cushioned for comfort. Foam padding are included in the heel counter to give support and comfort.
Top 10 KD 4 Releases
In the past, we've taken a look at all of the latest releases from Kevin Durant's signature shoe, the KD 4. But today, we're going to focus on some of the best releases that you need to know about—the ones that are currently available or will be soon enough. If you want to know what these shoes look like and how much they cost, continue reading this article to find out more!
10. Nike Zoom KD 4 'Battle Tested'
The Nike Zoom KD 4 'Battle Tested' pays homage to Game 6 of the Western Conference Finals, when KD took over and helped the Thunder come back from an 18-point hole at halftime, finally making his first NBA Finals appearance. Key accents like the NBA Finals patch are printed on the insoles, while the number 16 on the tongue and a gold coated trophy hang tag round off the look.
Release date: 2018
Price: $300 (Buy Now)
9. Zoom KD 4 'Easter'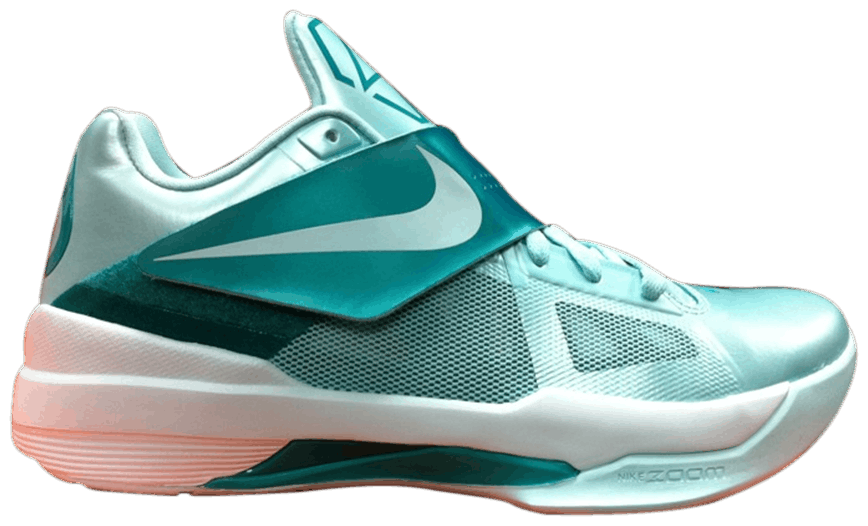 Kevin Durant's fourth signature sneaker is dressed in a pastel shade to commemorate Easter, with mint and candy-green tones running throughout the Hyperfuse mesh and leather upper. The shoe features a Velcro forefoot strap to increase stability and provide a lock-down fit, with white accents on the branding and midsole.
Release date: 2012
Price: $100 (Buy Now)
8. Zoom KD 4 'Year of The Dragon'
Kevin Durant's signature shoe, the Nike Zoom KD 4 'Year of the Dragon,' was the first to feature Hyperfuse technology, which fuses three elements of the shoe to produce an almost seamless material. The internal foot cage and the Swoosh, which rests across a forefoot strap, were also painted in an icy blue shade with orange flashes. KD's insignia and favorite inspiring quotes appear, as well as a translucent midsole and a variety of patterns.
Release date: 2012
Price: $150 (Buy Now)
7. Zoom KD 4 'All Star - Galaxy'
The 'Galaxy' colorway of the Nike Zoom KD 4 All Star includes a shiny silver synthetic upper with complete orange accents inspired by astronaut flight suits. A NASA-inspired mission patch on the tongue, embroidered dark grey KD branding on the heel, a black starry speckled midsole, and a glow-in-the-dark outsole are among the additional elements. The sneaker was released alongside 'Galaxy' themed Zoom Kobe 7s, LeBron 9s, and Air Foamposite 1s for the 2012 All-Star Game in Orlando.
Release date: 2012
Price: $300 (Buy Now)
6. Zoom KD 4 'Aunt Pearl'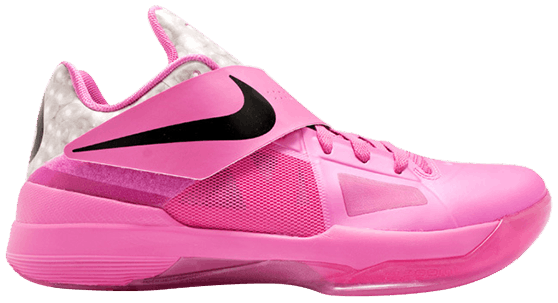 Kevin Durant's Zoom KD 4 'Aunt Pearl' pays tribute to his late aunt. Durant's aunt, who died of cancer when he was 11, is commemorated on the sneaker's heel and medial side with a pearl graphic. The rest of the design is inspired by the shoe's partnership with Think Pink, a movement aimed at improving the lives of breast cancer patients and their families. A dedication to Aunt Pearl is engraved on the underside of the midfoot strap.
Release date: 2012
Price: $200 (Buy Now)
5. Zoom KD 4 'Gold Medal'
Kevin Durant set a new American Olympic record with 156 points and 34 3-pointers en way to his first Olympic gold medal at the 2012 Olympics. Nike released these KD 4 'Gold Medal' colorway in September 2012 to recognize his achievements. It has a three-layer Hyperfuse top in metallic gold and an adaptable fit system with a midfoot strap. The Swoosh on the strap is highlighted in patriotic Varsity Red, while the sole unit features a gold speckled phylon midsole, forefoot Zoom Air cushioning, and a translucent outsole.
Release date: 2012
Price: $100 (Buy Now)
4. Zoom KD 4 'Weatherman'
The limited edition 2011 Zoom KD 4 'Weatherman,' inspired by Kevin Durant's childhood ambition of being a TV weatherman, features a Lush Green upper with a Volt Swoosh on the midfoot strap and a doppler radar-inspired pattern accenting the heel. The forecast calls for a thunder storm on one insole, while many meteorological symbols are on the other. The shoe also features a black midsole and an icy blue translucent outsole with thermo-mapped scans of KD's foot.
Release date: 2011
Price: $350 (Buy Now)
3. Zoom KD 4 'Texas'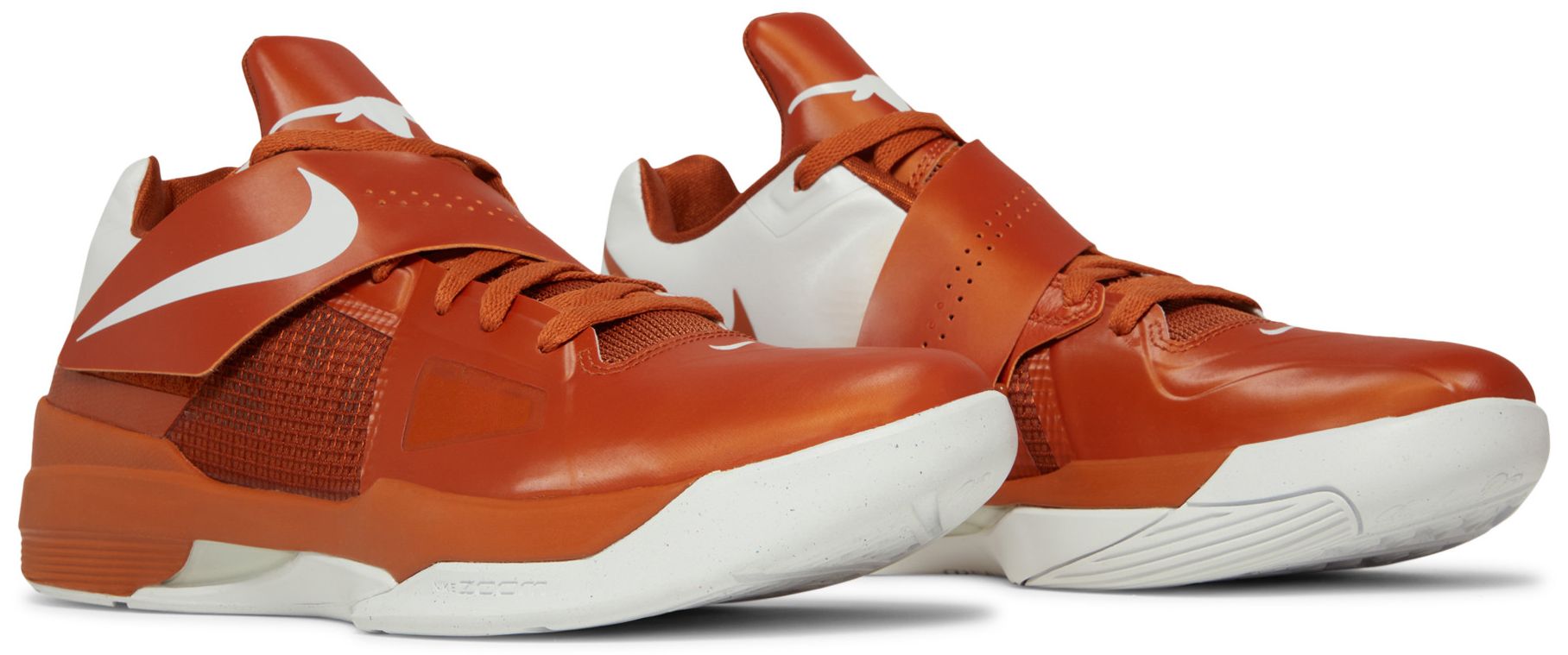 Kevin Durant is one of the few players who is synonymous with the NBA's one-and-done rule. He only stayed at the University of Texas for one season before declaring for the NBA Draft in 2007. Despite his limited tenure, his impact was significant enough for Nike to release the Zoom KD 4 'Texas' version in 2012. The low-cut design has a Zoom-cushioned midsole, mesh side panels, and an angled midfoot strap in Longhorn orange.
Release date: 2012
Price: $250 (Buy Now)
2. Zoom KD 4 'Scoring Title'
The Nike Zoom KD 4 'Scoring Title' was released in July 2012 to commemorate Kevin Durant's third consecutive NBA scoring title. It has a Tour Yellow and Photo Blue Hyperfuse upper with special branding on the tongue that reads 30.1, 27.7, and 28—Durant's point-per-game averages throughout those three seasons. A Lemon Twist Swoosh is featured on the midfoot strap, as well as Zoom Air cushioning in the sole and laser-etched decoration on the toe box, heel, and transparent outsole.
Release date: 2012
Price: $300 (Buy Now)
1. N7 1 Zoom KD 4 'N7'

Nike has released a pair of KD 4s to support its long-running N7 collaboration, which helps Native American and Aboriginal communities get access to sports and physical exercise. The shoe's design incorporates Native American motifs, while the tongues have a multi-colored basketball and N7 emblems that correspond to the brand's "Everybody Leaves a Footprint" promotion.
The Nike KD 4 N7 is part of Nike's N7 Collection and is a limited edition. It is available in two colors: white and black. The revenues, like those from past N7 releases, went to Native American communities across North America. In addition, the aforementioned pairs of shoes encourage physical activity in those communities.
Release date: 2012
Price: $200 (Buy Now)
Overall Features Rating
Below are overall ratings of each unique features KD 4 gets from our Editors.
| Features | Rating |
| --- | --- |
| Breathability | 7/10 |
| Comfort | 8/10 |
| Pricing | 7/10 |
| Outsole | 7/10 |
| Midsole | 8/10 |
| Upper | 7/10 |
| Weight | 5/10 |
| Style | 8/10 |
| Durability | 7/10 |
| Protection | 7/10 |
| Support / Stability | 8/10 |
| Responsiveness | 7/10 |
| Traction | 7/10 |
| Sizing | 8/10 |
| Materials Quality | 9/10 |
Conclusion
The KD 4 is one of the most popular signature sneakers from NBA star Kevin Durant, and Nike has continued the success of his signature line by releasing several new styles over the past few years. Here are some of the best KD 4 releases you should know about if you're interested in purchasing the latest sneaker technology or just want to own one of the most popular shoes out there today.