Trae Young 1 - Top 10 Styles, Review, Deals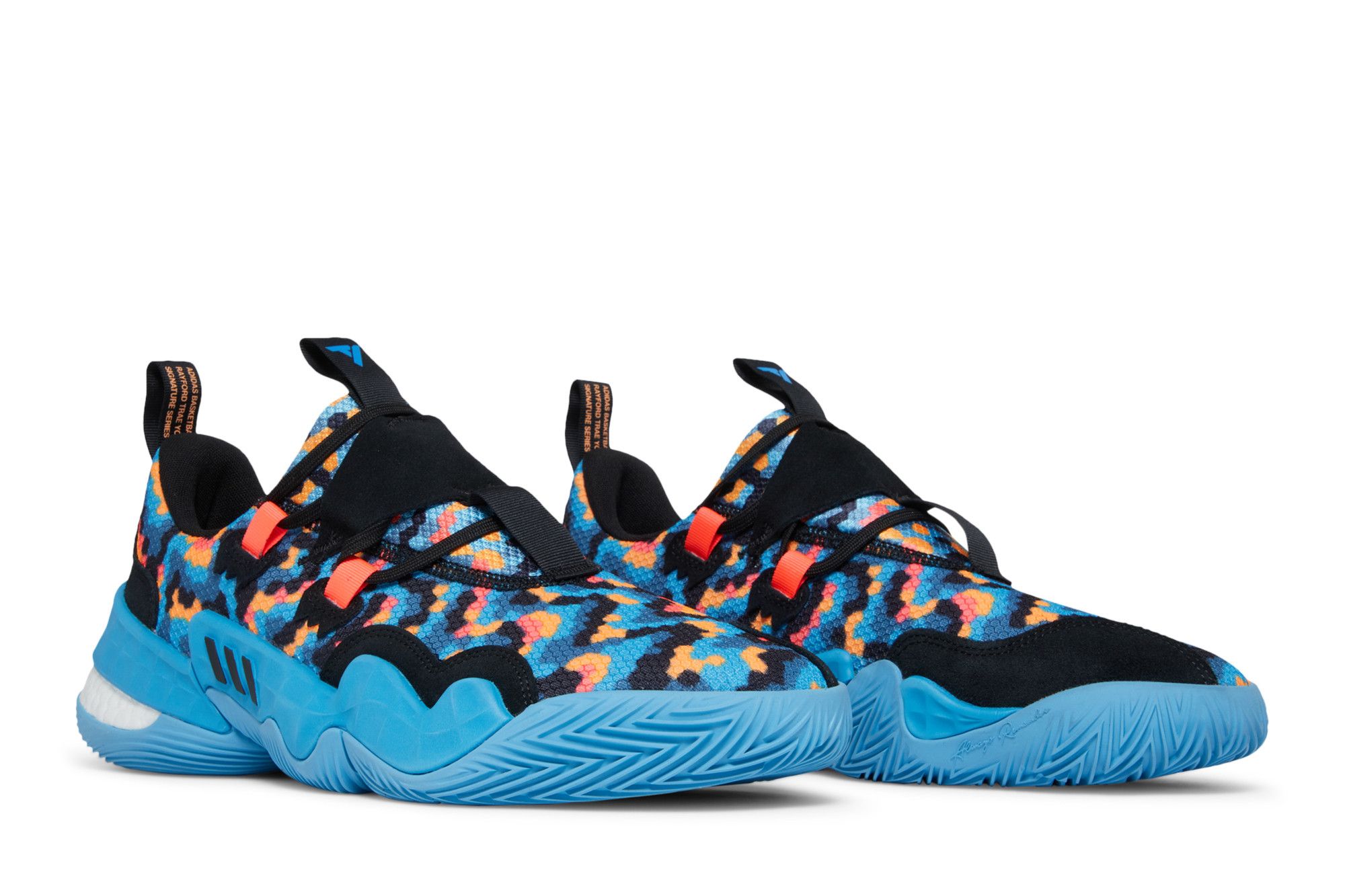 Trae Young 1 sneakers review, features rating, shopping deals and price. We review best Trae Young 1 colorways and models, release dates, performance ratings with facts.
Trae Young 1 has been garnering a lot of attention from sneakerheads and fans alike, thanks to the explosive start to his basketball career. With that in mind, you may be wondering whether or not the Trae Young 1 sneakers are worth the hype. We've reviewed a few of the most popular colorways so you can see what all the hype is about and learn where you can get these sneakers for a reasonable price. Let's have a peek, shall we?
Sections:
Facts - Ratings - Price - Where to buy - Review
The adidas Trae Young 1 is Trae Young's first signature sneaker with the Atlanta Hawks. Trae signed with adidas when he first entered the NBA, and he already has a signature shoe in his second season. The Trae Young 1 comes with BOOST cushioning and a low-cut design. The ICEE, ICEE Cotton Candy, Peachtree, So So Def, and So So Def ATL were the first five colorways to be released in late 2021 for $140.
Trae Young 1 Quick Facts
Brand: adidas
Model: Trae Young 1
Release Date: 2021
Colors: Pink, Orange, Black, White, Grey
Price: Check Prices
Where to buy: Click to buy Trae Young 1
Regular fit
Laceless forefoot
Leather upper
Textile lining
Lightstrike cushioning
BOOST midsole
Rubber outsole
Top 10 Trae Young 1 Colorways
If you're looking to add a brand new pair of Trae Young 1 sneakers to your collection, these are the best options available right now on the market. For avid collectors and casual fans alike, there's something for everyone on this list, so take a look and find the perfect shoes to wear at the gym or out on the town. These are all among the highest-rated Trae Young 1 sneakers, so if you have any doubts about what I've written below, this should set your mind at ease. Check them out!
10. Trae Young 1 Ice Trae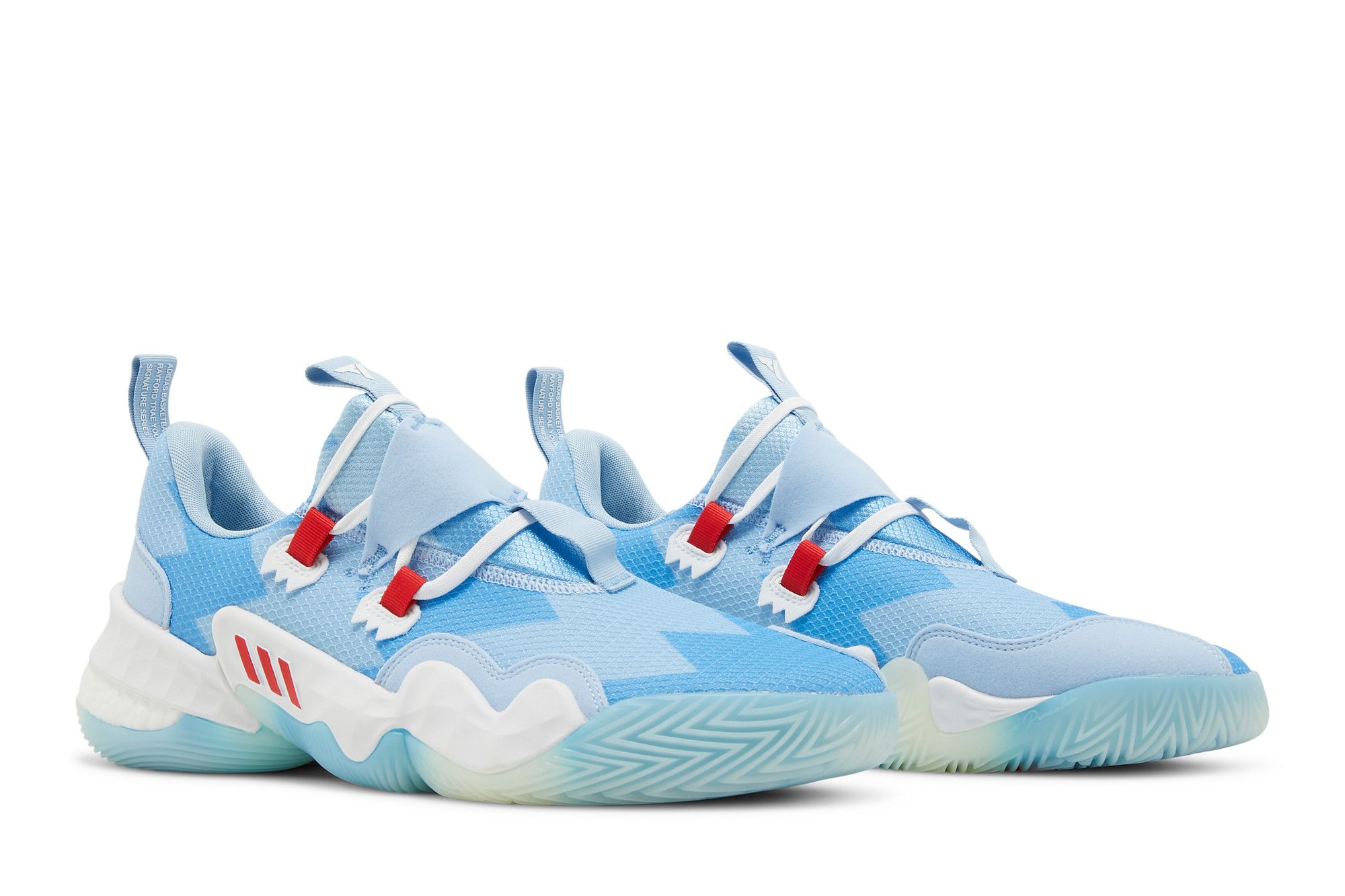 The adidas Trae Young 1 'Ice Trae' boasts a wintry palette produced in conjunction with ICEE and is the first colorway of the NBA star's debut signature shoe. The frozen beverage company's emblem is embroidered on the back of the textile upper, which is manufactured partly from recyclable materials and finished in icy blue tones. Webbing eyelets and three-stripe logo stamped on the midsole, which is created with a combination of Lightstrike and Boost cushioning in the heel, with contrasting crimson highlights. A translucent rubber outsole provides sticky traction in all directions underfoot.
Release date: 2021
Price: $190 (Buy Now)
9. Trae Young 1 Pixels
The hex-patterned synthetic on the adidas Trae Young 1 is by far one of the shoe's most intriguing elements. Few pairs, however, have emphasized it as well as this new "Pixel" colorway, which aims to showcase every single detail. The brand has loaded the upper to the brim with numerous hues, coloring within the lines as much as possible. Orange, black, red, and two colors of blue are strewn about, forming an unorganized structure. The overlays, on the other hand, are more tonally flat, with black, solid neutral nubuck and webbing. Instead, the sole below emphasizes cool tones, matching only one of the warm-dominant logo strikes.
Release date: 2021
Price: $100 (Buy Now)
8. Trae Young 1 ICEE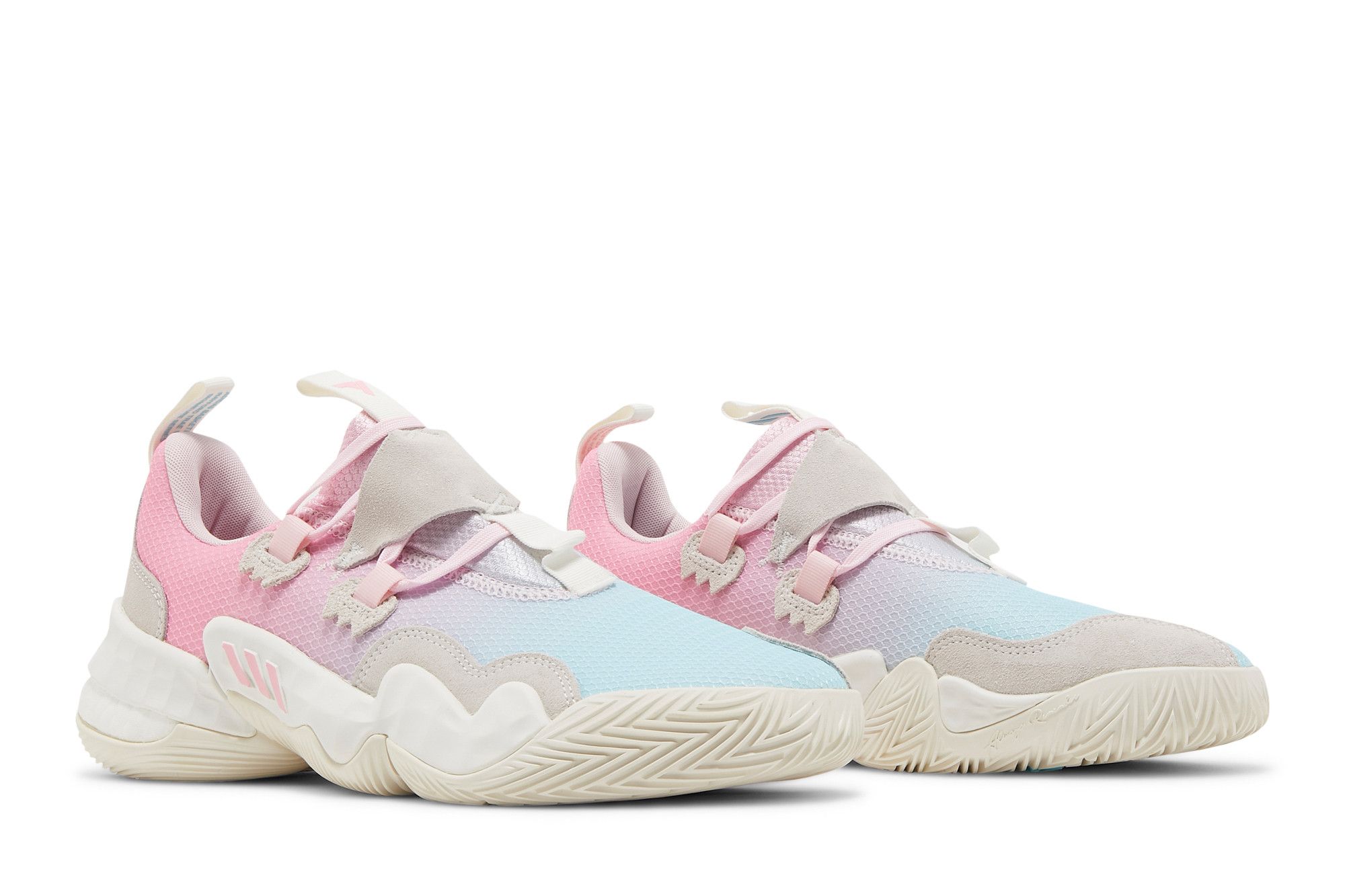 One of the first colorways of NBA star Trae Young's debut signature sneaker is the adidas Trae Young 1 'ICEE.' The low-top features a cotton candy-inspired pink and blue cloth upper in an official collaboration with the frozen beverage brand. The tongue pull tab features Trae's own emblem, while the heel overlays have an ICEE motif. The streamlined design is inspired by the adidas N3XT L3V3L and has a half-bootie structure with a midfoot lace closure. An off-white midsole with Boost cushioning in the heel and Lightstrike foam in the forefoot balances off the pastel upper.
Release date: 2021
Price: $150 (Buy Now)
7. So So Def Recordings x Trae Young 1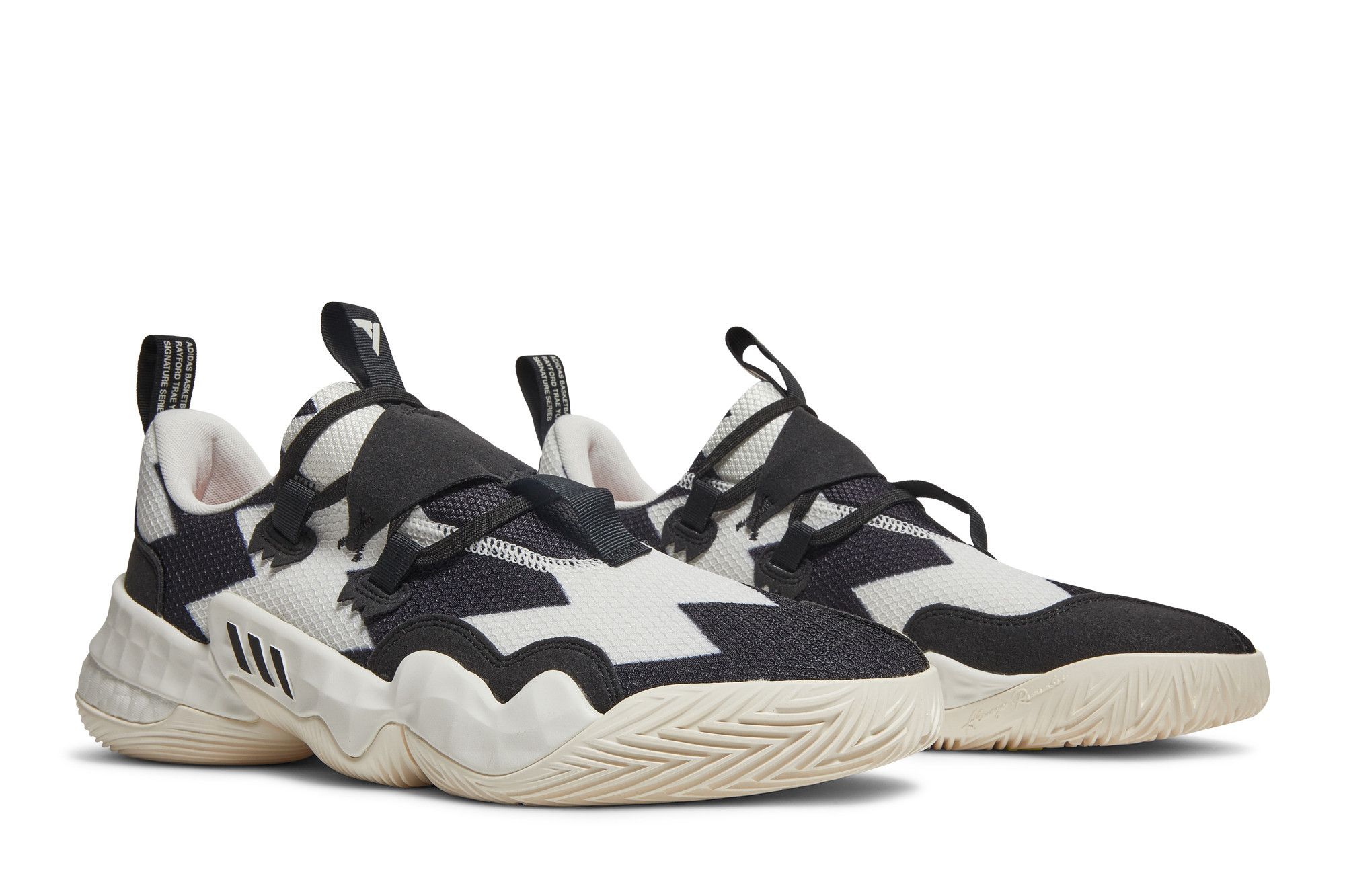 The So So Def Recordings x adidas Trae Young 1 is a simple two-tone colorway of the NBA star's debut signature shoe, created in collaboration with Jermaine Dupri's Atlanta-based record label. The low-top features a black and white textile upper inspired by the adidas N3XT L3V3L and made in part with recycled materials. A webbing pull tab atop the tongue features Trae's personal emblem, while So So Def branding adorns the heel overlay and sockliner. The sneaker is built around a Lightstrike podular midsole with responsive Boost cushioning in the heel.
Release date: 2021
Price: $100 (Buy Now)
6. Trae Young 1 Peachtree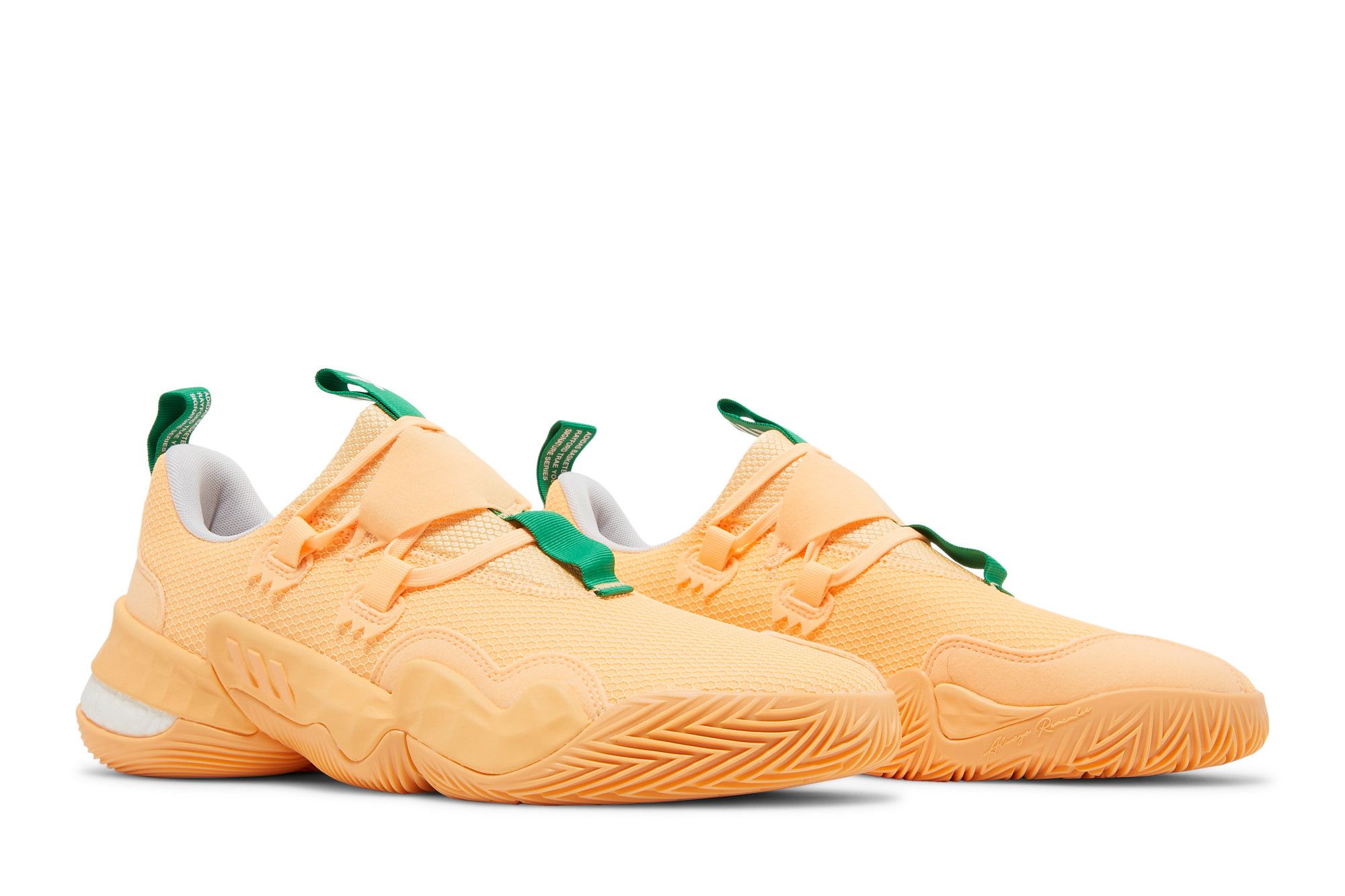 The adidas Trae Young 1 'Peachtree' is a low-profile shape with a sock-like textile upper that has a pastel tint. Green webbing pull tabs at the tongue and heel, the latter with Trae Young's signature and the former with the athlete's personal emblem, break up the monotone style. The sockliner features a peach motif that pays homage to the shoe's color scheme as well as Atlanta, Georgia's capital. Lightstrike is paired with visible Boost cushioning in the heel, and the low-top is set on a matching orange midsole.
Release date: 2021
Price: $150 (Buy Now)
5. Trae Young Chinese New Year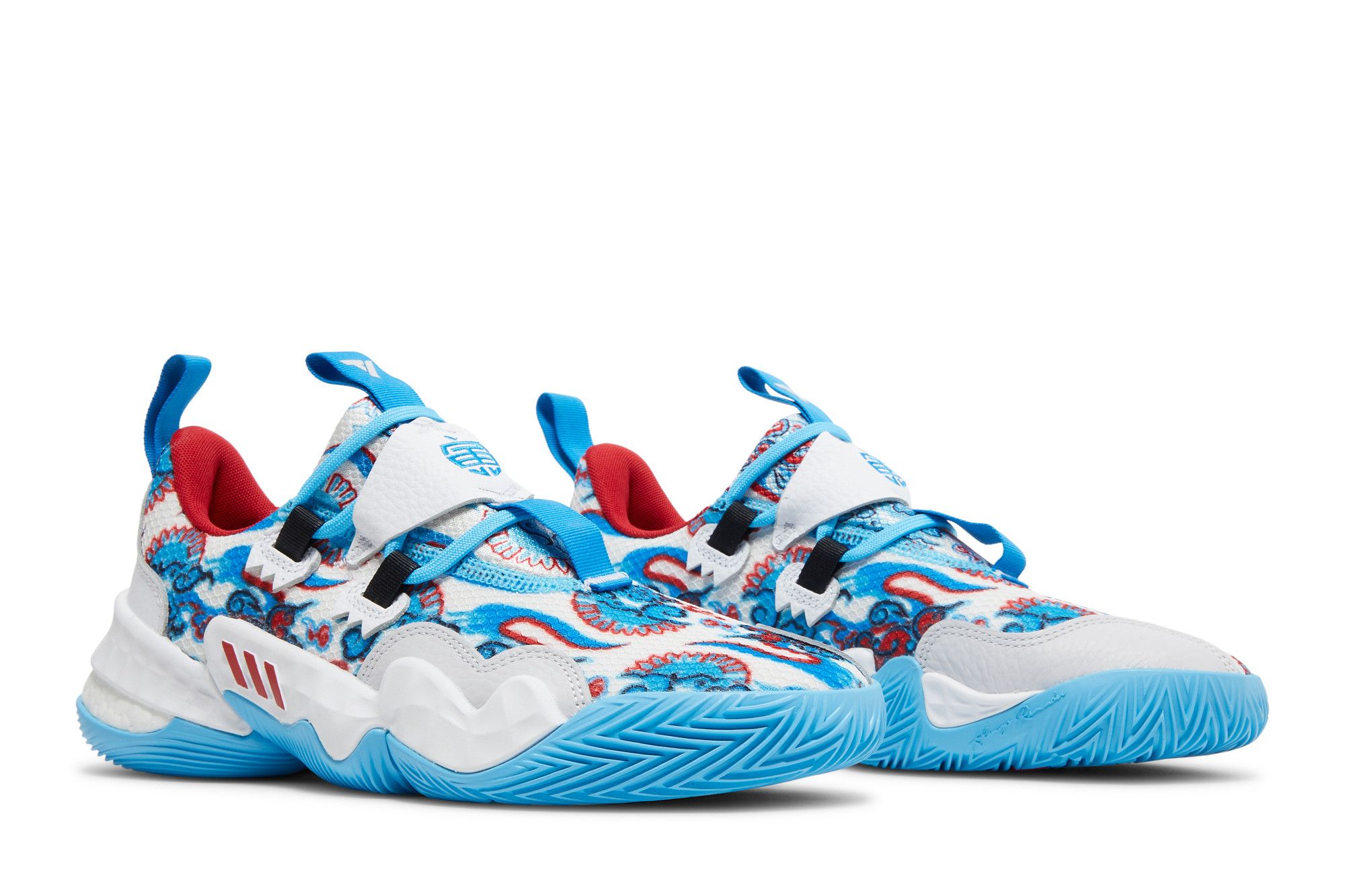 When you look closely, you'll notice that this adidas Trae Young 1 has a white mesh upper with blue and red accents that depict Chinese culture. Chinese characters may also be found on the tongue, heel, and insoles, as well as Red on the lining and Blue on the pull tabs. Red Three Stripes branding, White on the midsole and exposed Boost on the heel, and a Light Blue rubber outsole are further highlights.
Release date: 2021
Price: $120 (Buy Now)
4. Trae Young 1 Atlanta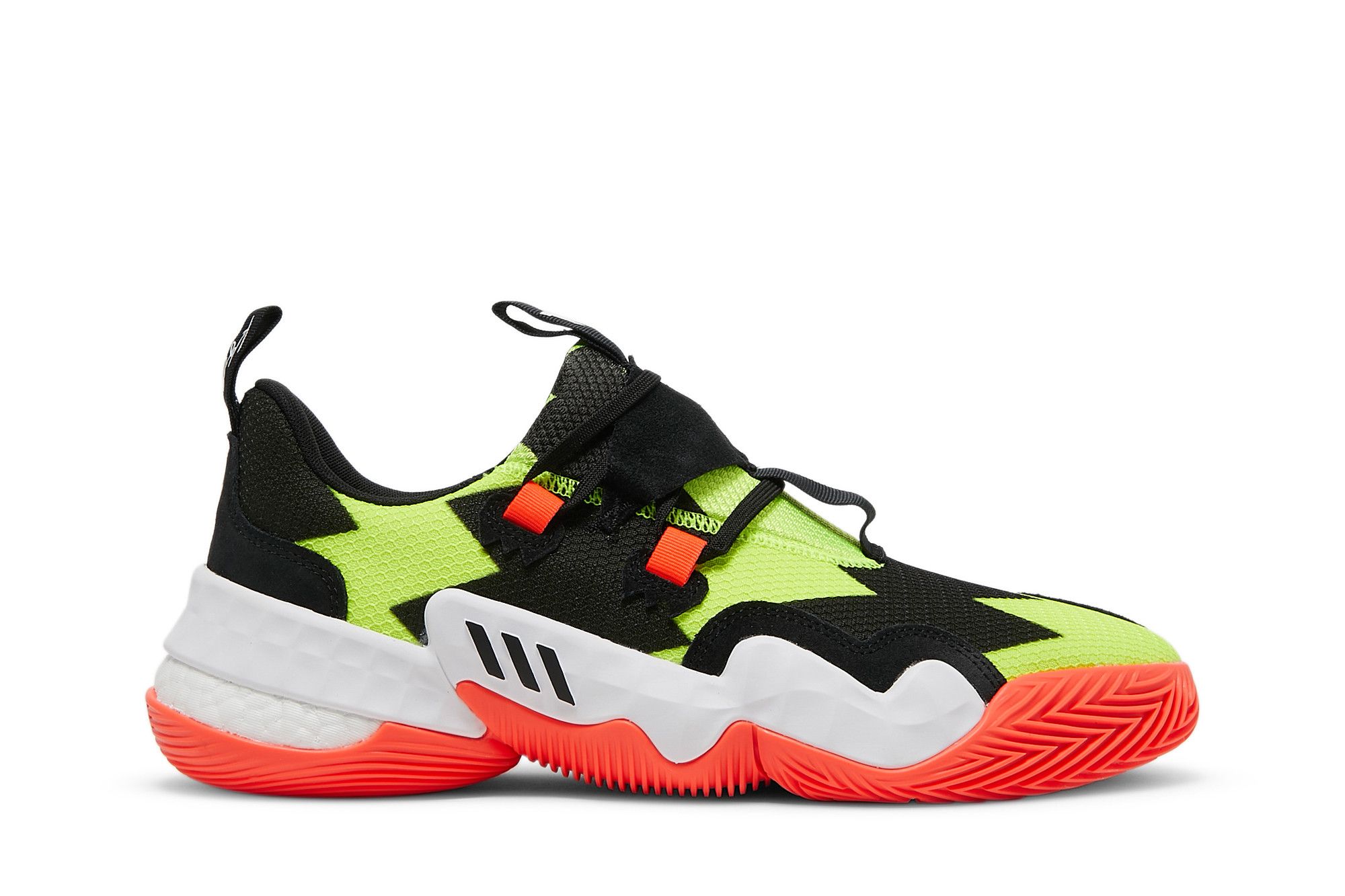 The adidas Trae Young 1 'Atlanta' features vibrant colors inspired by a So So Def Recordings billboard near Atlanta's airport. The NBA star's first signature shoe features a black and neon green textile upper with a half-bootie design and a laceless forefoot. Webbing eyelets and a high-traction rubber outsole include fiery orange details, which wrap up a podular Lightstrike midsole with Boost cushioning in the heel. The heel overlay and bespoke sockliner include So So Def logo.
Release date: 2021
Price: $100 (Buy Now)
3. Trae Young 1 Black Team College Purple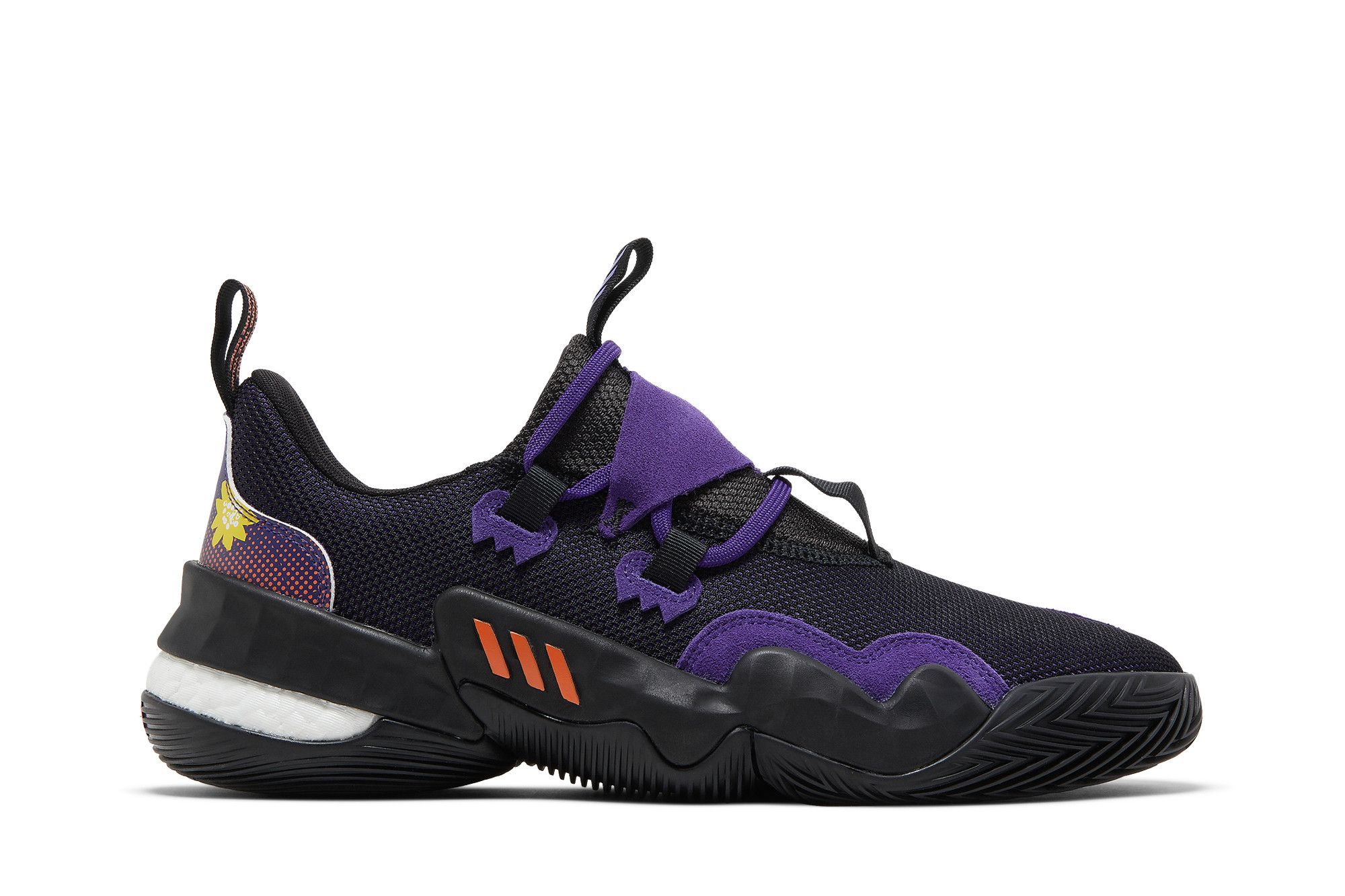 It's no surprise that Young and Adidas collaborated to design a special colorway to commemorate Black History Month. The colors 'Black, College Purple, and Solar Orange' were employed by the 'Three Stripes' and their iconic athlete to create a sneaker as aggressive as Young's image. 'Honoring Black Excellence' is printed on the insole, and it's without a doubt my favorite feature of the new colorway.
Release date: 2022
Price: $100 (Buy Now)
2. Trae Young 1 Christmas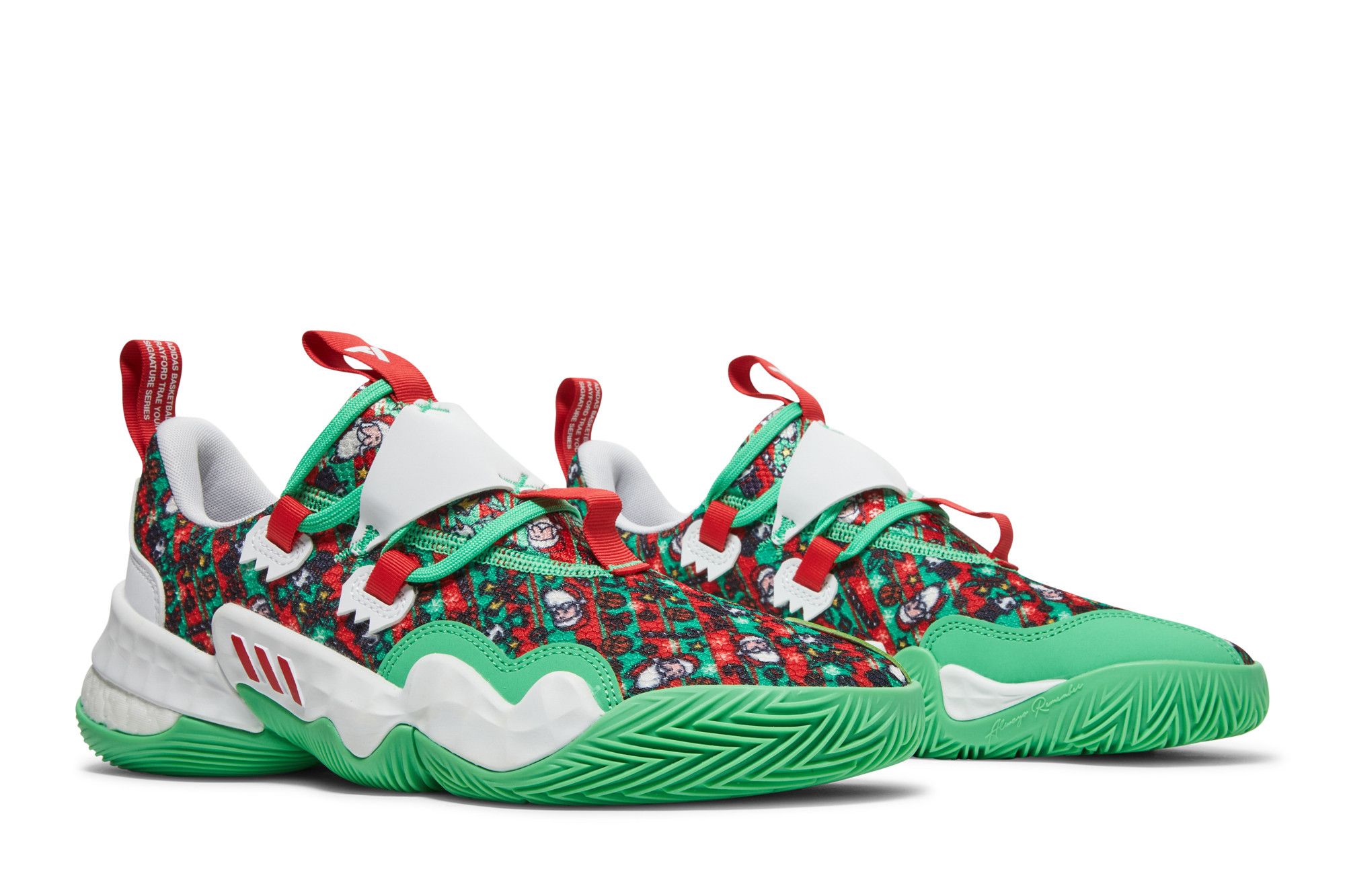 The Trae Young 1 Christmas pair, like most of the Atlanta Hawks guard's previous collaborations with the German sportswear juggernaut, features a statement-making arrangement across its breathable mesh upper and dual-cushioned sole unit. Color palettes associated with frozen beverages replaced with the festive Santa Claus, snowman, and candy cane visuals and tones. A rich ruby hue runs along and on the tongue and heel, grounding the all-over design that covers the top-halves of the shoes. Underfoot, the midsole LIGHTSTRIKE and BOOST cushioning are in a winter-friendly white, while the herringbone, linear, and radial tread are in a contrasting green.
Release date: 2021
Price: $100 (Buy Now)
1. Trae Young 1 Snakeskin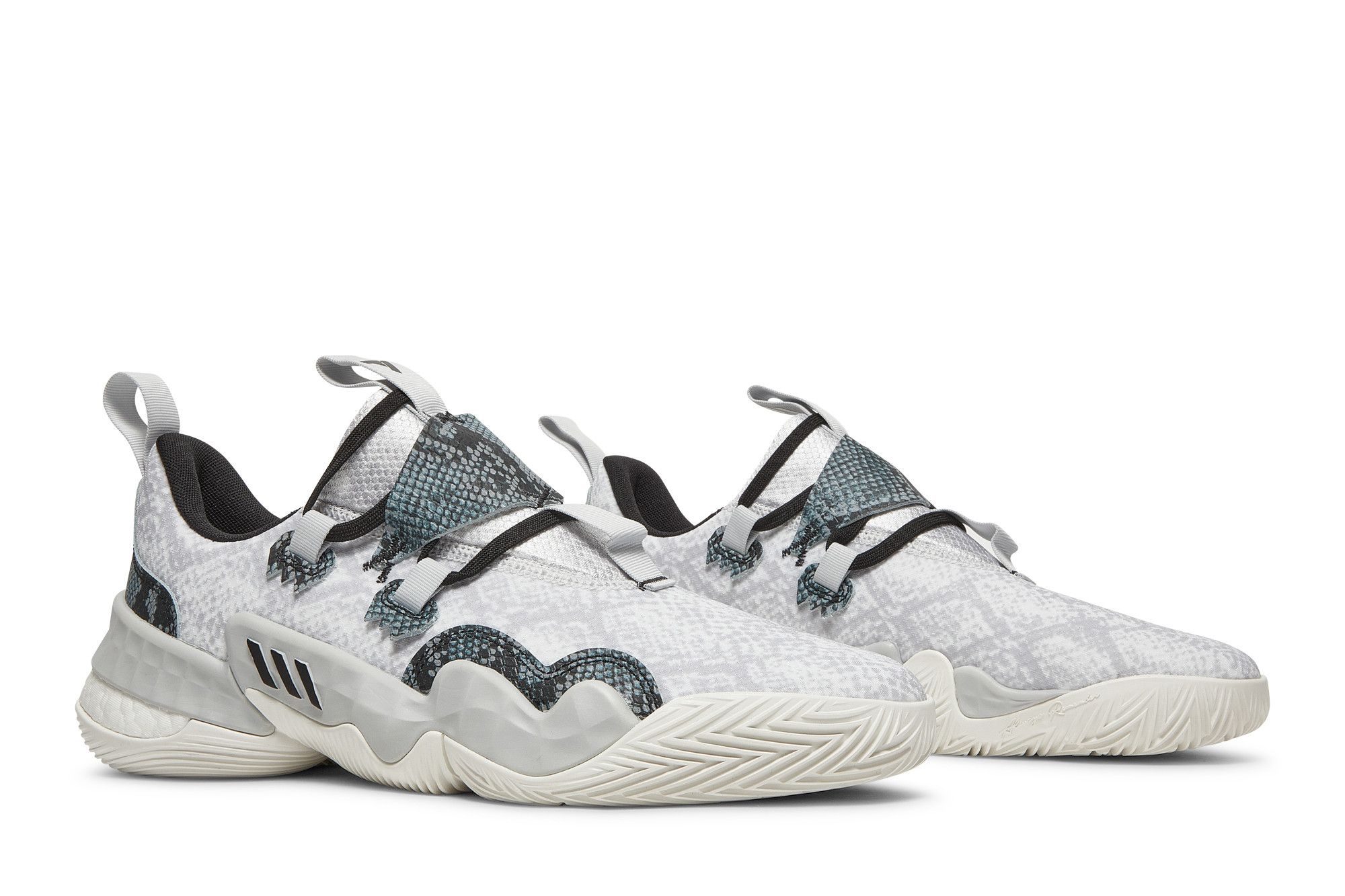 The Trae Young 1 'Snakeskin' is a performance basketball shoe with reptile patterns that represent the NBA star's own flair. The seamless white cloth top boasts a scaly print in a delicate grey finish and is made in part with recyclable resources. Snakeskin embellishments can also be found on synthetic leather overlays in aqua, grey, and black tones. The low-top is built on a podular midsole with Lightstrike and exposed Boost cushioning in the heel. A herringbone-traction rubber outsole provides multi-directional grip underfoot.
Release date: 2021
Price: $120 (Buy Now)
Trae Young 1 Features Rating
Below are overall ratings of each unique features Trae Young 1 gets from our Editors.
| Features | Rating |
| --- | --- |
| Breathability | 7/10 |
| Comfort | 8/10 |
| Pricing | 7/10 |
| Outsole | 7/10 |
| Midsole | 8/10 |
| Upper | 7/10 |
| Weight | 5/10 |
| Style | 8/10 |
| Durability | 7/10 |
| Protection | 7/10 |
| Support / Stability | 8/10 |
| Responsiveness | 7/10 |
| Traction | 7/10 |
| Sizing | 8/10 |
| Materials Quality | 9/10 |
Trae Young 1 Review
The Trae Young 1 has a great deal of padding. Although the traction isn't as good as it may be, and the support isn't perfect with only two lacing holes, it's still a good performer with some quality materials.
Traction: I expected the Trae Young 1 traction to function well, but it well beyond my expectations. The bite and grip are both excellent.
Cushion: On the court, the Lightstrike midsole and Boost in the heel felt fantastic. It's the ideal security configuration. While the shoe is low to the ground, it nevertheless offers impact protection.
Material: The Trae Young 1 complete textile upper isn't the most luxurious, but it does the job. It also has a pleasant feel to it and is long-lasting.
Fit: Trae Young is a good fit. The shoe's one-piece upper felt nice on foot, despite the lack of laces. There is some wriggle room because the fit isn't too tight.
Outdoor: Because Trae Young 1 is a soft rubber, I believe outdoor play will quickly degrade it.
Width: If you have a broad foot, move up half a size.
Size: Trae Young 1 shoe fits true to size, which is surprising.
Support: While none of the support aspects jump out, the shoe does meet all of the industry's requirements. The support could have been much better if the shoe had more lace hole options.
Looking to buy a pair of Trae Young 1 sneakers but not sure where to find the best deals? No worries! We've got you covered with these five options that are highly rated by customers and reviewers alike. Whether you're shopping on a budget or looking to spend some extra cash, we've got you covered with our list of the best Trae Young 1 sneakers money can buy today!