Curry 6 - Top 10 Styles, Review and Deals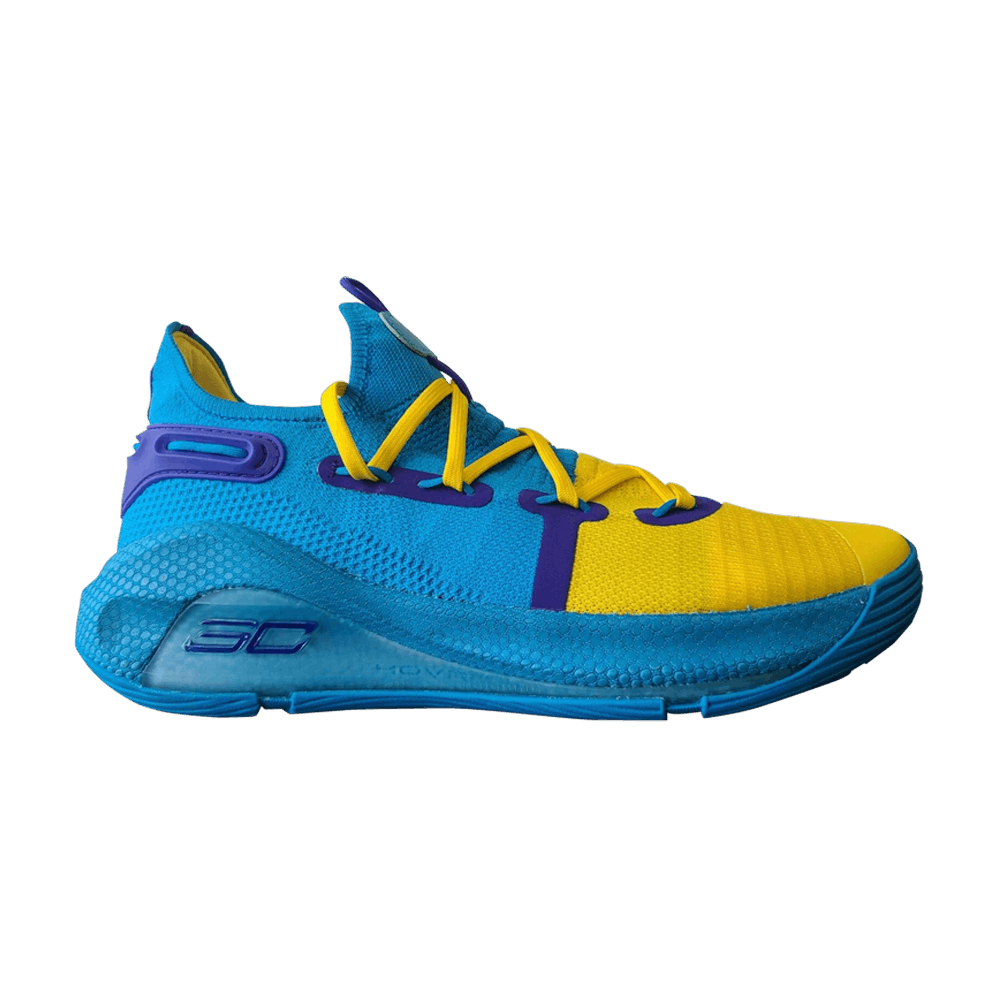 Curry 6 sneakers review, features rating, shopping deals and price. We review best Curry 6 colorways and models, release dates, performance ratings with facts.
Who doesn't love curry? We may be biased, but there's no better way to celebrate your favorite basketball player than with the 2019 latest Under Armour Curry 6 sneakers! In this review, we'll cover the features of these shoes and our selected top 10 Curry 6 colorways so you can make an informed decision about whether these are the best curry 6 sneakers you can buy or if another model might be more appealing to you.
Sections:
Facts - Ratings - Price - Where to buy - Review
The Curry 6 includes a black top with a neon outsole, midsole, and lacing system. The Curry 6 has the same full-length HOVR cushioning system as previous generations.
The Curry 6 is a really fun performer that has everything nicyou would want from a basketball shoe: amazing cushion, amazing fit, and while the traction is not quite on Curry 2 level, it is still pretty nice. Perfect for quick guards looking for a supportive, lightweight shoe with great court feel.
Curry 6 Quick Facts
Top 10 Curry 6 Colorways
The Under Armour Curry 6 sneakers provide you with the perfect blend of technology and style that so many other basketball sneakers don't come close to matching. It's no wonder they are considered one of the top-selling sneakers on the market right now. This article will provide you with a review of these iconic colorway, as well as some insider tips on how to snag them at their lowest prices online!
10. Curry 6 Splash Party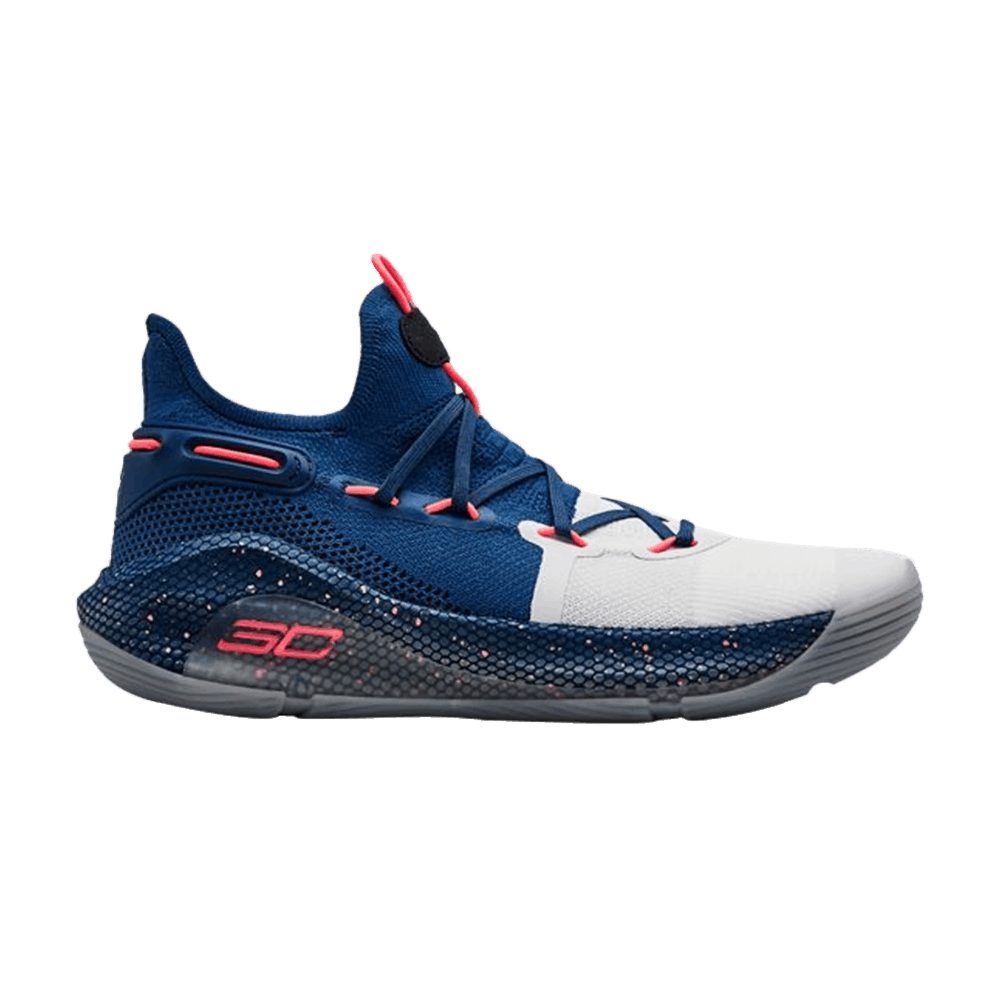 Under Armour released a special edition of the Curry 6 sneaker in honor of Golden State Warriors star point guard Stephen Curry's 31st birthday, bringing the championship celebration to the athlete's signature model. It has a Warriors-inspired Petrol Blue and Mod Grey knit upper with neon pink hits on the SC30 logo, lining, and lacing system that wraps around the heel, and was released on March 14, 2019. A speckled midsole with HOVR cushioning pays homage to the confetti that rains down on Oakland streets during the team's victory parades.
Release date: 2019
Price: $100 (Buy Now)
9. Curry 6 GS Fox Theater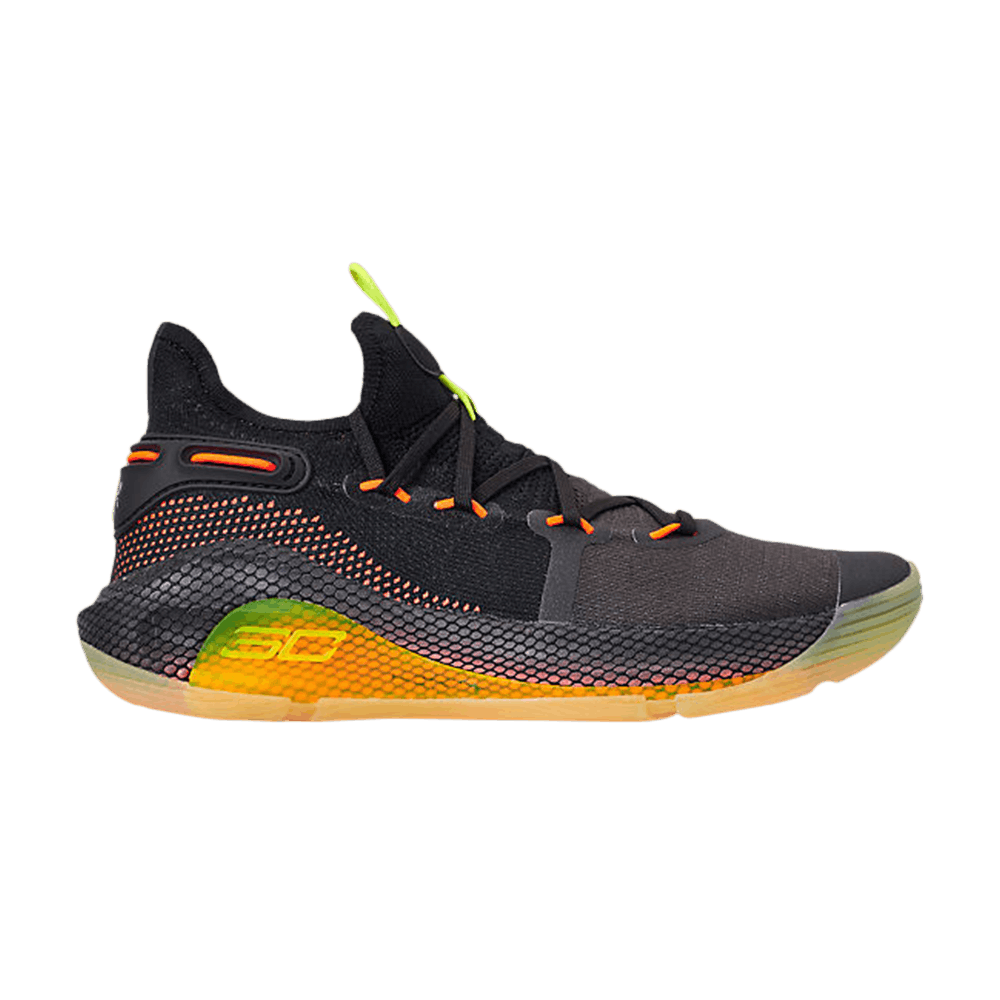 The Under Armour Curry 6 GS 'Fox Theater' sneaker pays homage to one of Oakland's most recognizable sites, the historic Fox Theater, which hosted the global introduction of Stephen Curry's signature shoe. This January 2019 kids' model has a black knit upper with brilliant neon Orange and Yellow hits throughout, evoking the theater's marquee sign. A full-length HOVR midsole, strengthened by a split outsole design and a unique tread pattern, provides the athlete with the excellent traction needed for lightning-fast cuts on the court.
Release date: 2019
Price: $70 (Buy Now)
8. Curry 6 Roaracle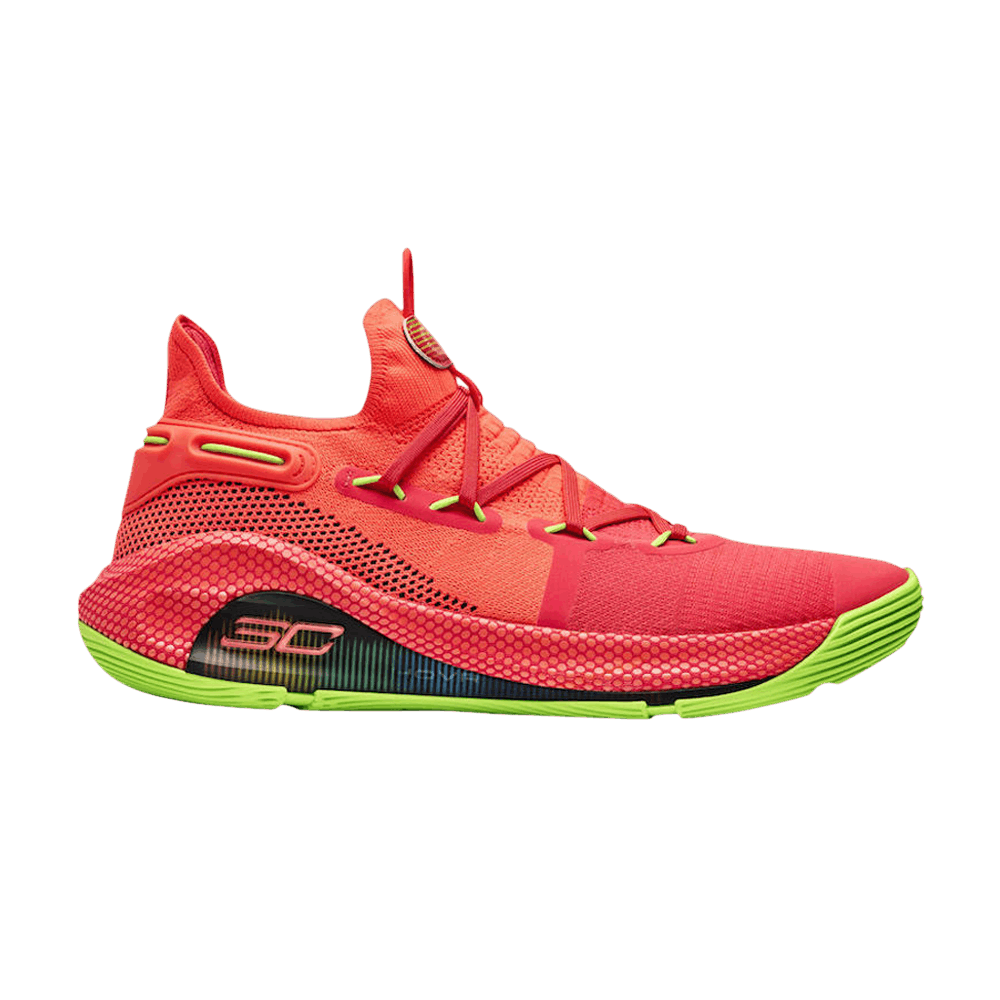 Steph Curry, an NBA great, debuted his sixth signature shoe with Under Armour in 2018. The Oracle Arena, dubbed the 'Roaracle' because to the Dub Nation's high-decibel contributions, was the home of the Golden State Warriors in this June 2019 edition. The lightweight, compressive knit upper of the Curry 6 is finished in Rocket Red and features a multicolor decibel graphic on the side. For responsiveness, UA's HOVR cushioning is fitted in a full-length style underneath.
Release date: 2019
Price: $150 (Buy Now)
7. Curry 6 Thank You
The Under Armour Curry 6 'Thank You' is a reimagining of NBA superstar Steph Curry's sixth signature sneaker that pays homage to Oakland, where the Golden State Warriors were based before moving to San Francisco. A black compressive knit top with wide-set lacing is featured on this take on the hoops shoe. 'OAKLAND' lettering is proudly featured on the side, and there are bright yellow embellishments throughout. Below, full-length UA HOVR technology gives a responsive feel.
Release date: 2019
Price: $120 (Buy Now)
6. Curry 6 Coy Fish
Steph Curry's signature Under Armour Curry 6 'Coy Fish,' inspired by a prank he witnessed as a junior in college, is the sneaker the Golden State star wore when he started the 2019 All-Star Game in his hometown of Charlotte. The low-top upper is a bright neon green-yellow color, with black accents on the heel clip, laces, and tongue overlay, which is also part of the no-tie lacing system. On top of an icy translucent outsole, patterned overlays hit the mudguard and heel.
Release date: 2019
Price: $100 (Buy Now)
5. Cyrry 6 Working on Excellence
The Under Armour Curry 6 'Working on Excellence' is inspired by a motivational motto and includes dueling black and white tones on the knit upper - a design dynamic that depicts Steph's balance between basketball and family. A full-length UA HOVR midsole and split outsole make up the shoe's lightweight construction, which allows for more court contact and better traction.
Release date: 2019
Price: $100 (Buy Now)
4. Curry 6 Dub Nation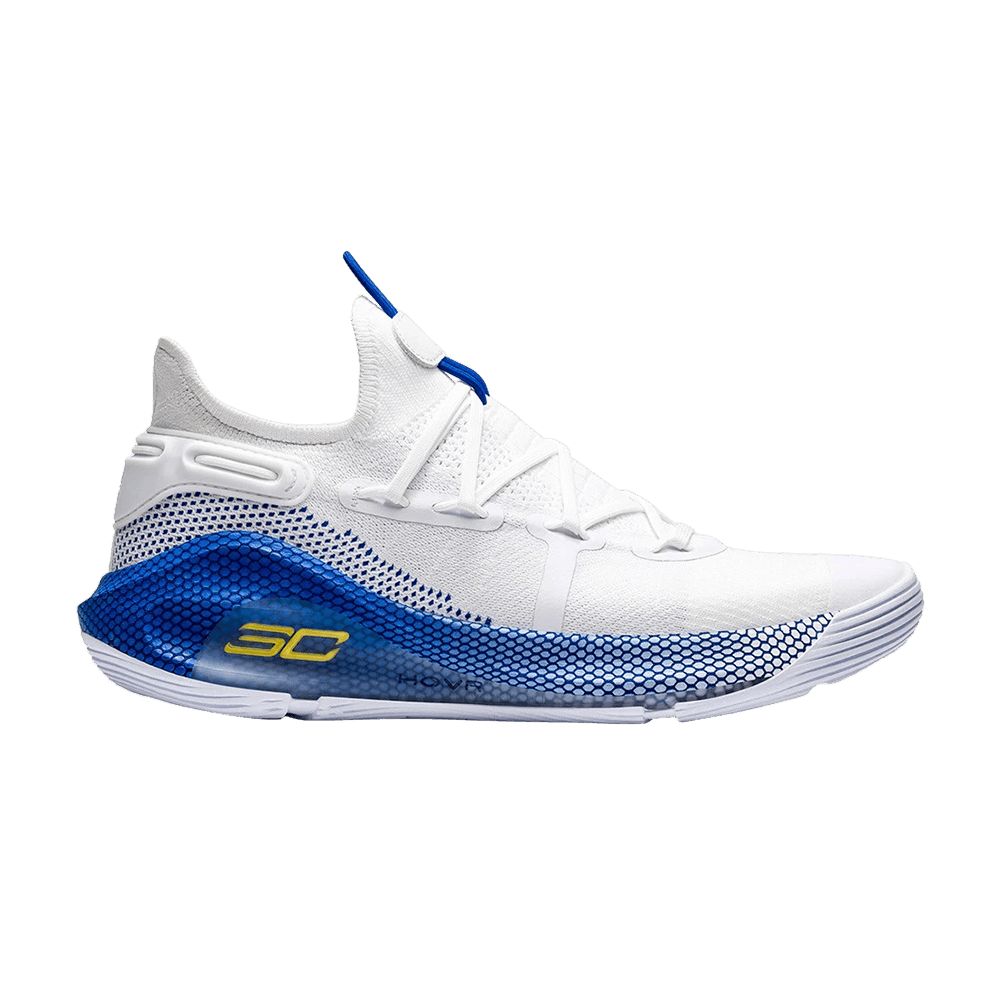 With innovative technology and a streamlined style, the Under Armour Curry 6 suits the athlete's disruptive game. This 'Dub Nation' model, which was released in April 2019, features a breathable knit upper with directional support via broad laces, an integrated tongue, and a threaded external heel in a Warriors-inspired colorway. The honeycomb design across the midsole is mirrored by prominent counter holes. An energetic, gripping platform is created with UA HOVR cushioning and a rubber outsole.
Release date: 2019
Price: $100 (Buy Now)
3. Curry 6 Christmas in the Town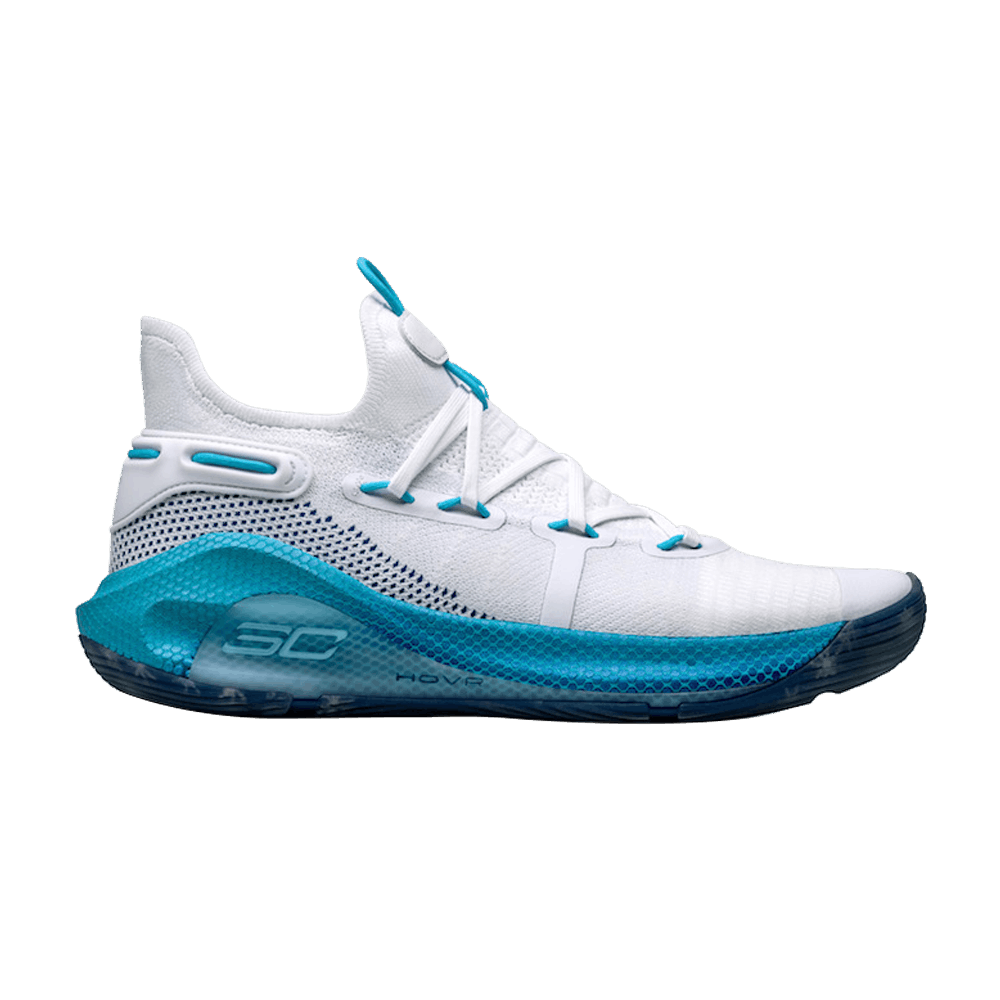 Stephen Curry requested Oakland's youngsters to help him create a special colorway that would be produced specifically for them, in order to help them transition into the next part of their athletic careers. For support and comfort, the Curry 6 'Christmas In The Town' offers a white knit compression fit upper. The low top also has an external heel counter for support, Royal detailing on the eyelets, tongue tab, and midsole, a full-length speed plate with UA HOVRTM technology for energy-returning cushioning, and a one-of-a-kind outsole pattern for unrivaled traction.
Release date: 2019
Price: $200 (Buy Now)
2. Curry 6 Heart of the Town
With a vivid blood-red colour, the Under Armour Curry 6 'Heart of the Town' pays homage to the city of Oakland. The distinctive finish extends to the laces and exterior heel counter, as well as the cushioned midsole and breathable knit upper. The all-red concept continues underfoot with a split-patterned outsole that works in unison with a full-length speed plate for increased spring and propulsion.
Release date: 2019
Price: $300 (Buy Now)
1. GS Unsplash Party
The Under Armour Curry 6 GS 'Splash Party' sneaker is a kids' version of Stephen Curry's sixth trademark shoe, with a Warriors-inspired Petrol Blue and Mod Grey knit upper. The design, which was first introduced on March 14, 2019, to honor the star point guard's 31st birthday, has a knit upper with a brilliant pink lacing system that wraps around the heel. The SC30 insignia is embossed on the pink-speckled midsole, which represents the confetti that falls down on the streets of Oakland during the team's victory parades.
Release date: 2019
Price: $120 (Buy Now)
Curry 6 Features Rating
Below are overall ratings of each unique features Curry 6 gets from our Editors.
| Features | Rating |
| --- | --- |
| Breathability | 9/10 |
| Comfort | 9/10 |
| Pricing | 8/10 |
| Outsole | 7/10 |
| Midsole | 9/10 |
| Upper | 9/10 |
| Weight | 7/10 |
| Style | 8/10 |
| Durability | 8/10 |
| Protection | 9/10 |
| Support / Stability | 9/10 |
| Responsiveness | 9/10 |
| Traction | 7/10 |
| Sizing | 8/10 |
| Materials Quality | 9/10 |
Curry 6 Review
A full-length HOVR cushion is featured on the Under Armour Curry 6. It is restructured to become bouncier while remaining firm enough to keep it under control. It was originally designed for running.
On the list of the best basketball sneakers of 2019, the Under Armour Curry 6 is a strong candidate for the top spot. It's tough, responsive, and has a flexible upper that breaks in quickly. Curry 6 is a well-ventilated, soft-soled shoe with excellent grip and traction. The shoe has a superb court feel and provides impact protection with a smooth heel-to-toe transition.
The tongue is the only thing Curry 6 could have done better. It has a flimsy outsole and a thin tongue, which I don't like. However, the Curry 6 is a good sneaker in general.
To satisfy his needs, the shoe is built more like a running shoe. Curry will benefit from the full-length HOVR's impact absorption and energy return. If you're a quick player, this pair is an excellent choice.