Aime Leon Dore New Balance 550 Release Date / Price
Aime Leon Dore x New Balance 550 has teased three new hues ahead of Spring 2022. Each new pair, like the previous four pairs released with Team SONNY's support, features a quality white-colored leather upper with a slightly-yellowed midsole.
Aime Leon Dore (ALD) has worked with New Balance on three big initiatives over the course of three seasons. Aime Leon Dore has put its own spin on New Balance's legacy and design in ways that pay respect to living in New York in each project. In March 2020, the brand released a project incorporating the 827, marking the first time the shoe had been reintroduced since its debut over 20 years ago.
Sections: Description - ALD - Release date - Price - Pictures
Aime Leon Dore ALD
Aime Leon Dore (pronounced 'eh-meh lee-on door') is a fashion and lifestyle brand started in March 2014 in Queens, New York. Aimé Leon Dore, founded by Teddy Santis, has a flagship store on Mulberry Street in Manhattan's Nolita area.
The brand's aesthetic is influenced by classic hip hop and basketball, as well as Teddy Santis' experiences growing up in the 1990s between Queens and Greece.
Woolrich, Suicoke, Timberland, New Balance, New Era, Paraboot, Drake's, and Porsche have all cooperated with the brand.
Aime Leon Dore New Balance 550
By releasing it in 2020, Aime Leon Dore and New Balance got a head start on the sneaker that will characterize 2021. They resurrected the New Balance 550 from the archives in October of 2020: a classic basketball low-top characterised by clean, straightforward design and high-quality materials.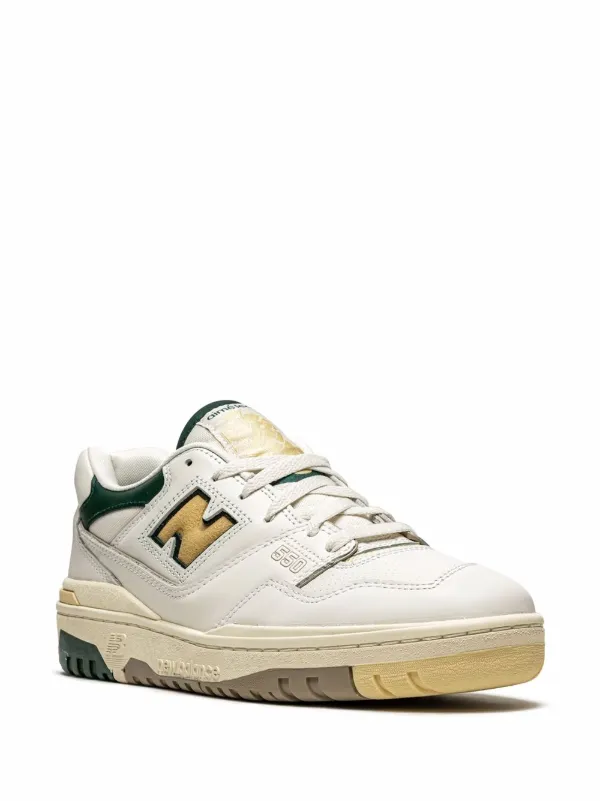 The brands went for a vintage vibe with the four hues, which were kept simple (creamy white uppers with red, green, grey, and navy accents). The pre-yellowed soles were a true stroke of brilliance. Why would you bring an old-school sneaker back to life as if it were brand new?
Its 2022! Unlike earlier releases, which offered double-color combinations like red/navy and green/yellow, Teddy Santis keeps Aime Leon Dore's latest New Balance sneakers even more simple than usual, opting for single-color palettes free of noise.
Aime Leon Dore's Spring/Summer 2022 P550 hues are inspired by chocolate brown, deep purple, and dark olive.
The hues are the only alterations to ALD's 550s; otherwise, the style remains unchanged: you get the typical aged look throughout, with a mesh-leather top that matches the co-branded tongue. All of this is part of Aimé Leon Dore's strategy, or minimalism aesthetic, to be precise.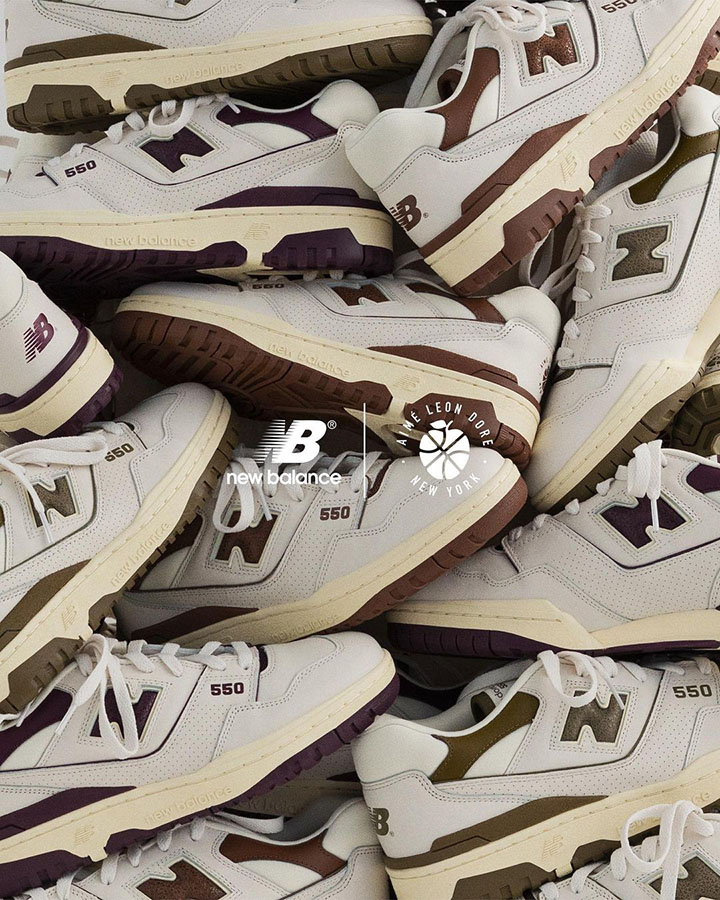 Release date
On Instagram on March 18, 2022, the sporty New York-based label teased three new Aimé Leon Dore x New Balance 550 styles, presenting three new looks for the iconic basketball oxford shoe from the sportswear brand that will be released in the spring/summer '22 season.
The release date for Aime Leon Dore New Balance 550 collab is unknown yet but hopefully 2022. It will be at select retailers. Anticipating fans can expect to pay a premium for these Aime Leon Dore New Balance 550s because they're so limited, but if you're dying to get your hands on a pair, check after launch to see if any pairs pop up there at a steep discount.
But be warned: A quick search reveals that authentic pairs could easily go for $200 or more on eBay after launch day has passed (and with no true guarantee of authenticity).
Aime Leon Dore New Balance 550 Price
The Aime Leon Dore New Balance 550 retail price will be around $130, but there are many different places where you could get them for not higher than that. You could go on our recommendations or look for coupons in print ads from retailers.
Aime Leon Dore New Balance 550 Pictures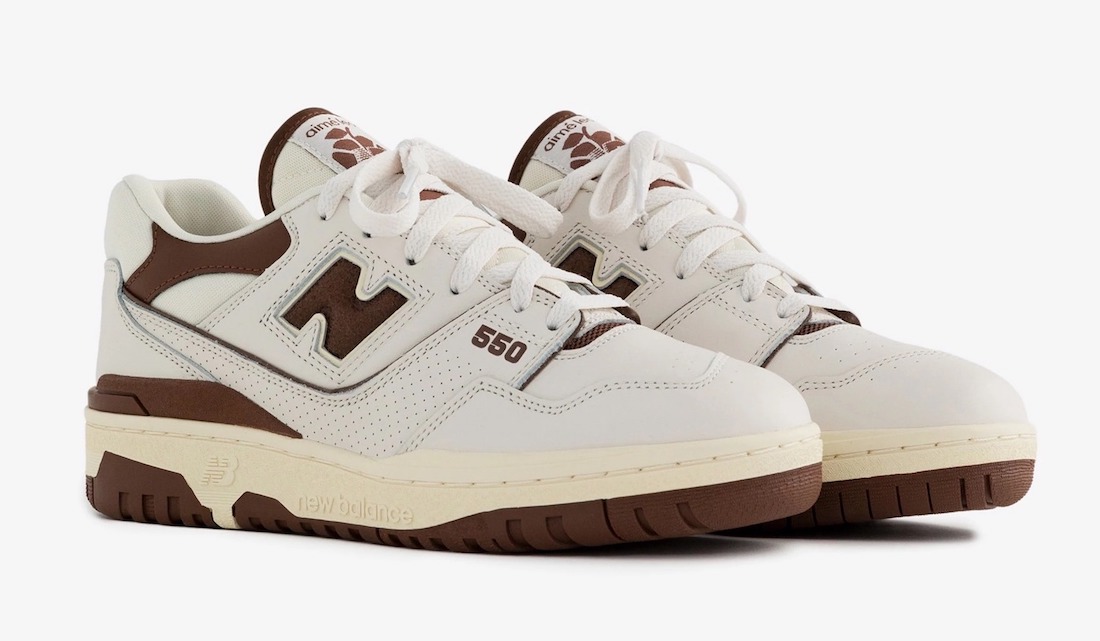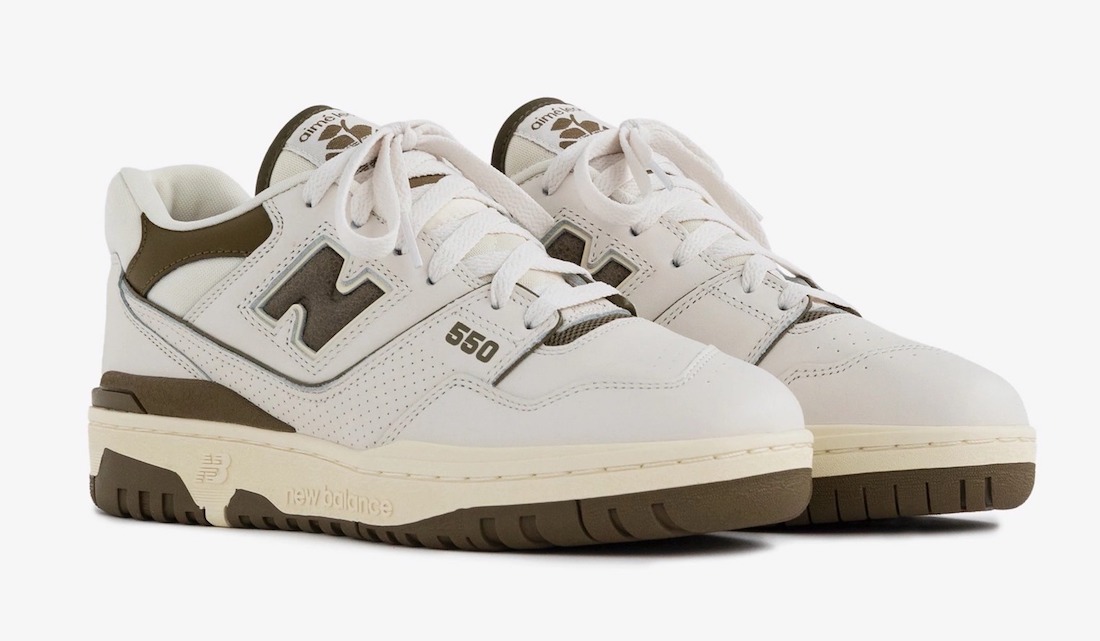 Finally
The sole unit's branding, accenting panels, and performance-informed components then offer three new hues to the ALD x New Balance partnership roster: brown, khaki green, and a deep rosewood-like shade animate respective pairs in a way that falls in line with Santis' expansive design portfolio.
Stay tuned to this page for updates on the Aime Leon Dore x New Balance P550 drop in Singapore.